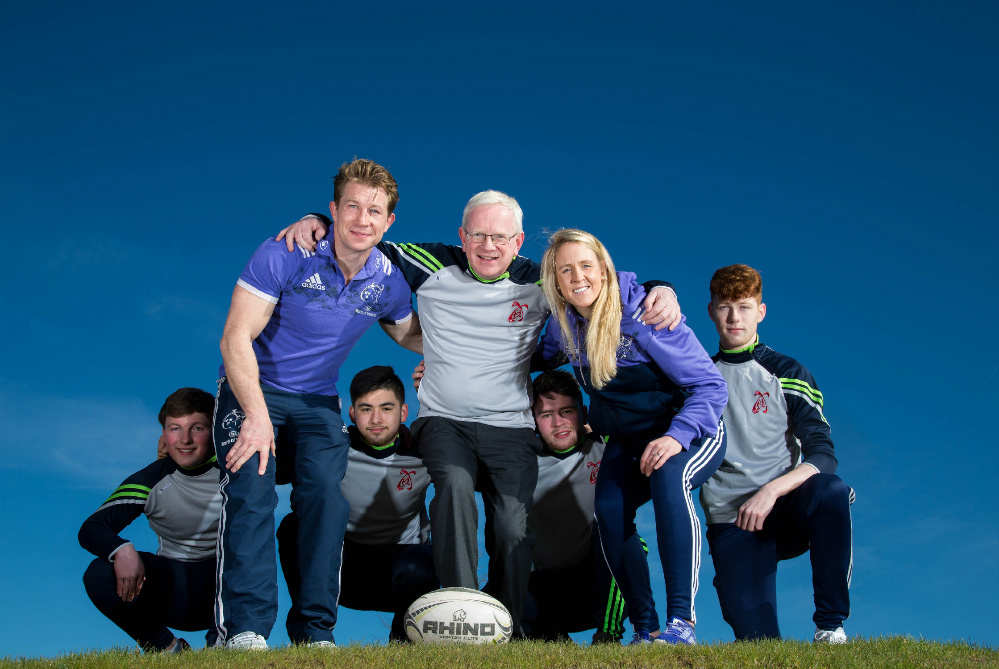 Scrum for Axel – Official Guinness World Record attempt for the World's Largest Scrum as LIT students commemorate Anthony Foley
Pictured: Jerry Flannery Munster Rugby and Former Ireland Hooker, Prof. Vincent Cunnane, President LIT and former Irish women's Captain Joy Neville scrum down with LIT's, Robert Lewis, Cameron Fu Lynch, Chris Carey and Sean Hilary to launch Scrum for Axel. Picture: Alan Place
Scrum for Axel – Official Guinness World Record attempt for the World's Largest Scrum as LIT students commemorate Anthony Foley
The world's largest scrum looks set to take place at Limerick Institute of Technology in the shadow of Thomond Park in memory of Anthony Foley.
A group of Sports Management students from LIT are bringing 2,000 people together (literally) to break the official Guinness World Record for the largest scrum ever.
The "Scrum for Axel", which is supported by the Foley family, will take place in LIT's Moylish campus, adjacent to Thomond Park at noon on April 4th.
The event is also supported by Anthony's club, Shannon RFC, by Thomond Park, by LIT and by current and former colleagues in Munster Rugby. Members of the public are encouraged to join in on the day.
LIT Sports Management student Robert Lewis explained how the event came about – "The idea for the scrum came about shortly after Mr Foley's passing as it seemed a fitting way to commemorate him and a way of raising money for charity.
"We are calling on people to come along on April 4th and join in the scrum. In the run up to it, we are asking people to form their own Scrum for Axel and post it on social media under the hashtag #scrumforaxel.
"We're delighted that his family are supporting us, and we're fundraising for a charity of the family's choice. Schools, clubs and individuals have come on board to support it, and we're pretty overwhelmed by the reaction really. We're looking for as many people as possible to come along on the day and to scrum for Axel."
Former Ireland and Munster player Jerry Flannery encourages everyone to get into it, "I think this is a fantastic idea. I'm involved and would love to see as many people as possible answering the call to come along and scrum it out. We're remembering Anthony by setting a world record and raising money for a good cause in the process."
President of LIT, Professor Vincent Cunnane said, "This is a very special event for us. We're proud to join with the Foley Family and Anthony's former colleagues, his club and the broader community to remember him in this way. The energy of our students reflects Anthony's drive and energy, and the very fact that this world record attempt exists is down to the regard that people of all ages, walks and creeds hold for him.
"It is a real testament to the man that the generation below him are seeking to remember him in this way. The support that the students have received is absolutely amazing. It crosses generational and social lines. It has become evident that people have been looking for an outlet to express their respect for Anthony Foley and solidarity with his family. I am glad that we can help this process and hope that the generosity of spirit that this event is bringing out in people will be a comfort and a benefit to Olive and the Foley family."
This attempt has been officially recognised and accepted by the Guinness Book of World Records and with adherence to its rules and regulations, which each participant must read and adhere to.
Members of the public are invited to get involved at LIT Moylish on Tuesday, April 4th at midday in order to help break the world record. Registration takes place in the Millennium Theatre from 11.30am. Car parking is available in Thomond Park and LIT Moylish, but spaces are limited.
A bucket collection will be held on the day. All donations big or small will be welcome. All money raised will go a charity nominated by the Foley family.
The current world record is held in Fukuroi, Japan and was set in September 2016.
For details visit the Facebook page Scrum for Axel here
use the hashtag #ScrumforAxel
for more information click here