Limerick City Enterprise Board Celebrates 20 years of Helping Small Business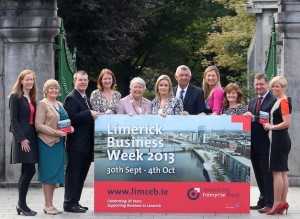 Limerick City Enterprise Board has announced the schedule of its 10th Annual Limerick Business Week taking place from the 30th September to the 4th October 2013 across various venues in Limerick. The Board, who are celebrating 20 years of helping small businesses through mentoring, training and financial supports, will be running a series of events including seminars, networking events, clinics and workshops over the course of the week. The events are open to all business owners.
The week kicks off with its flagship networking event featuring entrepreneur Gavin Duffy, who is one of the primary investors on RTE's Dragons Den and has founded over 50 start-ups. Gavin will be delivering a presentation on PR tactics and strategies within business, and will also facilitate a business networking session during the evening. This key seminar is taking place at the Strand Hotel on Monday 30th September and is followed by a week-long schedule of exciting events running through till Friday 4th October.
Other events include 'Social Media Trends and Best Practices, featuring Stephen Jio and Krishna De; Small Business Start Ups in Limerick City & County; a presentation by the Paul Partnership focusing on the progress of small business across Limerick; The Women in Business Networking Event featuring Anne O'Leary; Digital Marketing for Micro Business featuring David Butt and the 'Be An International Success' event with a panel of successful entrepreneurs. The week will also feature a series of mentor clinics running across five days where business owners will have the opportunity of individual time with industry experts.
Eamon Ryan, CEO of Limerick City Enterprise Board said 'The Business Week initiative has proven to be very successful both for Small Businesses in Limerick and for the Board. This annual event organised by the Board has evolved to meet the growing needs of the small business sector in Limerick.  This year's programme is no exception and has been developed in conjunction with other organisations such as the Limerick County Enterprise Board, Paul Partnership, the Limerick Institute of Technology and Limerick Chamber.  We look forward to working with and supporting Small Business in Limerick into the future.'
The theme of this year's event, 'Facing the Challenges' aims to guide and support Limerick entrepreneurs to deal more effectively with the challenges they are facing in the future. The week is officially launched by Mayor Cllr. Kathleen Leddin at the People's Park on Monday 9th September. The Mayor said 'Over the years, Limerick Business Week has been developed locally as a mechanism to promote entrepreneurship as an opportunity to all sectors, levels and people. Every effort must be made to promote entrepreneurship in Limerick as doing so helps to protect the future competitiveness of the local economy.'
Events during Limerick Business Week are all free of charge although booking in advance is essential. More information and detailed schedules can be found on www.limceb.ie