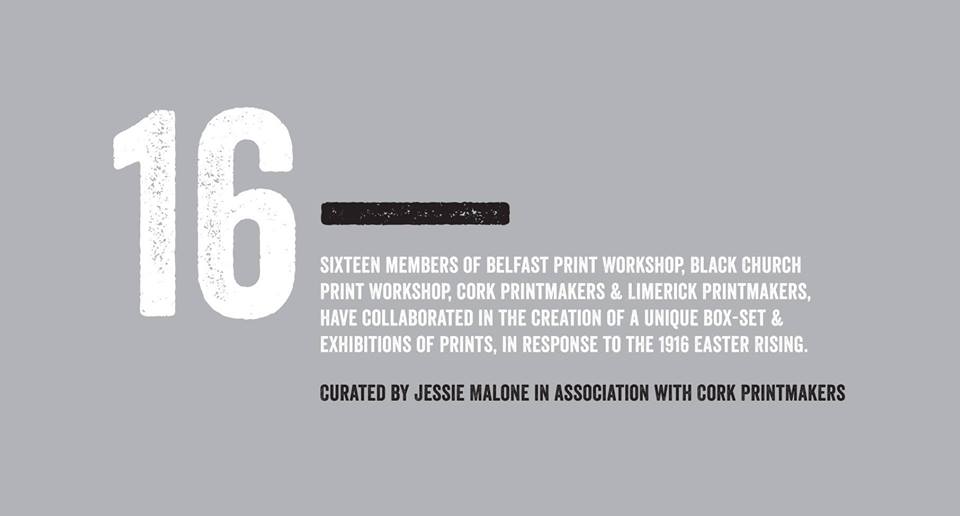 Limerick Printmakers proudly present 16 the Art Exhibition in commemoration of the 1916 Easter Rising
Limerick Printmakers are proud to present 16 the art exhibition a box-set created by artists from four Irish print studios, informed and inspired by the centenary of the 1916 rising.
16 the Art Exhibition will take place in The Belltable, May 2 – May 17.
The four participating artists from Limerick Printmakers include, Des MacMahon, Suzannah O Reilly, Kate O Shea and Fiona Quill
2016 marks the centenary of the 1916 Easter Rising and is a celebration of one of the most tumultuous rebellions in Irish history. The exhibitions are curated by Jessie Malone in association with Cork Printmakers. Jessie curated the selection of four artists from each Print Studio and the artist was then invited to make one image, in response to the theme of the 1916 Easter Rising, to an edition of twenty, on paper measuring sixteen inches square.
This exhibition forms a unique record of Irish contemporary art in the medium of printmaking and showcases the high standard of skills and variety of techniques being utilised currently in Ireland.
Limerick Printmakers are committed to promoting printmaking as an art form and supporting printmakers by providing a professional open access printmaking studio, exhibition opportunities and education program. Limerick Printmakers have a long and hard earned reputation for their support in commemorating Irish history and the Irish culture in general.
16 the Art Exhibition will also be exhibited in the following venues; Ormond Project
Space, Dublin, July 4 –  July 9, Belfast Ulster Musuem, from June 2 – July 2 and The Centre of Commemoration, Cork City, from April 21 – May 21.
Please join us for this exciting exhibition of diverse prints at 16 the Art Exhibition. Pop into the Belltable anytime from 6pm on Tuesday, May 3.
Find 16 the Art Exhibition on Facebook here
Check out more of what Limerick Printmakers do here
Click here for more of Limerick's latest news here