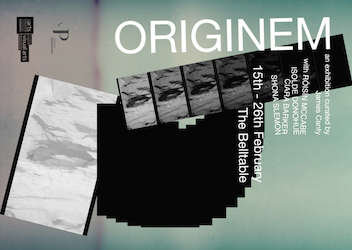 Limerick Printmakers 2018 Curatorial Award Recipient James Canty, curated the ORIGINEM Exhibition
Limerick Printmakers 2018 Curatorial Award Recipient James Canty, curated the ORIGINEM Exhibition
Limerick Printmakers 2018 Curatorial Award Recipient is James Canty, who will be holding his exhibition entitled ORIGINEM in the Belltable. James Canty will be on show from 5.30 pm on Thursday 15th February. All are welcome to join us for the opening night and ORIGINEM will continue until Monday 26th February inclusive.
Limerick Printmakers is committed to supporting artists and creators at every stage of their career in a range of tangible and practical ways. The LP 2018 Curatorial Award is one of a selection of bursaries that LP offers each year to outstanding graduates of a degree programme from Irish art/design colleges. In the creation of this award, LP wishes to acknowledge the evolving role of the curator and to provide a challenging, career-expanding opportunity for a recent graduate. ORIGINEM features new and recent work by Ciara Barker, Isolde Donohue, Roisin McCabe & Shona Slemon.
James Canty, the curator of the ORIGINEM exhibit, explains that "the aim of this exhibition is to challenge the gallery norm in Ireland today. I wanted to curate an exhibition that doesn't have the usual intimidation and exclusivity that is associated with the art world. To achieve this I chose four talented artists whose work is free from distinct themes or narratives. Each artist's approach is different. However, all their work is open and ambiguous, which allows the viewer the freedom to have their own thoughts and ideas.
"To accompany this freedom there is also power bestowed upon the viewer as they have the opportunity to write their own statements for the artist work. On the opening night, the viewer will be asked to write a few words about each artists work. These statements will then be compiled into one concise statement for each of the artists. For the rest of the show, these statements will be displayed beside the artists work in envelopes. This is so that viewers can continue to come up with their own statements as they view the work and then compare with the displayed statement and see the differences or the similarities.
"The hope is that viewers feel empowered to go to more exhibitions and be free to let the work evoke thoughts and ideas within them instead of what an essay on the wall tells them to think."
Limerick Printmakers Studio & Gallery acknowledges the financial support of the Arts Council, Umbrella Project, Limerick City, and County Council and the Department of Culture, Heritage, and the Gaeltacht.
For more stories on Limerick Printmakers, go here.
For more information on the ORIGINEM exhibition, go here.