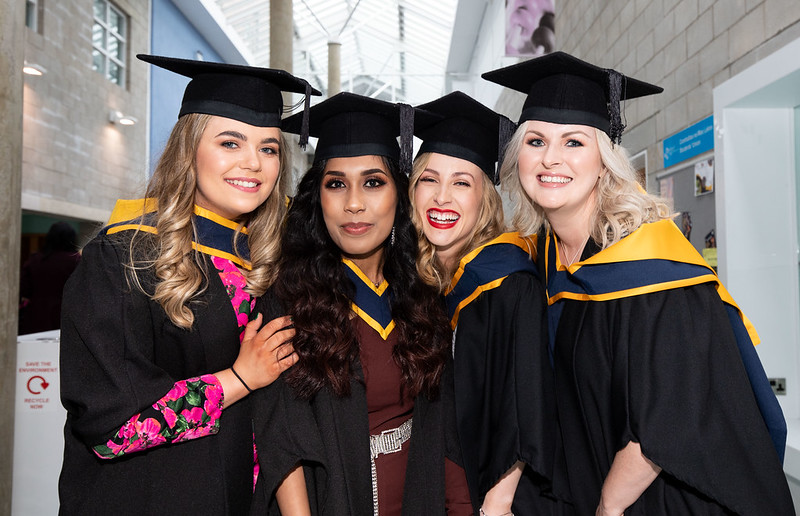 LIT invites family, friends, staff and community to get involved in the 2020 LIT Conferring Ceremonies
2020 LIT Conferring Ceremonies – Due to Covid-19 restrictions LIT's Conferring Ceremonies have moved online and will be streamed this Thursday and Friday. Pictured above are last year's graduates B.Sc in Drug and Medicinal Product Analysis graduates, Croidhe Bannon, Sixmilebridge Co. Clare, Aishah Ahmed, Shannon Co. Clare, Michelle Buckley, Listowel Co. Kerry and Lisa Geoghegan, Meelick Co. Clare following the conferring ceremony in Moylish, Limerick. Picture: Alan Place
LIT invites family, friends, staff and community to get involved in the 2020 LIT Conferring Ceremonies
Limerick Institute of Technology (LIT) is inviting the family and friends of this year's graduands to get involved in the 2020 Graduation by sending good wishes live, during the streaming of each of the 2020 LIT Conferring Ceremonies, this Thursday and Friday (November 19 and 20).
Vice President of Academic Affairs and Registrar, Marian Duggan said, "2020 has thrown many challenges our way but it has not prevented us from planning the conferring ceremonies for our 2020 LIT graduands. Due to Covid-19 restrictions this year's graduation has been moved to an online platform. We are delighted to announce that a total of 11 ceremonies will be streamed online during November 19 and November 20, 2020. Although you will not be able to join us on campus you will receive your parchment and have the option to order a ceremonial gown ahead of the ceremonies, allowing you to mark the occasion at home with your family. While this means we will not be able to gather physically to mark this momentous day, we are determined to gather virtually as a community of graduands, staff, students, families and friends to ensure that the class of 2020 are aware of the immense pride we all feel towards them and their achievements. We are therefore inviting people to join us online during each ceremony and leave their good wishes for our graduands. We hope that our graduands will feel that we are with them in spirit as they graduate from LIT and join our proud alumni."
"It is important that our 2020 graduands, who persevered through difficult circumstances to pass their exams and graduate from LIT, are recognised in a Conferring Ceremony conducted in a manner as much as restrictions allow this Thursday and Friday," she added.
Speaking about the new approach to the graduation for this year, President of LIT Professor Vincent Cunnane said, "Graduation day is always a special day – for the graduands, their families and the LIT community as a whole. Days like these mark significant milestones in people's lives and they allow our soon to be graduates to recognise the commitment, ability and perseverance that got them to this day.
2020 Graduation is fast approaching, taking place 19/20 November. We would love if you all could share your special moments with us from the day. Tag us on any of our social media accounts or email [email protected]. Find out more here: https://t.co/vPaRexZGqk. pic.twitter.com/5RBaATaZJM

— LIT (@LimerickIT) November 17, 2020
To send messages of congratulations during the ceremonies log on HERE and write your good wishes on the platform provided.
For more stories on LIT go HERE
The 2020 LIT Conferring Ceremonies have been scheduled for the following times:
Faculty of Applied Science Engineering & Technology
Department of Information Technology
November 19th @ 9.30am
Department of Applied Science
November 19th @ 11.00am
Department of Electrical and Electronic Engineering
November 19th @12.30pm
Department of The Built Environment
November 19th @ 2.00pm
Department of Mechanical and Automobile Engineering
November 19th @ 3.30pm
Faculty of Business & Humanities
Department of Applied Social Sciences
November 20th @ 9.30am
Department of Marketing, Enterprise and Digital Communication
November 20th @ 11.00am
Department of Sport, Leisure and Tourism
November 20th @ 12.30pm
Department of Business and Financial Services
November 20th @ 2.00pm
School of Art & Design
Department of Fine Art
November 20th @ 3.30pm
Department of Design
November 20th @ 5.00pm