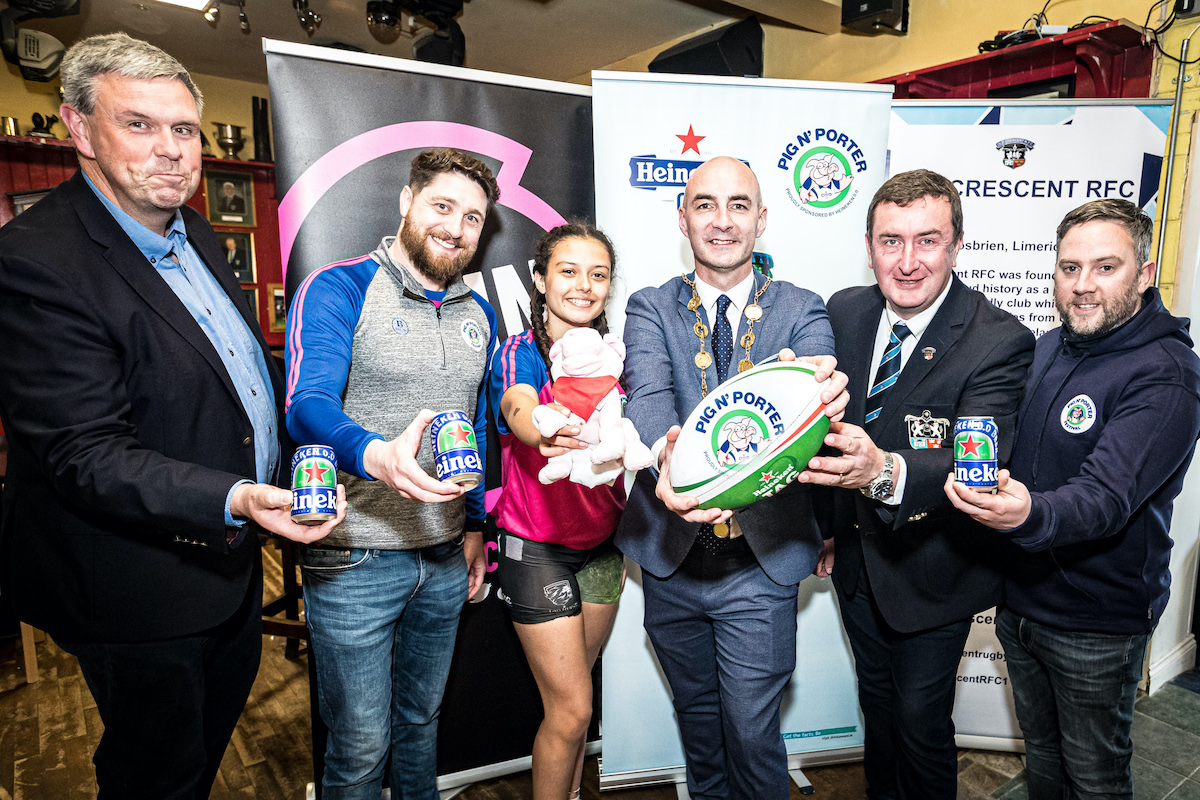 2022 Pig n Porter Tag Rugby Festival will showcase the proud sporting tradition of Limerick
2022 Pig n Porter festival – Pictured above are Jim Fitzgerald, Heineken, Niall O'Brien, Pig N Porter Festival, Rebecca Conway, Pig N Porter Festival Ambassador, Mayor of Limerick City and County Council, Paul Donnellan, President of Old Crescent RFC and Eoin Fitzgerald, Pig N Porter Festival. Picture: Keith Wiseman
The world's largest and best Tag Rugby Festival
Old Crescent RFC in conjunction with Alive Ireland, will host the 2022 Pig n Porter Tag Rugby Festival at its grounds in Takumi Park and at the University of Limerick, on Saturday, July 9th July 2022, with over 100 tag teams taking part.
The 2022 Pig n Porter Festival will showcase the proud sporting tradition of Limerick to a wide audience and will provide a welcome boost to the local tourism and hospitality sectors, including accommodation providers, bars, restaurants, and visitor attractions.
Both venues will have the same standard of entertainment with food and soft drinks available throughout the day. There will also be toilet facilities in both venues. The festival will have plenty of facilities to entertain every age especially bouncy castles and various other forms of entertainment will be on hand to keep the kiddies entertained.
Teams will be returning from across Ireland and the UK to experience the unique festival buzz of Pig n Porter.
There are four divisions of tag rugby, from premier to social leagues. One of the newest leagues added to the calendar is Super Social. It is social tag rugby with a VIP twist: tag rugby players will take to the field on the main Old Crescent pitch while making use of the exclusive marquee where breakfast will be served on arrival with dinner and beverages available later in the day.
A slogan for the tag rugby festival is, 'Not Just for Taggers,' emphasising the inclusivity of it.
Speaking at the launch, Paul Donnellan, President of Old Crescent RFC said, "We look forward to welcoming back all the taggers and their friends, old and new, to Limerick on Saturday, July 9". He concluded, "The 2022 Pig n Porter would not be possible without the support of Heineken and Limerick City and County Council along with the many local service providers that help us create the Festival site."
For further information on the 2022 Pig n Porter, go HERE
For other stories on Pig n Porter go HERE