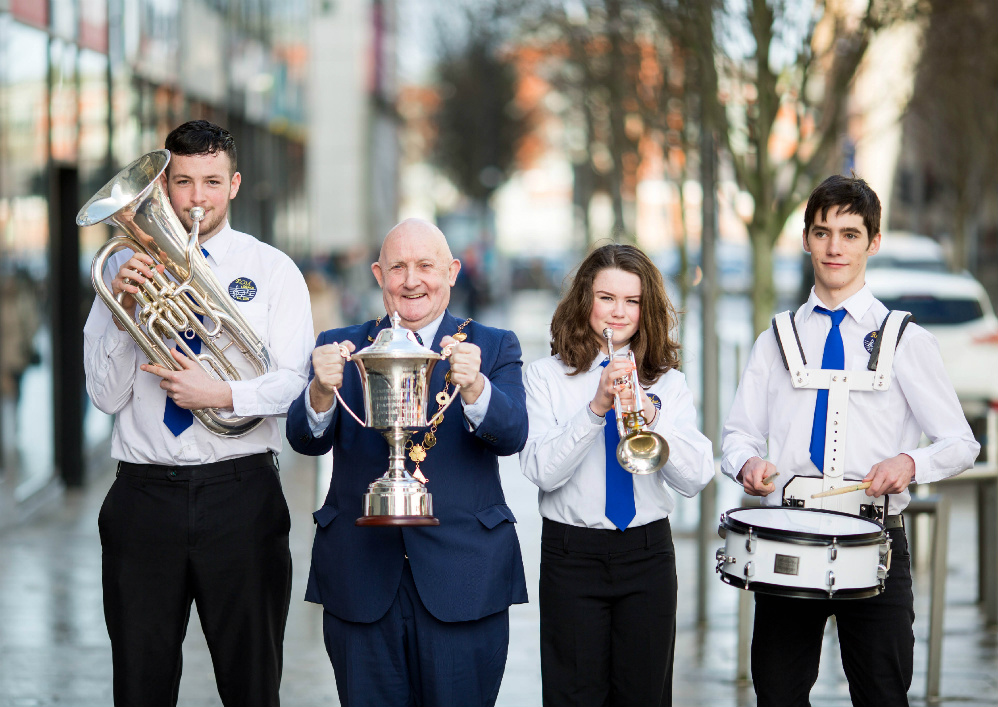 Limerick to echo to the beat of 17 marching bands at 47th Limerick International Band Championship
Limerick to echo to the beat of 17 marching bands at 47th Limerick International Band Championship

Limerick to echo to the beat of 17 marching bands at 47th Limerick International Band Championship

The streets of Limerick will be filled with lively musical tones and the spectacular sights of over 1,000 talented marching band musicians from across Ireland, Europe and America on Sunday 19 March for the 47th running of the Limerick International Band Championship.
Led by The Irish Army Band, Ireland's only international band competition will start at Pery Square at 12 noon, march down O'Connell Street and the reviewing stand before ending with a free concert for the public in Arthur's Quay Park where the championship winners will be announced.
Bands from the United States, Germany, England, Northern Ireland, Limerick and across the rest of Ireland will compete in the championship for the overall Kenneally Jewellers Perpetual Trophy.
The bands competing in the 47th Limerick International Band Championship are:
o Band No 1 Brigade
o Banna Chluain Meala, Clonmel
o Blackforest Band
o Boherbuoy Brass and Reed Band
o CBS Pipe Band
o City of Limerick Pipe Band
o Clondalkin Youth Band
o Dr O'Hurley Pipe Band, Cashel
o Dungloe Marching Band
o Friendship Band
o Killorglin & District Pipe Band
o Mullingar Town Band
o Newcastle West & District Pipe Band
o Redemptorist Centre of Music Concert Band, Limerick
o St. Mary's Prize Band, Limerick
o The Illinois State University
o Yorkshire Band
Speaking at the launch of the 47th Limerick International Band Championship at Workbench, Bank of Ireland O'Connell Street, Mayor of the City and County of Limerick Cllr Kieran O'Hanlon said: "The quality of the bands is very high this year and I'm calling on all the people of Limerick to come out in force to view what is a unique event in Ireland. It is an amazing sight and sound to see the bands marching down O'Connell Street, entertaining the crowds and soaking up the atmosphere."
"We have something unique to Limerick and I'm delighted that it is still as strong and as awe-inspiring as always."
"I'm particularly impressed to see a very strong number of entries from Limerick. We have proved we are as good as the best in the world in producing marching bands."
Bands will be allowed to perform at the reviewing stand for three minutes and will be judged by an international panel of judges.
The winners will be announced at Arthur's Quay Park following the marching. There are awards in several categories: Best International Band; Best Youth Band; Best Local Band; Best Musical Performance; Best Uniform; Most Entertaining Performance; Special Judges Award; Mayor's Prize; Special Commendation Prizes (awarded at the judges' discretion and Overall Winner – All Ireland International Band.
The Limerick International Band Championship has been co-ordinated by Grooveyard on behalf of Limerick City and County Council and is kindly sponsored by Analog Devices, Mr Binman, Maldron Hotel and Limerick's Live95fm.
For more details about Limerick St Patrick's Festival 2017 click HERE
To read more on our website about Limerick Marching band click HERE