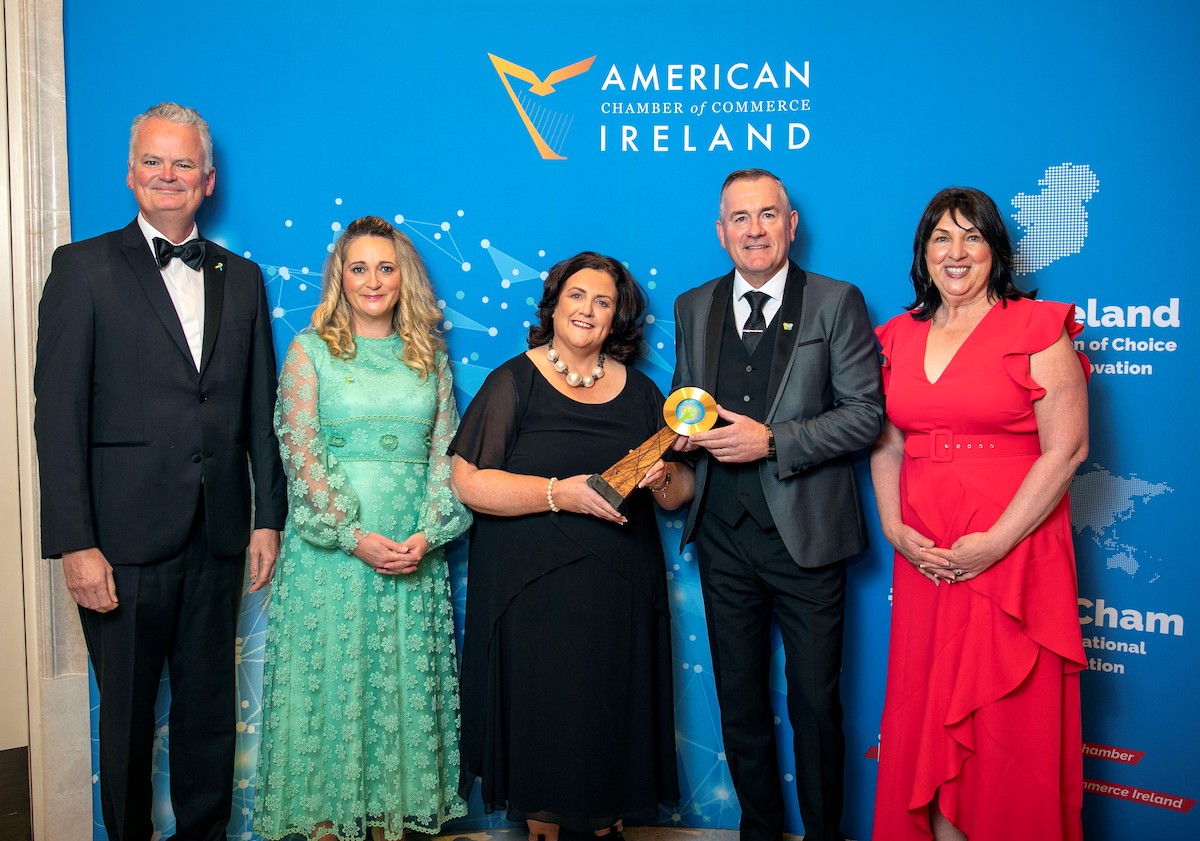 American Chamber of Commerce Ireland launches #WhyIreland #WhyMidWest Factsheet to highlight the region's success in attracting Multinationals
American Chamber of Commerce Ireland event – Pictured above are Mark Redmond, Chief Executive, AmCham, Charlotte Kavanagh, Partnerships and Engagement Manager Clionas Foundation, Catherine Duffy, President, AmCham, Brendan Ring, Founder and CEO Clionas Foundation, Winners of the AmCham Cairdeas Award, Cliona's Foundation and US Ambassador to Ireland, Claire D. Cronin. Picture: Arthur Ellis.
American Chamber of Commerce Ireland hosted its 2022 Mid-West Conference and Dinner in Adare Manor
The American Chamber of Commerce Ireland hosted its 2022 Mid-West Conference and Dinner in Adare Manor attended by AmCham member companies in the Mid-West region on October 20. Claire D. Cronin, US Ambassador to Ireland, was Guest of Honour at the Dinner in Adare Manor, and the American Chamber was delighted to present the Mid-West Region Cairdeas Award to Cliona's Foundation at the event.
Cliona's Foundation is a national charity with their office in Limerick that provides financial assistance directly to parents of children with life-limiting or chronic complex care needs to help with the non-medical expenses related to caring for their child. The AmCham Cairdeas Award is presented to an organisation in the not-for-profit sector that has had a positive impact on the community.
At the event, AmCham President Catherine Duffy launched #WhyIreland #WhyMidWest – a factsheet summary that highlights the attractiveness of the region to US Multinationals. Among the points of focus are:
– Large multinational presence – Med-Tech, Technology, and Advanced Manufacturing hub – FDI companies employ over 25,000 people in the Mid-West region.
– Research centres including the National Advanced Manufacturing Centre, Lero, the Science Foundation Ireland Research Centre for Software, Shannon ABC and CONFIRM.
– Quality of Life – 92% of people who relocated to the Mid-West said they were very happy with their decision to move.
– Highly Educated Workforce – Over 30,000 students in third-level education in the region.
– Shannon Airport – a 20-minute drive from Limerick; provides direct links to the UK, mainland Europe, and the US.
– Shannon Foynes Port Company – Ireland's second-largest port operator.
– Road and rail connections to all other cities.
– Education – University of Limerick (over 16,000 students); Technological University of the Shannon (over 14,000 students); Mary Immaculate College, which has a student retention rate of 95% – one of the highest in Ireland.
–  Ireland's first master's degree in artificial intelligence (AI) is in UL in response to demand by industry for AI skills.
Speaking on October 20 at the Conference Dinner, Claire D. Cronin, US Ambassador to Ireland, said, "American companies in Ireland are at the heart of important conversations on combating climate change, green transition and decarbonization. There are companies that are global leaders in digital transformation and driving MedTech innovation. At tonight's American Chamber's Mid-West dinner, I am delighted to meet the leaders and teams who are dreaming up new advanced manufacturing techniques that keep the wheels of commerce turning."
Catherine Duffy, President of AmCham, said, "We are delighted to be here today in one of the world's leading destination hotels to showcase and discuss the continued contribution of our member companies to the Mid-West region.
"In a recent survey of AmCham members, 21% of respondents said that talent attraction was the biggest challenge for Ireland to overcome for their company to invest or expand here. Talent is one of the strengths of this region, as well as the quality of life and the international connectivity offered by Shannon Airport and Shannon Port. The success of this region has been built on its attractiveness to inward investment for these reasons, establishing the Mid-West as one of the key destinations for US FDI in recent years. It is important that we build on this and highlight everything the Mid-West has to offer so that we can continue to win new investment and consolidate the base that has already been established."
"One-third of US MNCs in Ireland have been here for over 20 years and in a recent survey of AmCham members, 95% of respondents have a positive view of Ireland as an investment or growth location based on the experience of their Irish operations this year."
There are now almost 900 US MNCs operating in Ireland. These businesses directly employ over 190,000 people and indirectly support over 152,000 jobs in the wider economy. In 2020, US companies spent more than €12.3bn on payroll, over €8.8bn on goods and services, and invested €6.5bn on capital expenditure." said Catherine Duffy.
Speaking at the Mid-West Dinner on Thursday, Catherine Duffy said, "The Mid-West has many competitive differentiators that attract business and talent to this region – it has great universities like UL, TUS, and Mary Immaculate College, with more than 30,000 third-level students in the region; world leading companies – many of whom are here tonight and many of whom are collaborating with academia in areas of research and innovation; incredible sporting; cultural and entertainment options and an amazing quality of life."
The conference featured a number of panels including:
Panel 1: Talent and Regional Development in Ireland Mid-West
A lively panel discussion focusing on the Mid-West region as a hub for talent attraction and retention. This panel examined the necessary building blocks for supporting the future talent needs of the industry while also focusing on the development priorities for the region designed to support and optimise the operation of industry. Panelists include Gráinne Barry, VP of Digital and Business Data Operations, Stats Perform; William Corcoran, Regional Manager Mid-West Region, IDA Ireland; and Shane Geary, Vice President, Internal Manufacturing and General Manager, Analog Devices; and Mary Considine, CEO, Shannon Airport Group.
Panel 2: Sustainability and Innovation for the Mid-West
This timely panel discussion will focus on the sustainability and innovation potential of the Mid-West region. Panelists discussed the region's potential to contribute to tackling the challenges posed in areas such as climate action and energy. They also offered insights into the potential of research and innovation between industry and other actors to meet the challenges of tomorrow. Panelists include Eileen Healy, Partner Operational Risk, Deloitte; Orlaith Lawlor, VP Operations EMEAI, Beckman Coulter; Domhnall Carroll, Site Director, National Advanced Manufacturing Centre; Barry O'Sullivan, Chairperson, Shannon Estuary Taskforce.
For more stories on American Chamber of Commerce Ireland go HERE 
For more info on American Chamber of Commerce Ireland go HERE