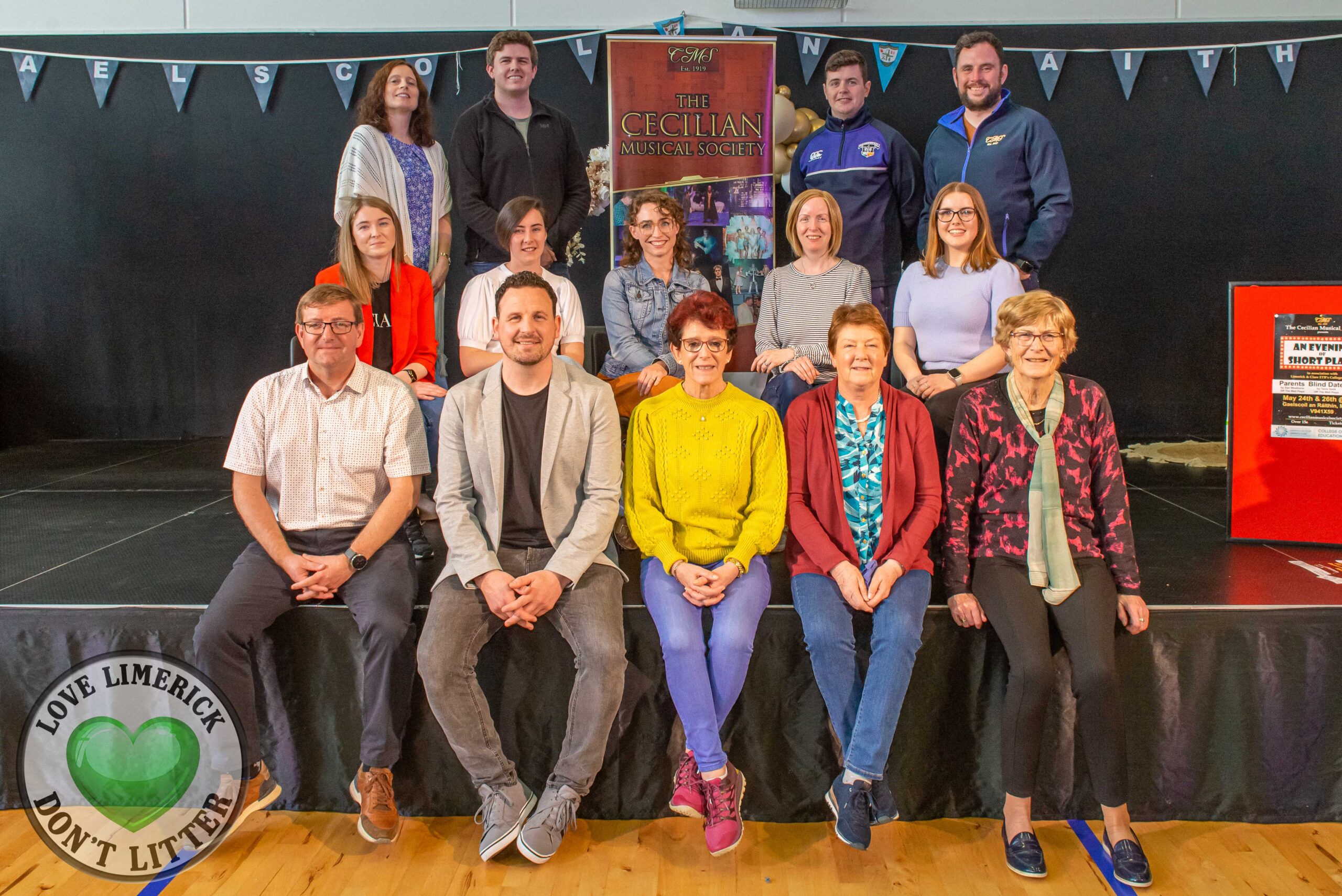 PHOTOS The Cecilian Musical Society brings 'An Evening of Short Plays' to Gaelscoil an Ráithín this May 24 and 26
'An Evening of Short Plays' by The Cecilian Musical Society brings you excerpts from hilarious comedies directed and performed by Cecilian stalwarts at Gaelscoil an Ráithín, Mungret on Wednesday, May 24 & Friday, May 26, 2023. Picture: Olena Oleksienko/ilovelimerick
The Cecilians bring a return to 'An Evening of Short Plays' following a sold-out 2019 run and four-year hiatus
The Cecilians are delighted to, once again, bring excerpts to the stage from hilarious comedies directed and performed by Cecilian stalwarts following a sold-out 2019 run and a four-year COVID-enforced hiatus.
"An Evening of Short Plays" comes to Gaelscoil an Ráithín, Mungret on Wednesday, May 24th and Friday, May 26th at 8pm, three plays for €15, "that sounds like a bargain!!"
An Evening of Short Plays was first staged in the Belltable in 2018 and in 2019, to mark the group's centenary, where they staged excerpts from 4 Limerick Plays which ran to huge acclaim and the two-night run in Gaelscoil an Ráithín was sold out.
"We decided to again add an element of Limerick to our plays this year, and we were thrilled that Ann Blake and Marie Boylan, two immensely talented Limerick ladies, kindly granted us permission to stage their side-splitting play, Tan. Flanked by two hilarious one-act plays 'Parents' by Dan Weatherer and 'Blind Date' by Tanis Galik, this promises to be a fantastic night's entertainment," said a Cecilians spokesperson.
Jason Ronan of Cecillians told I Love Limerick he was looking for to a night of "great craic", saying, "We are really looking forward to it because we haven't been able to put it on since 2019 due to COVID."
Jason goes on to say, "It was sold out in 2019 then we came off the back of Chitty Chitty Bang Bang, sold out again, and then bang all came to an end, so it's brilliant to have this event back, and like I said, we're all looking forward to getting it on the road."
Cecillians welcome back three of its directors from 2019 who did such a fantastic job, Niamh Donnellan, Gráinne Hartnett and Tony Fahy. With stellar casts consisting of a good mix of stalwarts and newcomers, the group is very excited to bring this event to Limerick audiences.
Speaking about what the group means to the community, some of the members told I Love Limerick, "The emotions of it all are, going on stage for me which is what I absolutely love to do, but also it is the friends I've made, particularly the two sitting beside me, and that's a friendship that has continued over the years."
This event is kindly supported by Limerick & Clare ETB's College of FET.
Find tickets here.
Read similar stories here.
Tan – by Ann Blake & Marie Boylan
Director: Tony Fahy
Cast: Kim Burke & Emma O'Rourke
The performance follows two women, Aisling and Siobhan as they prepare for a night out on the town. They go through the motions of applying make-up, straightening the hair then styling it up, gossiping about the boys and the sly 'shift'. It follows the plans of a night out, ordering a taxi, taking hearty shots of vodka, eyeing-up the Munster team, commenting about their other friends and most importantly, applying the fake TAN!
Providing an amusing yet somewhat disturbing insight into the preparation and planning that takes place for a girl's night out, TAN is an entertaining comedy that ensures to have the audience laughing and in its own unique way, educate them also. The performance of Tan is by kind permission of Ann Blake & Maire Boylan.
Blind Date – by Tanis Galik
Director: Niamh Donnellan
Cast: Anne Carey & Brian Henry
In one hysterical act, a man and woman each get ready for a date with one another, while contemplating the night ahead. Both divorced, Stanley Kramer (a doctor) and Alice Adler (who works in medical research) have been set up on a blind date by their friends and it's hardly a boring evening of preparation. We get the perspective of each suitor as they ready themselves for a night of 'putting on'.
'Putting on' the charm and 'putting on' the confidence. Basically: Putting on a show. In "Blind Date" it's all about the potential that comes with meeting someone new and how stressful that really is in this one act comedy for two actors.
If dying alone is the other alternative may the blind dates keep on coming! The performance of Blind Date is by kind permission of Off The Wall Plays.
Parents – by Dan Weatherer
Director: Gráinne Hartnett
Cast: Juliet Bailey, Jane Henry, Mark Noble & Eoghan Ahern
It's parent's evening and the parents of the reception (First Grade) class are gathered in the corridor outside the classroom, waiting for their turn to see the teacher to find out how their child is doing.
All the usual candidates are there. There's the mother of the twin boys, who seems lovely but also has an ex in prison, there's the average dad, who would like to spend more time with his son, but works late hours, and of course 'Rebecca's' parents.
Every class has a 'Rebecca' – the child who not only studies 6 instruments but who also takes lessons in a number of languages at the tender age of 5 (Which her Nanny carts her to). Now, these parents wouldn't want to hear anything bad about their precious darling, now would they?
Especially involving the class hamster. A comedy about typical primary school parents. The performance of Parents is by kind permission of Off The Wall Plays.
Pictures: Olena Oleksienko/ilovelimerick