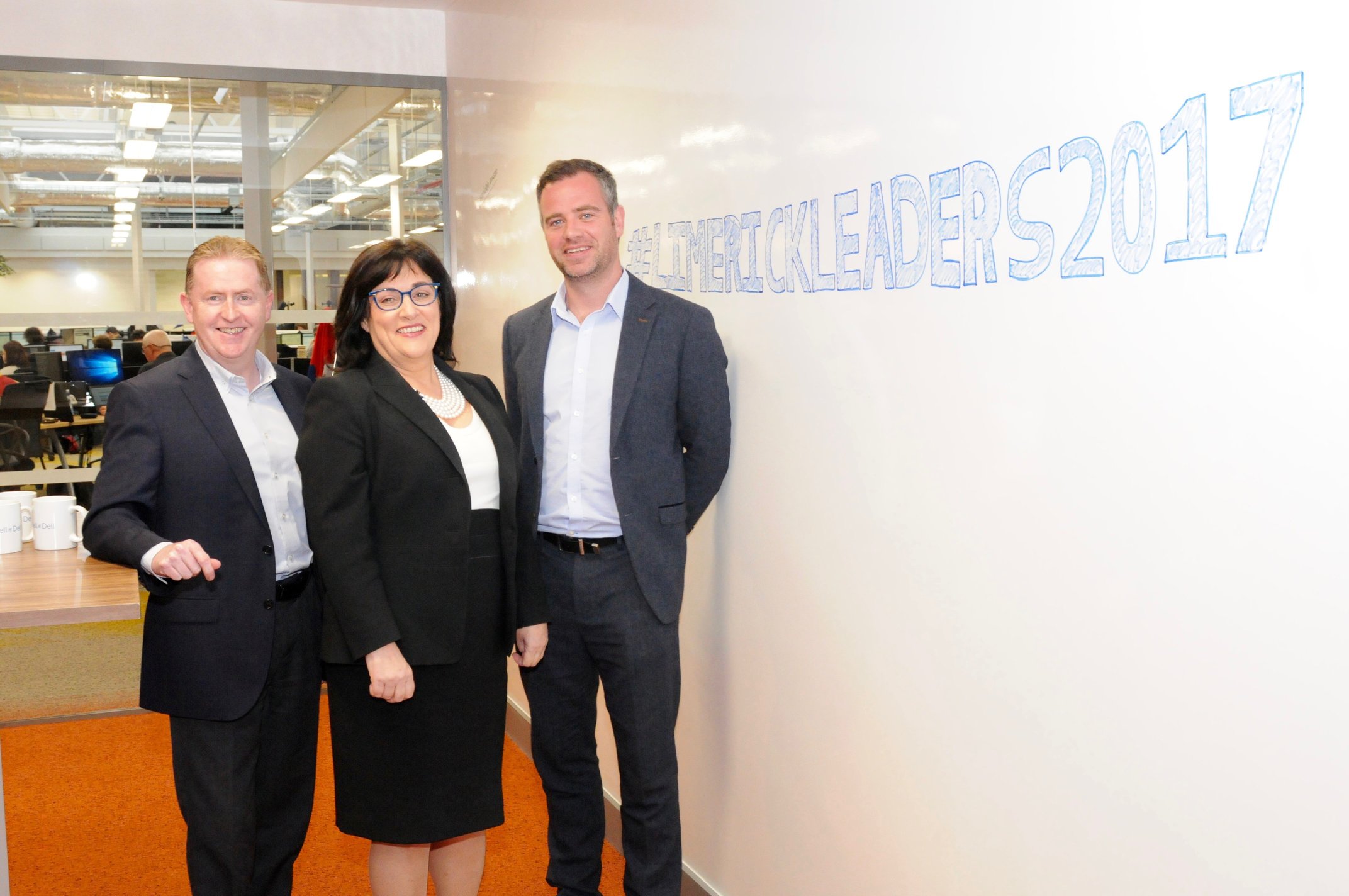 Anne Heraty Encourages Mid-West Business Community to Invest In Their People to Drive Growth
Attending the Limerick Chamber Regional Leaders Programme at the Dell EMC campus in Limerick was: Timmy O'Dwyer, Vice President, Global Parts Operations for Dell EMC; Anne Heraty, CEO and founder of CPL Resources PLC; Dr James Ring, CEO, Limerick Chamber.
150 members of the Mid-West business community today took part in the second of a series of leadership discussions at the Dell EMC Campus in Limerick as part of the Limerick Chamber Regional Leaders' Programme. The programme is being delivered by Limerick Chamber in collaboration with Dell EMC and the University of Limerick. The audience heard today from Anne Heraty, CEO and founder of CPL Resources PLC.
Today was the second of five leadership talks that will take place at Dell EMC's Limerick Campus over the coming year. Each of these leadership talks is private sessions for the 150 participants signed up to the programme. In between the bi-monthly leadership talks, the 150 participants will participate in smaller groups with a mentor. This will be a senior leader from the region who will work with them to develop their leadership skills. Each group will receive a new mentor every two months, ensuring that they are exposed to many different leadership styles drawn from a broad range of sectors.
Speaking today Timmy O'Dwyer, Vice President, Global Parts Operations and Limerick Site Leader for Dell EMC: "Dell EMC is delighted to be working with Limerick Chamber and the University of Limerick on this exciting programme to support the growth and development ambitions of the mid-west region. Our first leadership session took place back in February and we received a lot of positive feedback from all who attended. The programme is an exciting one for the region and it's great to see the time commitment being invested by the mid-west business community. Programmes like this one that brings our community together to learn and share from each other's experiences, in the long run, will have a positive impact on the leaders of the future."
Anne Heraty established Cpl Resources plc. in 1989 and as Chief Executive, Anne has played a key role in developing it to become Ireland's leading employment services company. Cpl finished the year with 8,223 people working on behalf of Cpl on client projects. They have a network of 32 offices in nine countries. Anne holds a BA degree in Mathematics and Economics from University College Dublin.
Addressing the audience, Heraty said: "I'm delighted to be with you all today. I think this is a really great initiative being run by the Limerick Chamber with the support of Dell EMC and the University of Limerick. The biggest part I believe of successful leadership is an investment in your employees and their continued growth. To have 150 business people from a variety of backgrounds across the mid-west region is a testament to the commitment you all have to the future of the region."
"From a personal point of view, I have two key rules I live by. One is to listen – I always try to listen carefully to what both my employees or clients are saying to me, what do they really mean and ultimately make sure I'm understanding their needs. If I'm successfully responding to their needs as their employer or at a client level then the kickback is a happy workforce and a happy client. The second key piece I've found to be essential is the importance of surrounding yourself with the right people. From entry level positions to senior management, the value of hiring the right people is immeasurable. The ability to recruit the right below and select the right leaders for your organisation I think is ultimately key for your organisation reaching its full potential. With the right team in place trust develops and with trust I believe as a leader you have the ability to empower your team to do the right thing and be successful."
Anne Heraty delivered an hour-long talk to the attendees with an open questions and answers session at the end.
Dr Philip O'Regan, University of Limerick said: "UL is delighted to be working with Limerick Chamber and Dell EMC in delivering such a significant mentoring programme to business leaders in the region. The purpose is to instil in those taking part a sense of ambition, teamwork and strategic focus and Anne Heraty has emphasised exactly these qualities in a wonderful presentation that drew on her unrivalled business experience. The huge turnout and the enthusiasm of those taking part suggest that this series has struck a chord with business leaders in the region."
Dr James Ring, CEO, Limerick Chamber, said: I am delighted to see that something that emerged as a little idea has continued to grow and once again brings the highest calibre leadership speaker like Anne Heraty to Limerick. The vision of this programme is to create a strong network of high performing senior leaders from around the region to help drive the Mid-West to higher and higher levels. The partnership of the Chamber alongside Dell EMC and UL is proving a huge success and I am sure will result in the further growth of this programme for years to come
For more information about the Limerick Chamber Regional Leaders Programme click here
To read more about business in Limerick click here