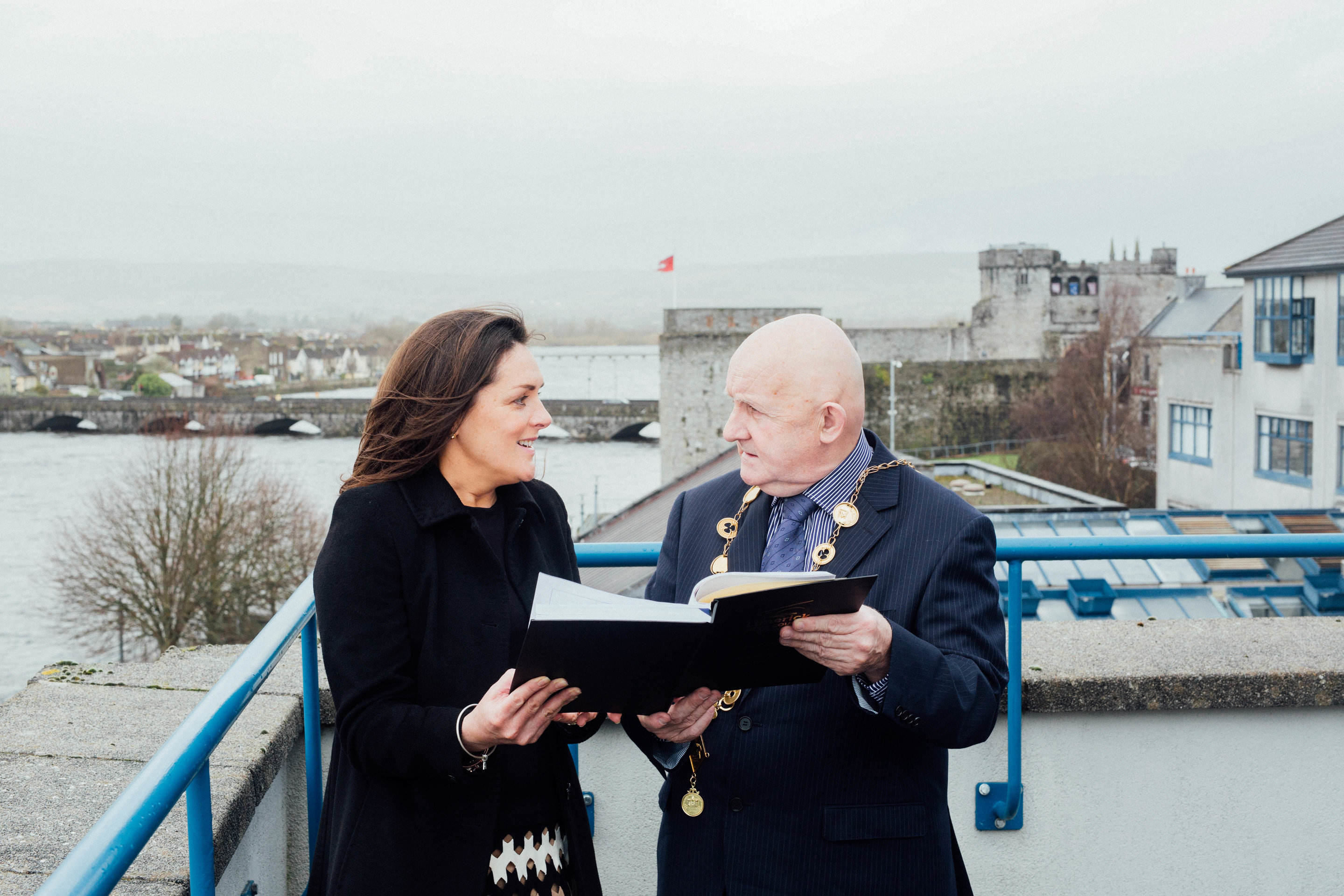 Anthony Foley widow Olive Foley is presented Limerick's Book of Condolences after husband's passing
Anthony Foley Widow Olive Foley is presented with Books of Condolences from Mayor of Limerick City and County, Cllr Kieran O'Hanlon. Photo: Brian Arthur
The wife of the late Anthony Foley has described the 10,000 signatures on Limerick City and County Council's Book of Condolences presented to her this week as another reminder of the 'amazing goodness of people'.
Speaking after being presented with the Book of Condolences by Mayor of the City and County of Limerick Cllr Kieran O'Hanlon at City Hall, Olive Foley said that as overwhelming as her husband's passing has been, the generosity of the public has still shone through at all times.
"As dreadful as this has been, I cannot help, even at the most difficult of times, but see the amazing goodness of people. You're dealing with something that is almost too much at times but there's always someone at your side, some message coming through.
"The greatness of this is really that it's there for everyone, every time there's a tragedy, people respond in amazing ways. Ireland is a special place in that regard and Limerick too. We had incredible support in Killaloe but it was like there was a small bridge between Killaloe and Limerick at that time, and very much since.
"To have 10,000 people sign a book of condolences says it all about Limerick. It has a huge place in our hearts and even the journey home with Anthony, passing Thomond Park and seeing so many people there, is something we will never forget. We thank everyone across the city and county for their support and for all these signatures. We will never forget it."
Said Mayor Kieran O'Hanlon: "Anthony Foley was a hero of all of Limerick and it's fair to say that his passing was one of those few moments in your life that you will always remember where you were when you heard the news. It stopped us all in our tracks. We had to come to terms with the sudden passing of someone whom we all had a connection with, even for those who didn't know him.
"Anthony achieved so much in his all too short time here with us but was a really modest person. I think it's because of that he had a special place in our hearts; a down to earth guy who did so well. His death, therefore, deeply impacted so many people and the number of people who signed the book of condolences reflected that."
The Mayor also paid tribute to Anthony Foley widow Olive, her sons and the Foley family for the way they have responded to his passing.
"Anthony was a hero to us all and Olive is now very much the same. You just had to stand back and admire the way she and the boys and the wider family met Anthony's passing. She has been so brave and so eloquent, from her homily at his funeral to everything she has done since.
"The online initiative by the family to have others remembered in Masses alongside Anthony in the run up to Christmas was also remarkable. It brought thousands of people together who are grieving. That solidarity has given so many people strength and it was an incredibly selfless thing for the family to do. There's not much we can do at times like this except let people know we are there for them and Limerick certainly did that for the Foley family."
To read more stories about Anthony Foley click here