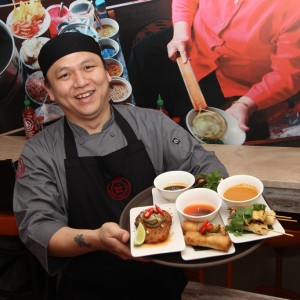 The name Aroi has become synonymous with good, healthy, delicious and authentic Asian street food since it opened it's doors in Limerick five months ago. The bustling eaterie has brought vibrant and exciting dishes to diners and now Aroi opens it's doors in Cork city. Chef Eddie Ong Chok Fong has introduced a happening food scene to adventurous food lovers who can't get enough of his dishes like Pad Thai Noodles, Red Duck curry, Som Tam Salad and Pandan Chicken, all served, street food style and perfect for sharing. Cork is known for it's love of great food, now diners get to experience this food for themselves now that Aroi has opened it's doors in the city.
Since the very recent founding of Aroi, chef Eddie has enjoyed extensive attention from the food media. Hailing from Malaysia and cooking street food in Thailand since his school days, former Michelin star chef Eddie was nominated in the Best Chef in Munster category as well as best casual dining and best ethnic food at the prestigious Food and Wine Magazine Restaurant of the Year awards this summer. He has received glowing reviews from the countries toughest food critics and been featured in the top food publications across the country.
What sets Aroi apart is not just the authentic Asian food, made with fresh herbs from his native Malaysia and Thailand, but the terrific value that customers can enjoy. With no dish  above the €10 mark, groups can indulge in mains with as many side dishes that their appetite can manage, rounded off with delicious home-made gelato and coffees. Noodles dishes are created using rice noodles which are naturally gluten free,   and everything is made with an abundance of fresh vegetables and are low in fat yet full of good things. With Asian beers and wines to match your feast, Aroi is sure to excite the discerning palates of Cork food lovers.
You can call Aroi in Cork on (021) 427 2388 or find them online at www.aroi.eu
Aroi are also on Twitter @AroiAsianfood
Read more about Aroi here!