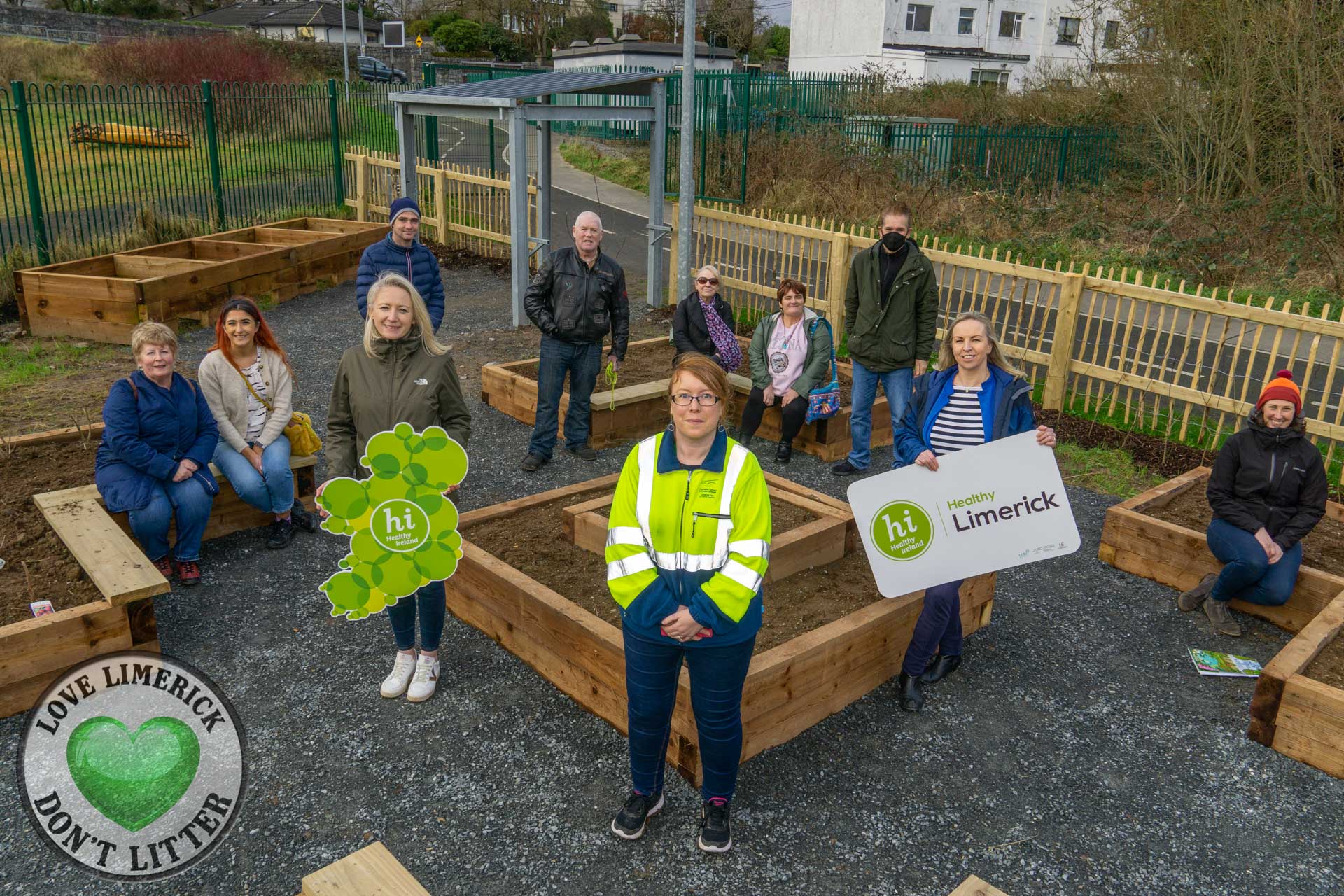 Baggot Estate Biodiversity Garden promotes community well being initiatives in an urban forest
Baggot Estate Biodiversity Garden – Pictured are Stephanie Hall, Focus Ireland Occupational Therapist, Sharon Lynch, Environmental Technician Limerick City & County Council and Roisin Ross, Healthy Limerick, (front) with the Focus Ireland gardening group (back). Picture: Kris Luszczki/ilovelimerick


Baggot Estate Biodiversity Garden promotes community well being initiatives in an urban forest
By I Love Limerick correspondent Ava O'Donoghue
Baggot Estate is an urban forest located in Ballinacurra, that is undergoing changes to create a new space out of the underutilised area.
The Baggot Estate Biodiversity Garden project is funded by Healthy Ireland in coordination with Healthy Limerick.
The project aims to create spaces for well-being to create a pollinator-friendly demonstration garden as a health and well-being initiative.
"Feedback has shown that Baggot Estate is a very valuable and valued resource," Sharon Lynch, Environmental Technician, Limerick City & County Council explains, "but it is not known to people outside the local area."
The implementation goal of the Baggot Estate Biodiversity Garden is to provide an attractive entrance way to the park to discourage the surge of anti-social behaviour in the area.
The space will instead be much safer for the public and can be used for socialisation and educational talks while cherishing the natural environment.
A partnership approach was taken in order to involve local stakeholders in the area. Groups met to discuss the particular needs and requirements for the area and an application was sent to Healthy Ireland for funding.
The Baggot Estate Biodiversity Garden project is in partnership with Limerick City and County Council, Focus Ireland, Limerick and Clare Education and Training Board, Mid-West School for the Deaf and Ballinacurra residents to provide opportunities for recreation within the community.
The feedback received from stakeholders during the initial design stage of the project was seating, shelter and access to water and composting facilities.
Have you seen the beautiful new timber sculpted benches in Baggot Estate as part of our @healthyIreland
biodiversity garden, all about the butterflies, bees and hedgehogs! @creativeirl #healthandgreenspace #healthylimerick pic.twitter.com/8BJDnp94P7

— Limerick Council – Comhairle Luimnigh (@LimerickCouncil) January 31, 2022
This feedback was then implemented into the overall design of the project, with the entrance to the area doubling as a shelter which is also fitted with gutters and piping to feed into a rainwater tank to allow for rainwater to be collected.
The decision to do the garden arose from a need for a city location that groups could have access to for gardening instruction and workshops. There was a request made to implement raised beds into the project so groups could maintain them.
The raised beds double as a seating area and will be used by partner groups for both children and adults to plant flowers and grow herbs.
New wood carved biodiversity themed benches by renowned chainsaw sculptor Will Fogarty also provide additional seating and allow visitors to admire and interact with the designs.
A community orchard has been planted in the area consisting of apple trees and fruits like raspberries and blackberries. A native Irish hedgerow of hawthorn has been planted among the fencing to promote biodiversity.
Bird feeders and bug hotels will also be incorporated into the design. A living willow dome and tunnel tree features are to be planted within the coming months.
"This will be an inclusive space for all, providing an opportunity to spend some time in and enjoy nature, with the objective of improving both physical and mental health," Sharon added.
For more stories on community go HERE
For more on Baggot Estate go HERE