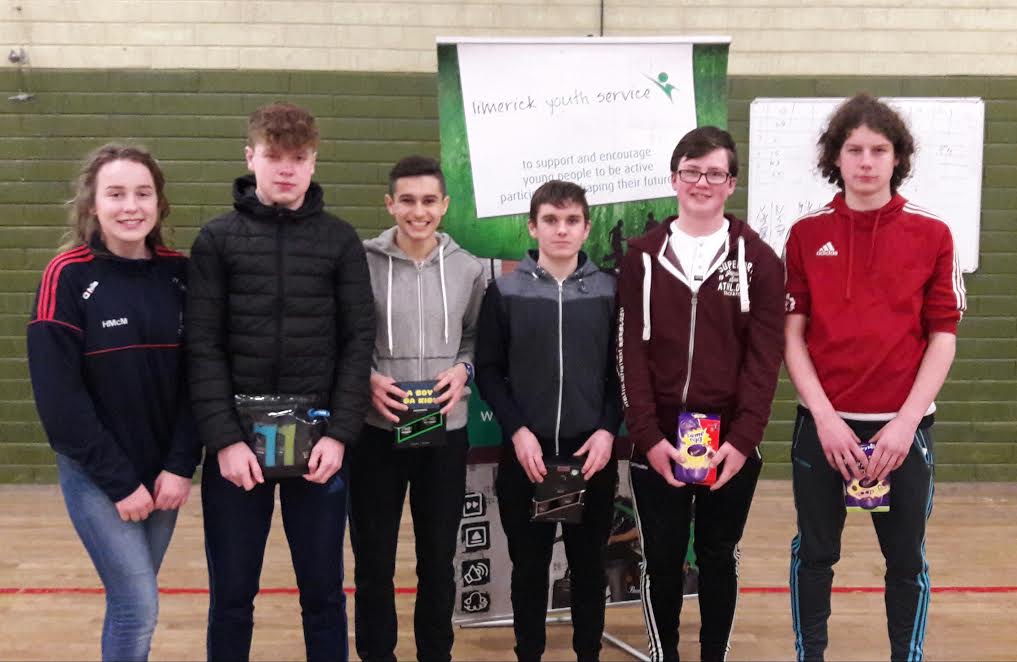 Ballingarry Youth Club to Represent Limerick Youth Service at Youth Work Irelands Youth Games Final
Ballingarry Youth Club to Represent Limerick Youth Service at Youth Work Irelands Youth Games Final; Pictured are Hannah McMahon, who is travelling to India with the Hope Foundation with members of Ballingarry Youth Club who will represent Limerick Youth Service at Youth Work Ireland's National Finals in July
A team from Ballingarry Youth Club will represent Limerick Youth Service at the national finals of Youth Work Ireland's youth games after they won a nail-biting regional qualifier held in Newcastle West recently.
In a tension-filled community hall, the Ballingarry team emerged victorious despite been pushed all the way by teams from Newcastlewest and Granagh Youth Clubs.
Organised by young people from Newcastle West Youth Club and Desmond College, the table quiz was a fundraiser for five local teenagers who are travelling to Kolkatta (formerly Calcutta), India with the Hope Foundation to work with 'street children.'
'It was a very enjoyable evening and we raised over €300 to support the young people's journey to India,' said Eithne Stembridge, Limerick Youth Service Club.
The national finals will be held at the University of Limerick on Sunday, July 2nd as part of Youth Work Ireland's Youth Games National Finals.
Eithne paid tribute to the young people who took part in the table quiz and the junior leaders and volunteers who supported the event, with a big word of thanks to hosts, Newcastle West Youth Club.
The Ballingarry Youth Club team are Nessan Leahy, Todor Aleksandrov, Josh Mulivane-Quill, Mark Sheahan and Mike Southgate.
Ballingarry Youth Club is one of 35 volunteer-led youth clubs that are affiliated with Limerick Youth Service.
Limerick Youth Service is recognised as a leading provider for a variety of quality programmes for young people in Limerick City and County. They work in partnership with a number of national and regional organisations including Youth Work Ireland, Solas, Tusla, Limerick & Clare Educational Board, the Department of Justice and Equality, Youthreach, Limerick City and County Council, the Department of Children and Youth Affairs along with many other voluntary and community groups.
They provide second chance and further educational training programmes including Leaving Cert Applied, Employability Skills, Bakery Programmes, Contact Centre Operations and Business Studies programmes for early school leavers at their Youth Resource Centre, Lower Glentworth Street and Nicholas St Youth Hub.
Limerick Youth Service remains committed to supporting and encouraging young people to be active participants in shaping their futures.
To find out more about Limerick Youth Service, please click here.
To find out more about Youth Work Ireland, you can click here.
To read more stories about the youth of Limerick, click here.