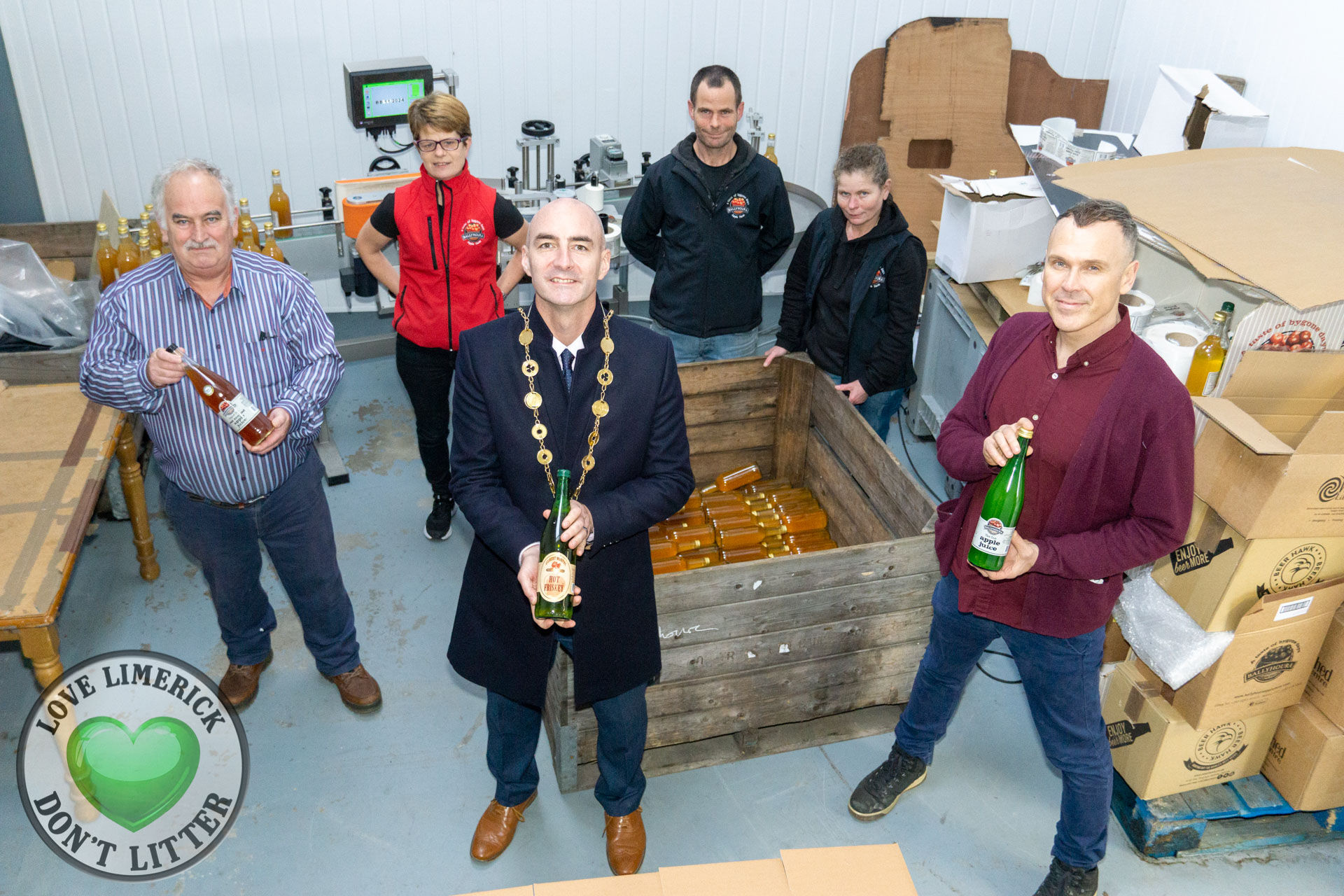 Look for Local: Shop award-winning apple produce and cider vinegar from Ballyhoura Apple Farm
Ballyhoura Apple Farm – Pictured are owner Maurice Gilbert, Mayor of Limerick City and County Daniel Butler and Richard Lynch, I Love Limerick (front) with Helen O Farrell, Mixologist, Maurice Noonan, General Operator and Breda O'Donovan, Production Assistant (back) at Ballyhoura Apple Farm which produces healthy juices and apple cider vinegar, sold in 350 shops throughout Ireland. Picture: Krzysztof Luszczki/ilovelimerick.
Look for Local: Shop award-winning apple produce and cider vinegar from Ballyhoura Apple Farm
By I Love Limerick correspondent Rachel Petticrew
A new campaign run by I Love Limerick in conjunction with LEO Limerick and Daniel Butler, Mayor of Limerick City and County, asks Limerick consumers to look for local when shopping for products, services and experiences.
Ballyhoura Apple Farm, owned by entrepreneurs Maurice Gilbert and Gerry Murphy, has dominated the world of apple food products since the company's inception in 2006.
The hugely successful brand, available in every Lidl and Aldi store in Ireland, started as a small, 'hobby' apple orchard in Churchtown, County Cork.
Mr Gilbert, a master carpenter by trade, tells I Love Limerick of Ballyhoura Apple Farm's humble beginnings.
"The business started almost by accident. I was in construction, and when that industry collapsed in 2010 I turned my attention to the orchard. I had four kids to look after, so I had to earn a living someway," he says.
"We started selling apple juice at various markets. That was where we learned what works and what doesn't. We began creating other products, such as apple juice with vegetable flavours. That really took off, and in 2013 we won seven Great Taste awards."
In 2015, the two entrepreneurs purchased a derelict site at the foot of the Ballyhoura Mountains in Kilfinane, West Limerick.
Their now expansive Churchtown orchard was replanted at the new site, travelling over 22 kilometres.
The Ballyhoura Artisan Food Park, or Ballyhoura Apple Farm, offers educational facilities to cookery students and local producers. Mr Gilbert is also committed to developing a thriving community space at the site.
At Ballyhoura Apple Farm, the company's most successful product, raw Apple Cider Vinegar, is produced in vaults and dispatched across Ireland.
Mr Gilbert explains the popularity of the product, saying, "The difference with our cider vinegar is that it's made from 100 percent cider. But more importantly, if you take a step back, our cider is made from 100 percent apples."
"You can make apple cider with just 20 percent apples by adding sugar and water. Ours is 100% Irish apples, which we buy from the Irish Apple Growers Association. That sets our product apart from other Irish cider vinegar."
As well as Lidl and Aldi, Ballyhoura Apple Farm products can be found in many Limerick shops and purchased from national wholesale supplier Musgraves. The farm's famous cider vinegar is used in top hotels such as Adare Manor and The Montenotte Hotel in Cork City.
Over the years, the Kilfinane community has become an integral part of this booming business.
"The local element of Ballyhoura Apple Farm is very important to us. Everything you give to your locality, you get back tenfold. Everybody who works here is local, so their wages go back into the shops and restaurants around Kilfinane," says Mr Gilbert.
"When we hold food events, local food producers turn up alongside local people. We see ourselves as an anchor tenant, which is vitally important in a small town like Kilfinane. We want to make Ballyhoura Apple Farm a tourist attraction and make the village a destination.
Speaking from Ballyhoura Apple Farm, Mayor of Limerick City and County, Daniel Butler, praises Mr Gibert's hard work.
"Maurice Gilbert took a challenge in life and turned it into an opportunity. Not only that, along with Gerry Murphy he has taken a derelict site and turned it into a vibrant Kilfinane destination.
"The farm brings people into the village and creates bounce back for other businesses here. It is so important to encourage people to look for local and to back people like Maurice," acknowledges Mayor Butler.
To learn more about Ballyhoura Apple Farm, go HERE
For more Look for Local stories, go HERE
#LookforLocalLimerick #LookforLocal #ShopLimerick
About LEO Limerick:
Limerick Local Enterprise Office (LEO) is a first stop shop to provide support and services to help start, grow and develop micro and small businesses. LEO Limerick offers a range of support for local businesses including training, trading online vouchers, financial support, mentoring and business advice. Limerick LEO provides a range of services directly to the small and microenterprise sector as well as helping to create a beneficial environment in which the sector can flourish.
For more info go HERE