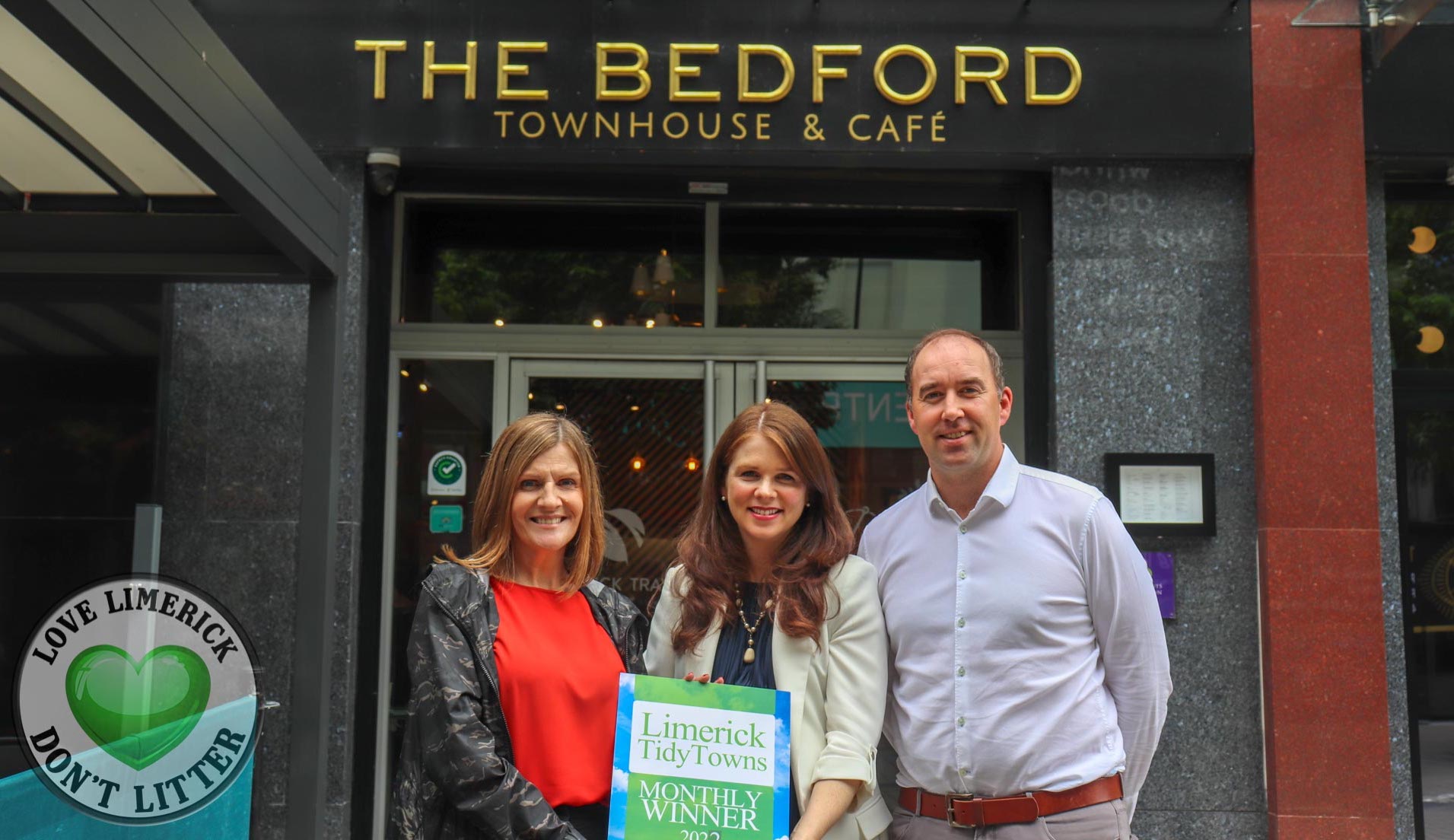 Limerick City Tidy Towns June 2022 Monthly Award goes to The Bedford Townhouse & Café on Bedford Row
Bedford Townhouse Limerick  – Pictured outside the property with Maura O'Neill from Limerick City Tidy Towns are owners Denise and Peter Brazil. Picture: Ava O'Donoghue/ilovelimerick
The Bedford Townhouse Limerick is Limerick City Tidy Towns' fifth monthly award for 2022
Limerick City Tidy Towns have presented their June 2022 monthly award to The Bedford Townhouse and Café at 11-12 Bedford House, Bedford Row.
Maura says, "Were it not for the suspension of our monthly awards for most of 2020 and all of 2021, we would most certainly have given one to this beautiful premises before now, given the new lease of life it has brought to what is considered a unique segment of Limerick's commercial heritage."
Located in Bedford House, which is also home to Limerick Travel, the Café and Townhouse were part of an extensive renovation showcasing some of the original features of the building which dates back to 1830, while enhancing it with modern contemporary signage. The property was once two Georgian townhouses and it has a rich industrial heritage, having been home to Peter Tait, former three-time Mayor of Limerick. The first phase of the project, The Bedford Café, opened in July 2018 and this was followed by the stylish 12-bedroom boutique townhouse, which officially opened in November 2018. Although forced to close at various periods throughout the pandemic, The Bedford has developed a reputation as a high-quality city centre destination providing a unique guest experience, both for visitors to the Café and guests of the Townhouse. There are also more exciting times ahead for The Bedford with the upcoming expansion and redesign of the Café area and an exciting new menu.
The Bedford Townhouse Limerick is Limerick City Tidy Towns' fifth monthly award for 2022, and as a result will be in with the chance of winning this year's overall prize at their annual event to be held early in 2023. The winners from January and February 2020 will also be included in the overall event, as well as Treaty City Brewery, Khan Supermarket, Seoidin Jewellery and South's who won the February, March, April and May 2022 awards.
If you wish to volunteer with Limerick City Tidy Towns, they meet every Sunday morning at 11 am at the corner of Thomas Street and O'Connell Street, and on Wednesday evenings at 6 pm outside the White House during summer months. For further details you can like them on Facebook, follow them on Twitter, check their website HERE  
For more info on The Bedford Townhouse Limerick go HERE 
For more stories on Limerick Tidy Towns go HERE