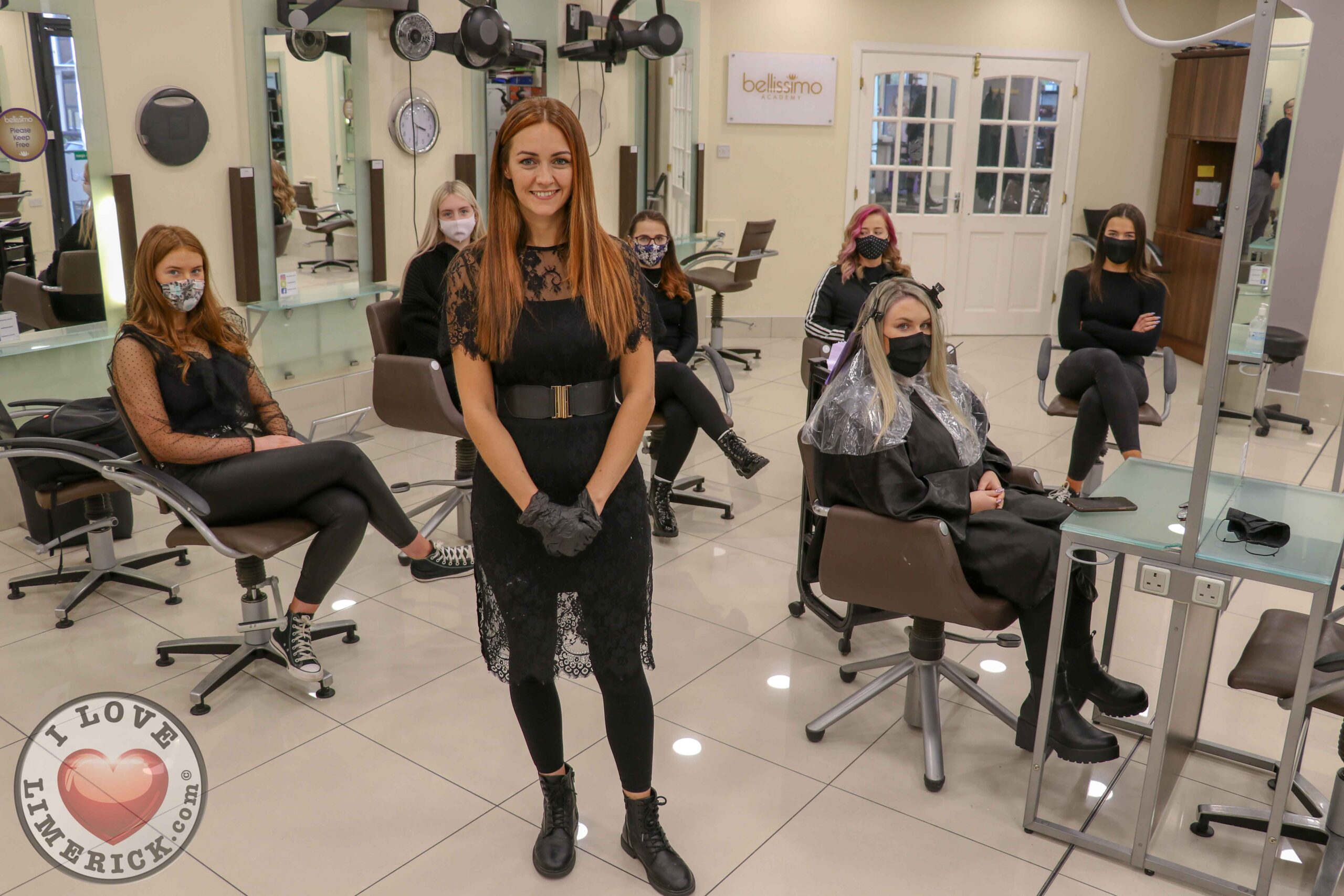 WATCH Bellissimo Academy 2021 –  Enroll and Receive a Diploma in Hairdressing from City and Guilds
Bellissimo Academy 2021 – Erika Salmon, Trainer at Bellissimo Academy, Limerick pictured above. Picture: Elise Ahern/ilovelimerick
WATCH Bellissimo Academy 2021 – Enroll and Receive a Diploma in Hairdressing from City and Guilds
By I Love Limerick correspondent Mary Caroline McCarthy
Bellissimo Limerick is now taking applications for their Bellissimo Academy 2021, a full time training for students who wish to qualify in Hairdressing.

Bellissimo, one of Ireland's largest hair salons, opened in Limerick in 1999 and has continued to evolve and grow over the years. It started as one building with a coffee house and a beauty salon upstairs and hair salon downstairs. Now, it has all aspects of beauty, cosmetics, nails, eyebrows. They have a nail studio that accommodates 15 people at any given time. They have private treatment rooms for providing massage treatments and waxing. Bellissimo covers facials, laser treatments, microdermabrasion, and much more.
In 2004, Bellissimo expanded and they bought the next-door computer shop and opened the Bellissimo Academy. Since then, the Bellissimo Academy takes in a class of budding students for the year to teach them how to style, cut, and colour hair.
The Academy offers a full-time course where the students do a mix of practical and theory-based assignments throughout the year. The course includes Hairdressing Theory, Customer Care, Blow-Drying, Up-Styling, Colour, Cutting, and Perming and is suitable for individuals who wish to pursue a career in hairdressing. Students need to have a passion for hair and enjoy working with people. Interviews are conducted in the four months before commencement and candidates need to be a minimum of 17-years-old to apply.
Erika Salmon, Trainer at Bellissimo Academy said, "The Academy would be a mixture of training that involves a lot of theory-based and practical applications and when we are doing our City and Guild diplomas we are required to do a mix of both. I think there are other courses which offer something similar, but we try to keep it as a salon environment, so we do an awful lot more practical work. We work with real clients; with a real salon environment so they get as much practical realistic salon experience as possible. Within that year we cover a whole range of things but mainly focused on covering your City and Guild diploma. If there is more information you would like you can find us on Facebook. I look forward to seeing you."
Erika Salmon from @bellissimolimk is a Trainer at Bellissimo Academy talks about their full time training for students who wish to qualify in Hairdressing. The new course year is commencing on January 6 2021 till December 2021#ilovelimerick #lovelimerick #lovinlimerick pic.twitter.com/Sxrefwj7WS

— #LimerickTilliDie (@ilovelimerick) October 8, 2020
The new course year is commencing on Wednesday, January 6, 2021 and students will continue through to December 2021. The course is 48 weeks in total Monday to Friday from 9.30 am to 5 pm. The cost of the course is €5,900 and there are a total of ten spaces available in the programme.
Darragh Curtin, Managing Director of Bellissimo, wants to assure incoming students that they are committed to the safety of the students during this time, saying, "It has been our responsibility to take every precaution available regarding the Academy. The lockdown was unprecedented, we were closed for fifteen weeks, it is not a medium that we were able to offer training remotely, or through digital media, because it is mainly hands-on learning and practical work. Because of that, we were committed to the current class, so instead of them finishing in September, they will now be staying with us until December so we can hopefully spend Christmas together if we don't return to lockdown! The new class as a result won't be starting until January. Hopefully, 2021 will be better for us all."
For more information about Bellissimo Academy 2021, go HERE
For more stories on Bellissimo Academy, go HERE