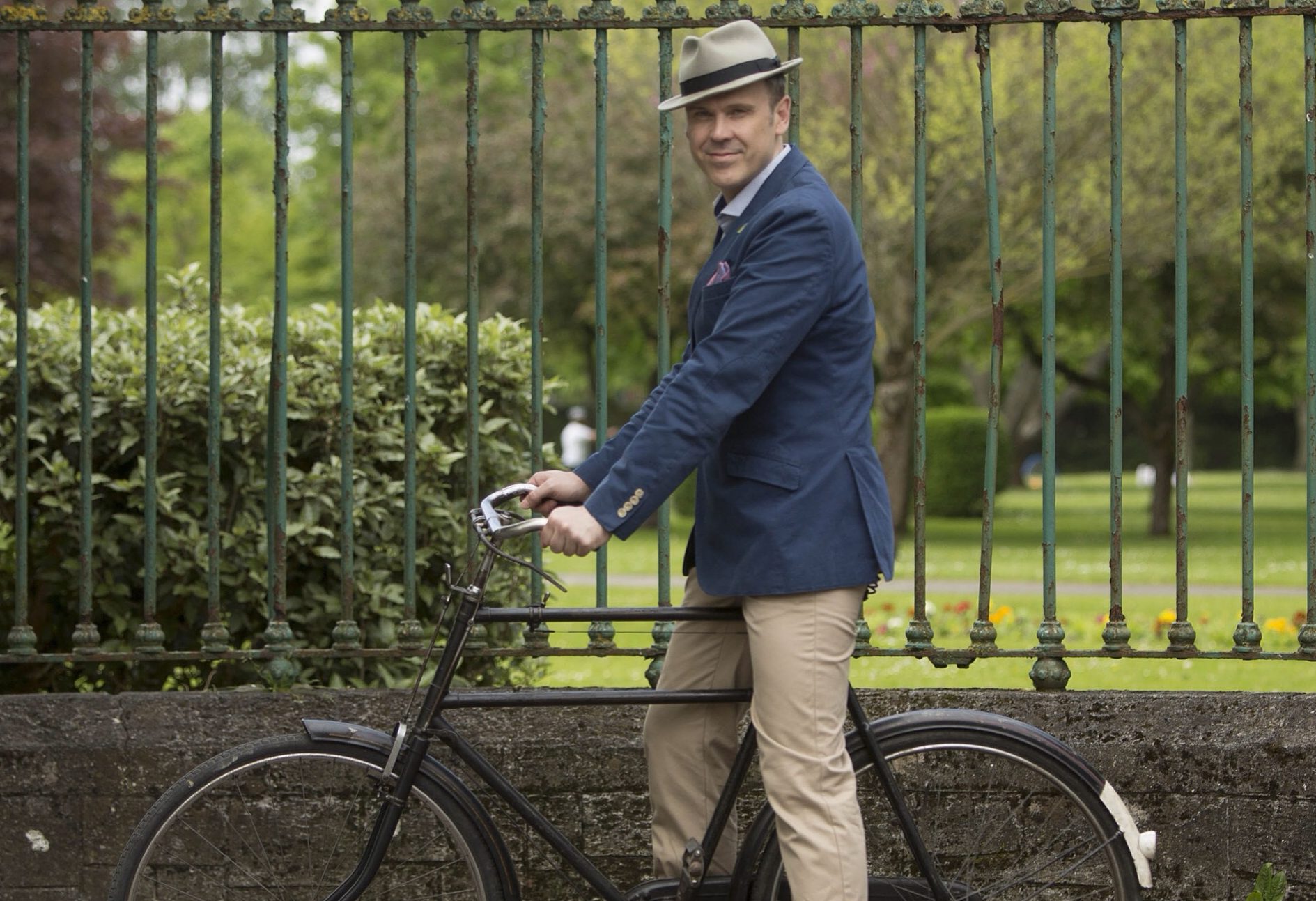 A Cow, Biodiversity and Free Family Cycles among the highlights of Limericks BeSPOKE Cycling Festival 2018
Richard Lynch at the launch of BeSPOKE Cycling Festival 2018.
A Cow, Biodiversity and Free Family Cycles among the highlights of Limericks BeSPOKE Cycling Festival 2018
Limerick's BeSPOKE Cycling Festival 2018 returns this year with a host of events aimed at getting people out of their cars or off their sofas and onto two wheels.
BeSPOKE Cycling Festival 2018, organised by the Limerick Smarter Travel section of Limerick City and County Council will feature a range of events for all ages and abilities as part of National Bike Week.
BeSPOKE Cycling Festival 2018 gets into gear this Friday, June 8 with free Bike Repair Evenings in Castletroy Public Park and Corbally Irish Estates from 6.30pm for minor repairs to your bicycles ahead of the events over the subsequent nine days.
A special Share the Road/ Cycle Safety event is being hosted on Saturday, June 9on Bedford Row, Limerick in conjunction with An Garda Síochána and Musgraves.
The cycle safety event will highlight the blind spots around larger vehicles. An articulated truck will be parked on Bedford Row with the blind spots marked around the vehicle. Members of the public will have the opportunity to sit in the driver's seat of the truck to get the drivers perspective.
Also on Saturday, there will be Bike Repair Day in the Parkway Shopping Centre and the Cycle for Sick Children group will host a 24km escorted cycle for beginners or those wishing to come back to cycling. Participants must be over 18 and must have a bike and helmet.
The flagship event for BeSPOKE Cycling Festival 2018 takes place on Saturday 16 June. The Three Bridges Family Cycle begins at 5 pm from Howley's Quay and will follow a route along the river passing over three of the cities bridges before returning to Howley's Quay. There will lots of entertainment along the Quay before and after the event including DJ, food vendors, bouncy castles, face painting, children's games, and lots more.
Coke Zero Bikes will also be at Howley's Quay to in association with the National Transport Authority their brand ambassadors to promote their Coke City Bikes with fun-filled activities, demonstrations, free samples and membership details.
Other events taking place during BeSPOKE Cycling Festival 2018 include Bike to Nature – Biodiversity Cycle on Sunday, June 10 along the Great Southern Greenway Limerick. There will be biodiversity experts along the greenway between Rathkeale and Templeglantine to encourage cyclists to discover life under water, on land and in the sky. Information sheets will be provided to all participants outlining the plants and animals that they can find along the route.
An Garda Síochána and the RSA will be holding specific events on Tuesday, June 12 around Bicycle Theft Prevention and Recovery and Cycle Safety at Colbert Station.
Other events taking place over the week include a COW (Cycle on Wednesday) for schools, a Dawn Cycle on Friday, June 15 and a Cycle on the Greenway on Sunday, June 17 beginning in the Old Station Yard in Abbeyfeale.
Dan Slavin, Executive Engineer with Limerick City and County Council said: "BeSPOKE is a joint effort between ourselves, Limerick Sports Partnership, the Gardaí and the RSA to promote cycling and the benefits of cycling. Over the past number of years, a number of cycle routes have been developed and there is more to come. BeSPOKE is a great way to introduce younger members of your family to cycling and we are encouraging everyone to come out and support the large number of events we have throughout the week."
For full details of BeSPOKE Cycling Festival 2018, go here.
For more stories on BeSPOKE Cycling Festival, go here.