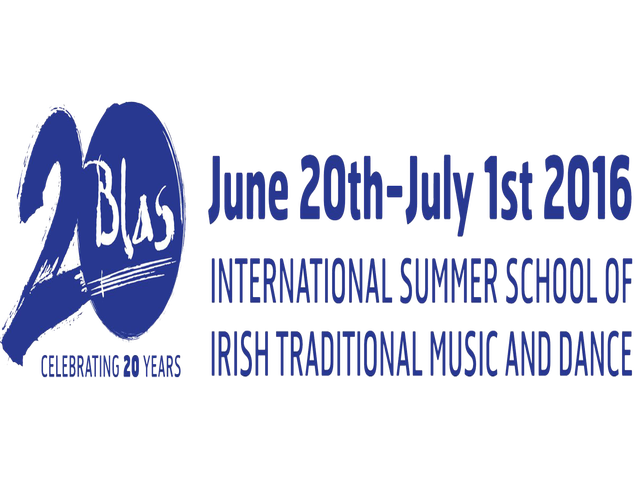 The Blas International Summer School Returns to the Irish World Academy at the University of Limerick
The Blas International Summer School of Irish Traditional Music and Dance returns to the Irish World Academy at the University of Limerick for the 20th successive year this June 20 – July 1.
The summer school will be launched on Monday June 20, where students attending the course at the University's Irish World Academy will benefit from the wisdom and tutelage of eminent figures of the Traditional World such as Dónal Lunny, Paul Brady, Mícheál Ó Súilleabháin, Colin Dunne, Niall Keegan and Sandra Joyce, to name but a few.
Blas, directed by Ernestine Healy, has firmly established itself as one of Ireland's most prestigious summer schools, drawing students from all over the world to spend two weeks gaining access to the expertise of some of Ireland's finest artists.
In addition to expert tuition and master classes, Blas students can expect a whole range of activities including lectures on Irish Traditional music topics, field-trips, sessions, Irish Language classes, lunchtime and evening concerts, céilís and above all, the unique opportunity to share tunes with some of Ireland's leading traditional musicians.
Following its launch, a range of public events will take place throughout Blas International Summer School, including: a number of public lectures, most notably the annual Francis Roche Memorial Lecture; a bi-lingual interview with a seminal performer and figure in the Irish Music scene; and daily public concert events which have proved to be hugely popular in the past. To help mark the 20th anniversary, a Blas Gala Concert will take place on Sunday, June 26.
Blas International Summer School is delighted to announce the continuation of the Brady Bursary for 2016. The recipients of the scholarships benefit from master classes and tuition from Ireland's most distinguished traditional artists. The value of each bursary covers a portion of tuition only for the 2 weeks of the programme. Applications for the Blas Brady Bursary are now open until April 30, 2016.
Find further information on the Blas International Summer School here
Check out more about the Irish world Academy of Music and Dance here
Click here for more of Limerick's latest news