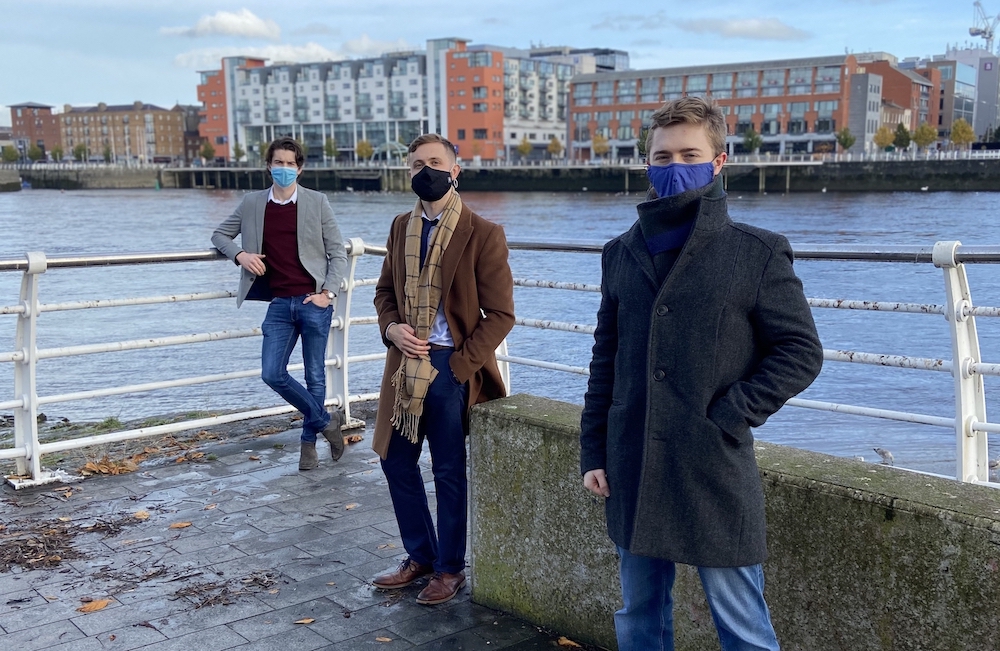 Tracworx launch Blueworx a social distancing and contact tracing solution for organisations 
Blueworx, created by Tracworx, is a social distancing and contact tracing solution. Pictured above are Chris Kelly ,Fionn Barron, Eoin O'Brien – Founders of Tracworx
Tracworx launch Blueworx a social distancing and contact tracing solution for organisations
Tracworx, an award-winning software company from Limerick founded by 3 college friends in 2016, has developed an innovative technological solution for organisations to provide better protection from COVID-19.
Blueworx, created by Tracworx, is a social distancing and contact tracing solution to help companies stop the spread of COVID-19, enabling them to safeguard employees and prevent a shutdown of operations due to an outbreak on site.
Blueworx is a cloud-based Enterprise solution that allows an organisation to monitor social distancing in real-time and to automate the contact tracing process. If a positive COVID-19 diagnosis occurs, a company can use the dashboard to generate a list of close contacts of the affected user in order to ensure quick contact tracing.
The innovative enterprise solution is helping a number of organisations to return to work and to comply fully with safety protocols. The Blueworx solution is suitable for use by a wide range of industries from manufacturing to Pharma and by film and TV studios. Troy Studios are currently using the devices on location for filming the Foundation series -Terminus for Apple TV while TG4 are using it for the Ros na Run Series being filmed in Galway.
Speaking about Blueworx, (Chris Kelly (CEO) describes how their company has pivoted through the COVID-19 pandemic: "We recognised the huge challenge that organisations in all industries around the world are currently facing, and in turn realised that our existing healthcare solution could be utilised as a resource for organisations to protect their staff and safeguard their business during COVID-19. Our social distancing and contact tracing solution enables organisations to get back to work while complying with the Return to Work Safely Protocols issued by the Government."
Tracworx healthcare customers include UHL Limerick, Bon Secours Cork and The Liverpool Heart and Chest Hospital UK with Enterprise customers in the Pharma sector including Reagecon and Micro-Bio.
Avoid a COVID-19 closure at your facility by using our enterprise social distancing & contact tracing solution – Blueworx. Click the link to learn more https://t.co/BwUY60UvpA pic.twitter.com/QUib75YxBn

— Tracworx® (@Tracworx_) October 6, 2020
Blueworx Solution – Return To Work Services
COVID-19 Solution: Protect your staff and safeguard your business
How it works:
Staff wear a Bluetooth device that measures their social distancing interactions using a traffic light system to help improve performance.
The device vibrates to alert a user when they are within 2 metres of another user
Contact tracing data is then available in real-time to view on a dashboard.
The complete solution includes Bluetooth wristband devices, charging cabinets and handheld barcode scanning units to check-in, check-out with ease.
About The Device
Comfortable form factor including wrist band, belt clip or lanyard.
Wireless charging or charging cabinet.
GDPR & Privacy compliant.
Cloud-based service.
Device IP65 certified.
The device does not store any personal information or use GPS to track movement or connect to other types of Bluetooth beacons or phones.
About Tracworx
Pinpoint Innovations Limited trading as Tracworx was founded by Chris Kelly (Chief Executive Officer), Fionn Barron (Chief Operations Officer) and Eoin O'Brien (Chief Technology Officer).
The COVID-19 challenge requires employers and staff to act responsibly to stop the spread of the virus including:
Maintaining a 2-metre physical distance between people to minimise the risk of transmission.
Keeping a log of contact/group work to facilitate contact tracing
Adapt existing sign-in/sign-out measures and systems, for example, biometrics/turnstiles, to ensure that physical distancing can be maintained.
The Solution
The Tracworx device has Bluetooth onboard and can record contact between two people to comply with the 2m distancing guidelines.
Generates real-time contacts lists for social distancing monitoring and when a positive diagnosis occurs.
Monitoring Process: What the device does
Recognises other Blueworx devices within 2 metres.
Records the time and the duration of the interaction.
Holds collected information within its memory until it detects a Wi-Fi connection.
Transfers Device ID, timestamp and duration of interaction to the cloud (AWS).
Use Bluetooth to detect this information.
Only recognises other Tracworx Blueworx devices.
The ambient device allows you to get on with your job and works in the background
What the device does NOT do
Store any personal information on the device
Use GPS to track your movements or location
Connect to other types of Bluetooth beacons or phones
For more information on Tracworx go HERE
For more stories about Tracworx go HERE