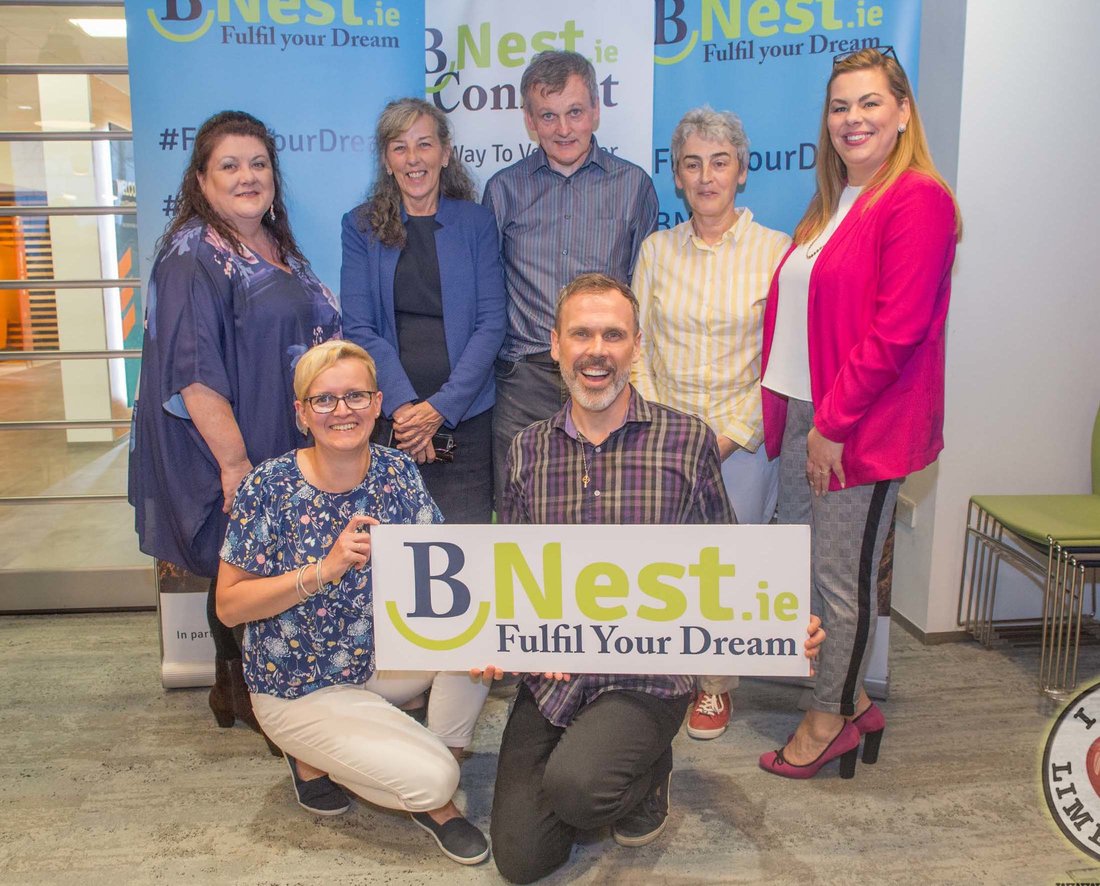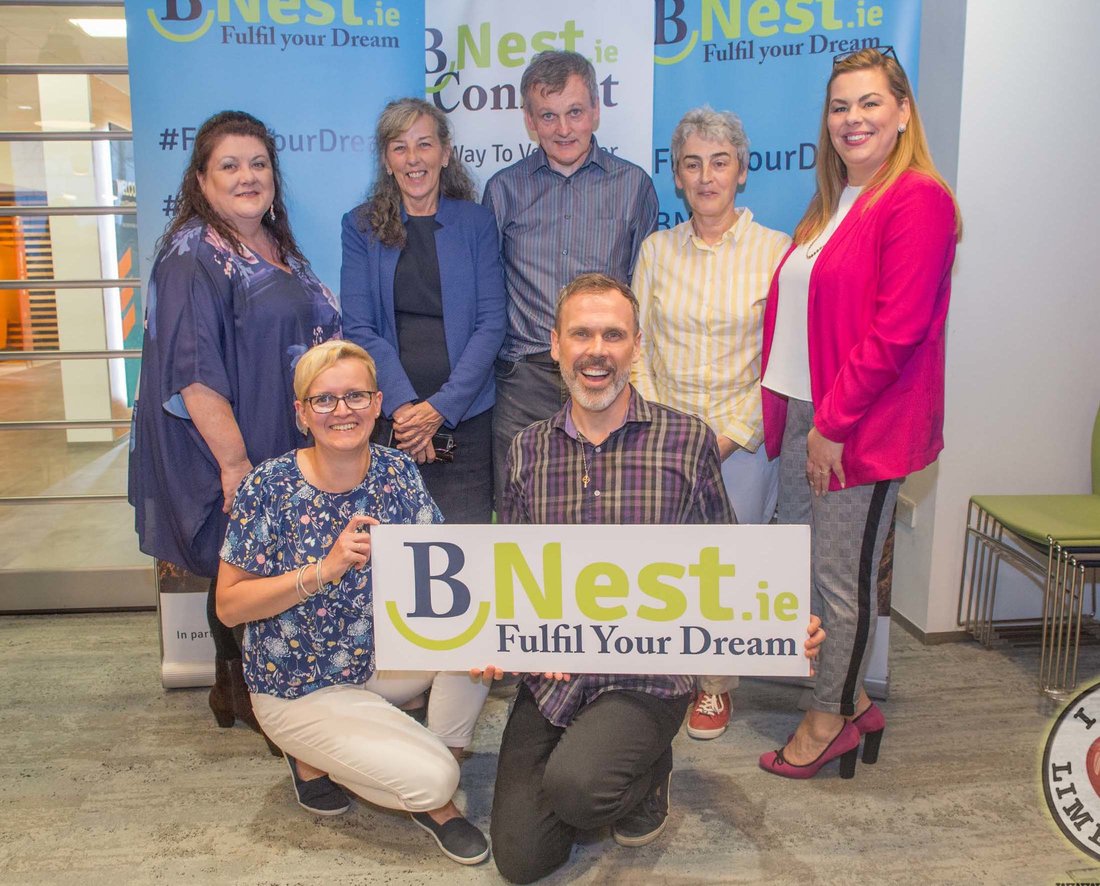 PHOTOS – BNest AskAdvise evening creates social impact by bringing the best of Limerick together
Linda Ledger, St. Munchin's Community Enterprise Centre, Bernadette Kemmy, CEO BlueBox Creative Arts Therapy, Eamon Ryan, BNest Founder, Sister Helen Culhane, Children's Grief Centre, Ursula Mackenzie, EmployAbility. (Front Row) Kasia Zabinska, BNest Limerick, and Richard Lynch, ilovelimerick at the BNest AskAdvise evening. Picture: Cian Reinhardt/ilovelimerick
BNest AskAdvise evening creates social impact by bringing the best of Limerick together
by ilovelimerick correspondent Chloe O'Keeffe
BNest, the first dedicated Social Enterprise Incubator Programme in Ireland recently held a free and informal Ask&Advise evening at the Bank of Ireland Workbench space, to share advice, tips, and useful contacts with organisations and people making a social impact in our communities.
"Our idea was simple – gather together in one room those who work on making a positive social impact and anyone willing to help them and give them advice," says Eamon Ryan, founder of BNest.
"Events like Ask&Advise shows the power of people's minds when they let themselves loose and share problems with other like-minded people. There is nothing more powerful," he adds.
Chris MM Gordon, Founder of the Irish Social Enterprise Network and Managing Partner of Collaboration Ireland was the host of the evening. Chris said that the evening is beneficial for social enterprises who often find themselves "caught between two stools," as they are trying to make profits selling products and services but are also trying to achieve the social aspect, "tonight we aim to give them the tools and support they need to take their organization to the next level and get them in touch with people that might be able to help them."
BNest is an initiative created specifically to support social entrepreneurs nurture their start-ups and caters to all types of organisations from charities to businesses with a social conscience. It aims to bridge the gap between achieving social impact and running a business, while also supporting its participants on their personal journeys.
The BNest annual six-month programme teaches emerging social entrepreneurs how to get their new organisations off to the best start by focusing on key areas related to developing their enterprises, in terms of business, social and personal aspects. The applications for 2018/2019 programme will open July 1, 2018.
Many participants of the past two programmes were in attendance at the event, some even posing their own questions to the public, and offering help and support where possible.
Visual Limerick's Phyl Guerin was the first to share her 'ask', asking where she could get good value, locally produced plinths for her display windows around Limerick.
Ursula McKenzie of EmployAbility Limerick who provides a professional employment service for people who have suffered from illness, injury or a disability and David Neville from Jumpagrade who help students from disadvantaged areas through an online resource, were both seeking advice on how to improve their contacts.
Katrina Morgan from the Children's Grief Centre, a support service for school-aged children and young people affected by loss through death, separation or divorce asked for advice using social media to increase awareness of the centre.
Bernadette Kenny, CEO of Blue Box Creative Learning Centre who offers innovative Arts Therapy programmes for kids was looking for help in getting connections with someone knowledgeable with tech support for their database system.
Aidan O'Brien from BiaBox, a fresh-food delivery service was planning to employ a total of 15 people from butchers to delivery drivers in the coming year and was asking advice on how to source the best possible candidates locally.
Kasia Zabinska of BNest says, "We want BNest to be the go-to place for social impact businesses and Ask&Advise events help to increase connectively amongst them and anyone willing to help, because together we can achieve so much more!" adding, "What we're doing here, is bringing people closer together. Every question asked received great, outside-of-the-box, practical suggestions, and so many useful contacts were shared."
While a third AskAdvise evening is being planned for the second half of the year, BNest encourages everyone interested in this space to attend their event, 'Social Entrepreneurship – A Path For Me?" which will take place on Saturday, June 9 from 10am to 3pm at the Nexus Innovation Centre at University of Limerick. The event is a half-day interactive and practical workshop to give you insights into the reality of social impact business. It will let you explore the social enterprise space using actual stories of local businesses, non-profits, and community enterprises and help to understand a little more of the possibilities it might offer you. While the workshop is free, they are asking all participants to contribute €25 towards a local charity, Milford Hospice. For more info contact [email protected]
For more info on BNest go here.
For more stories on BNest go here.
Pictures by Sophie Goodwin/ ilovelimerick