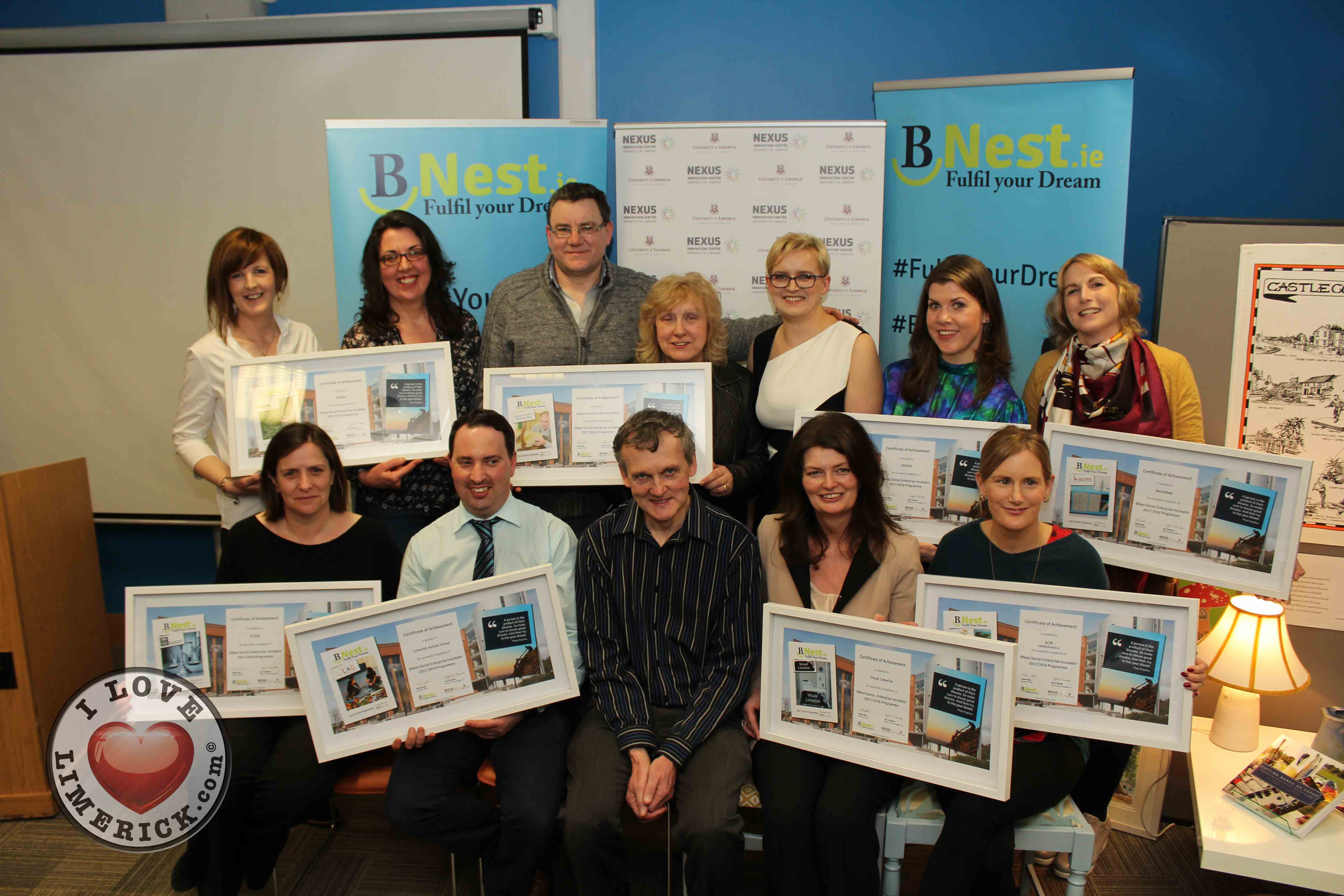 PHOTOS – BNest Social Incubator Showcase 2018 gives Midwest Social Enterprises a platform to shine
Represenatives of the organisations that took part in the BNest Incubation hub 2018 at the BNest Social Incubator Showcase 2018 at the Nexus Centre, University of Limerick yesterday. Picture: Ciara Maria Hayes/ilovelimerick.
BNest Social Incubator Showcase 2018 gives Midwest Social Enterprises a platform to shine
BNest, the first dedicated Social Enterprise Incubator, is an initiative created specifically to support social entrepreneurs nurture their start-ups, and caters to all types of organisations from charities to businesses with a social conscience. On Tuesday, March 13, BNest held their Showcase Day 2018 to highlight these enterprises and the substantial progress that has been made with the help of BNest, as well as to allow others to view the real social impact that each individual organisation is having on the broader community they are serving.
Since September 2016, in partnership with Nexus Centre UL, BNest have been running a six-month programme in which emerging social enterprises learn how to get their new organisations off to the best start by focusing on key areas related to developing their enterprises, in terms of business, social and personal aspects.
Eamon Ryan who founded and self-funded BNest said, "We are the first fully fledged social incubator in Ireland, and the idea was to create a peer group which shared experiences that could help one another. BNest has been given a home by the University of Limerick, where participants have access to the full facilities of the Nexus Innovation Centre. The venture is being philanthropically funded for three years at a cost of about €20,000 per programme, while participation is free for the enterprises selected. Last year, nine enterprises completed the programme, and this year another eight enterprises took part."
At the BNest Social Incubator Showcase 2018, the graduates showcased their enterprises, which are achieving real social impact across the Midwest, dealing with various issues from mental health to the environment. Eamon adds, "These passionate people have worked on their projects for the past 6 months and it was so exciting to have a showcase event, so people could learn about each of the projects and meet the people behind them. Its all about people stepping forward to do something that they see is not being done and with this year's crew it was a privilege to have people in this group taking and sorting real issues and problems facing our community and society in general."
In addition to the display booths a short informal presentation was made by each enterprise including Limerick Autism Group, a support service for autistic children, their parents and siblings and Visual Limerick, a project to help showcase the positive attributes of Limerick by utilising shop windows and promoting Limerick's educational, literary, artistic and innovation works, concepts and ideas.
Current BNest Incubator participant, Catherine O'Brien set up an online platform for parents of children with special needs called 'ODODO', and says that working with BNest has, "Helped improve my original concept as it enabled me to take it apart, and build it right back up." Evelyn Pepperrell of ADD/ADHD Midwest Support Group who completed the programme last year said, "The programme has given our group massive confidence in putting our message forward. The ongoing support for our project has continued to be invaluable as you have on the spot follow up if issues arise."
The Limerick Gateway to Education was also involved with the BNest Incubator last year. Founder, Suzanne Roche said, "I took part in the BNest Incubator programme last year, and its content and ongoing support for our project has continued to be invaluable. When I started the project in 2012, I was very much on my own, it's a fantastic programme as you have on the spot follow up if issues arise. A great programme to get involved in, if you're a start-up."
On the day, there were various guest speakers from Carmel Fox, former CEO of Ballyhoura Development, and 18-year-old Emily Duffy, founder of the Duffily bag, as well as Gert O'Rourke, centre manager of Nexus UL.
Fox spoke of the passion and drive required by people choosing a path, and spoke of the obstacles faced when building an organisation, as well as ways to combat these issues, funding is always problematic as many depend on the leader being able to find and engage a team of complementary skills around them. This is a difficult challenge for all enterprises but one they need to solve, Fox explained.
The next speaker was Miss Emily Duffy, who founded the Duffily Bag at just 14 years old. Duffy spoke on the need to understand the real needs of the user. Her "sleeping bag" for the homeless was designed by engaging with them to fully understand what life was like on the street, delivered in a way that met their unique needs, not necessarily those that we might assume they have. She also spoke re the challenges of taking a great idea to scale, the need to balance control of the purpose of growing the diverse team that can deliver it.
Centre manager of Nexus UL, Gert O'Rourke aimed her talk on the importance of diversity within commercial and social enterprises.
For more information visit www.bnest.ie or email Kasia Zabinska, BNest Manager at [email protected].
For more stories on BNest go here.
For more info on BNest go here.
Pictures by Ciara Marie Hayes/ilovelimerick
Pictures by Sophie Goodwin/ilovelimerick