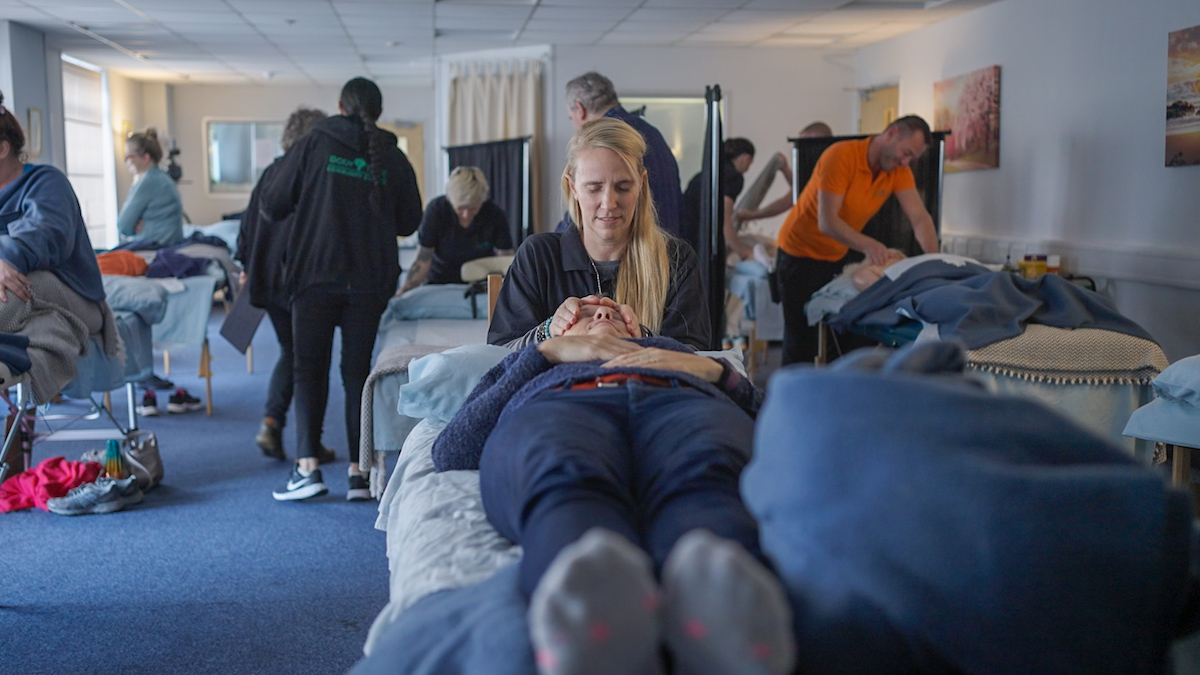 WATCH Body Tree Community Clinic & College delivers natural therapies and supports your healing journey
Body Tree Community Clinic & College pictured above offers a varied range of treatments and ongoing support to their clients at their Friday and Tuesday clinics, improving the lives of all our visitors
Body Tree Community Clinic & College encourages the adoption of a more positive attitude to life and how we live it
Body Tree Community Clinic & College is a community hub based around the learning and delivering of natural therapies, encouraging healing from sickness and ill health and the adoption of a more positive attitude to life and how we live it.
Located at the Urban Co-Op at Eastway Business Park, 8 Ballysimon Road, their mission is to empower and enrich people to live their healthiest life.
Tracy O'Donoghue, Director/Lead Therapist at The Body Tree said, "We are continually striving to design and develop innovative and engaging wellness programs to treat and support our clients and students. At the Body Tree we have many branches, (excuse my pun!) and we are passionate about all aspects of health and wellness."
They offer a varied range of treatments and ongoing support to their clients at their Friday and Tuesday clinics, improving the lives of all our visitors and offering a service that clients won't find anywhere else in the country. The clinics are multi-disciplined, walk-in clinics with no appointments needed offering different types of services including Deep Tissue and Tui Na Massage, Acupuncture and Dry Needling, Sports and Chinese Cupping, Facial and Foot Reflexology and EFT, Reiki and Energy Techniques.
The Body tree also offers one on one therapies, nutritional based cookery classes and even has a corporate branch for all your in office and virtual office wellness needs. Their mobile clinic unit offers on-site therapies, workshops and consultations to deal with all the stress of the hectic workplace. Their mobile clinics can be tailored to small private groups, corporate wellness retreats, corporate education days, health and wellness days.
Tracy added, "A lot of our therapists come here on a semi voluntary basis. We also have a college which runs therapy courses and workshops to upskill therapists and introduce them to therapies and then we have other workshops and community clinics which we do off site not for profit, to benefit people who need help and may not be as financially secure. I strongly believe we all have a responsibility for the well-being of ourselves and the people around us and that's our ethos. When we look at each person holistically, to see what they need and how best we can serve them."
Volunteer Cam O Donoghue commented, "That's the beauty of the Body Tree, we make it affordable for everyone. You come in with aches, pains and stress and leave without them after the treatments. That's the beauty of here, It is very affordable. I work on the desk on Fridays as a volunteer and a lot of our clients become volunteers through our volunteer programme to give back to The Body Tree. What attracted me personally, was when I came in for a treatment, I was so impressed and I wanted to become part of it. There is also a huge social aspect as you are meeting lovely people, it creates a great bond like a family, people come in groups, have their therapies and sit in the Urban Coop and have coffee and connect."
Therapist Lavinia McNamara said, "I came in here during remission from breast cancer as a client. The Body Tree has helped me so much physically and mentally I decided to become a therapist myself and my life went in a whole new direction and now I am helping others on their healing journey."
At The Body Tree Community Clinic & College they are always looking for body therapists of various disciplines and volunteers for positions such as our front of house, admin duties, help with accounting and more.
Tracy added, "We are looking for local support and hope that the people of Limerick and beyond will continue to help and support us, you don't have to be from the locality. We are open to everyone and have clients and students travelling to us weekly from Cork, Tipperary, Kerry, Galway and Clare. If you feel you have the skills, the time, commitment and for more information on the benefits of volunteering for us please email [email protected] to register your interest"
Tracy concluded, "I do believe that we all have a community social responsibility and a place in the world to help other people. I feel as a society we have lost social connection and one of the driving factors for The Body Tree is to re-establish those social connections and what we do every Friday at our clinics is to bring back those connections and empower change. We want people to know we are accessible for all."
About Social Enterprise Limerick
Learning Hub Limerick is a member of Social Enterprise Limerick, a practitioners' network of Social Enterprises in Limerick City. The overall objective of Social Enterprise Limerick is to provide a local platform for social enterprises to meet, network, share their experiences and learn from each other. The network encourages collaboration and the sharing of resources to help members to advance their community, social and/or environmental goals and is involved in a range of training, development and promotional activities.
In 2022, Social Enterprise Limerick was approved for funding under the ARISE programme, which is a Dormant Accounts funded initiative for the promotion of Social Enterprise. The ARISE funding was utilised to develop a range of promotional materials for network members and to highlight the activities of the SEL network, with a particular focus on the development of digital media/video content.
Social Enterprise Limerick was initiated by Paul Partnership under the Social Inclusion and Community Activation Programme (known as SICAP). SICAP provides social inclusion support to individuals and community organisations and is co-funded by the Government of Ireland through the Department of Rural and Community Development and the European Union.
For more information on the SEL ARISE project contact Michael Gleeson, Social Enterprise Officer at PAUL Partnership or visit www.socialenterpriselimerick.ie #SocialEnterpriseLimerick