Welcome to the I Love Limerick Business Directory
Use the search bar below to find local listings in our Business Directory
---

Hamtons Jewellers & Antiques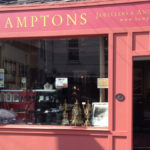 Short Business Description:
They are based in 56 Roches Street, Limerick. They offer a unique service to their clients as they buy, exchange or sell on clients behalf high-end jewellery. They also sell quality art from many famous artists. They buy scrap gold and silver and also exchange old Irish Punt to Euro.
Hamptons is a renowned shop boasting a stunning stock of antique and modern jewels, engagement rings and unique gifts, a visit to which has become an experience not to be missed!