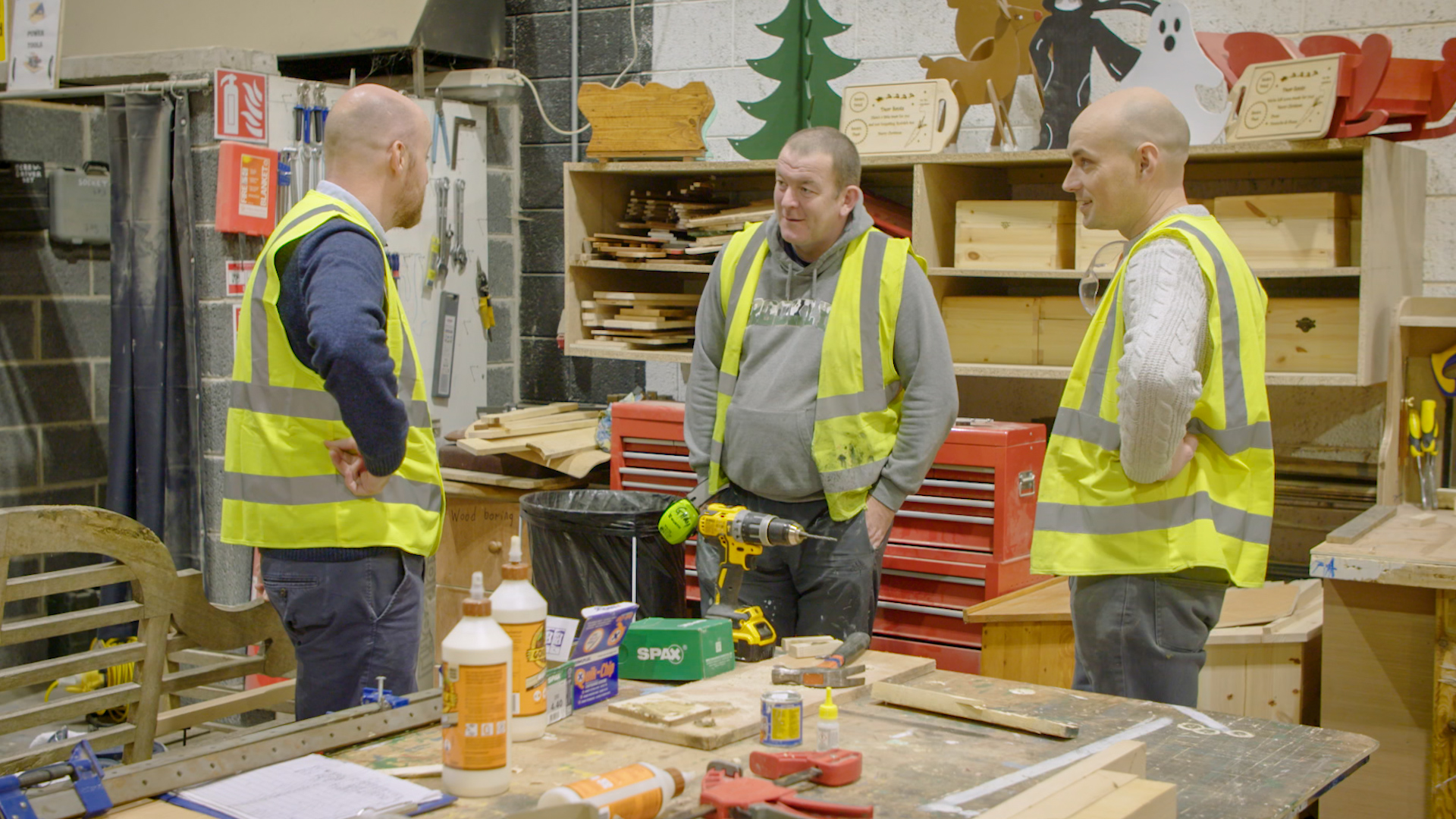 WATCH Cairde Enterprises is a social enterprise creating jobs to help people turn their lives around
Cairde Enterprises is a social enterprise making and selling furniture and wood products while offering jobs to ex-offenders
Cairde Enterprises is on a mission to trade commercially to change peoples lives
Cairde Enterprises, a social enterprise making and selling furniture and wood products while offering jobs to ex-offenders, is on a mission to change lives by offering jobs to ex-offenders who are turning their lives around, but who often find it difficult to secure employment.
Cairde's goal is to prepare people for progressing into mainstream employment and to positively help change the attitudes of potential employers and communities towards ex-offenders, who want and are trying to turn their lives around. Cairde aims to achieve this by offering a second chance with excellent work experience, skills training, and ongoing support for their well-being.
Developed from PALLS, an education and training centre which provides individual support for purposeful change for people involved with the Probation Service and the criminal justice system, Cairde was established to create meaningful pathways for its service users.
General Manager, Ian O'Brien said, "Cairde Enterprises was established in 2015 to create meaningful jobs and pathways to employment and progression paths for the PALLS trainees that were based here in the PALLS Training Center."
Mr O'Brien noted many people coming through the criminal justice system, "find it very difficult to secure meaningful employment" adding, "So everything that we do here replicates and is a fully functioning Workshop."
Based in the Docklands Business Park on the Dock Road in Limerick, Cairde Enterprise customers receive high-quality, competitively priced products and services as well as an opportunity to make an impact with their spending.
Offering services and products including garden and street furniture, furniture upcycling and spray painting, timber sheets cut to size, contract manufacturing/bespoke furniture, laser engraved plaques, key rings, coasters and more products, participants at Cairde practice a variety of skills while preparing for mainstream work.
Fergal O'Farrell, Social Enterprise Manager said the programme helps participants get the experience of a "nine-to-five" routine.
"Cairde offers an opportunity for people maybe who haven't had much work experience, or who find it hard to get work, to get used to working in a nine-to-five routine environment and to pick up skills."
The Docklands Business Park unit has woodwork and metalwork areas with individual workstations, a CNC machine, laser engraver, edge bander, and woodturning lathes and it is also equipped with 2 welding booths, a spray booth and a drying area.
Ian O'Brien said, "The supports we offer to staff here include educational opportunities as well as assisting them in their personal development or any other areas that they may need in terms of difficulties that they're really experiencing from social exclusion, housing issues, accessing medical services and that."
An action learning environment with a focus on motivation, building trust, decision-making, and team working is used to help participants on their journey. Using the facilities, they learn many skills, including woodwork skills, working with digital equipment and machinery, and ongoing support for their well-being, including assistance with preparing CVs, job applications, and interview preparation.
Speaking about the skills participants receive in Cairde, General Operative Gary Long noted the skills participants learn from "spray painting, up-cycling old furniture, priming it, sanding it down, finishing it; whatever colour the customer wants. From that going to all saws, cutting on all saws, band saws, panel saws." Mr Long continued to say going forward he "would have a lot more confidence in applying for different jobs" because of his work at Cairde.
CNC operator, David Kelly believes you are "always learning". He said, "I'm always learning, if one day isn't a learning day then I think you're doing something wrong."
As well as the work performed in the Cairde workshop, Ian O'Brien noted the benefit of the work carried out by Cairde is "threefold", mentioning the social enterprise benefits the individual themselves, it has an impact on the immediate community and family unit, and there is also a benefit to society.
He said, "Coming through the doors here they also become role models in their communities as well as their families at home. So their sons, daughters, brothers, sisters, whoever it may be can say 'well if they can do this I can do this too'. So it's building towards a future for not just the individual but for others in their immediate communities as well."
Employing a social enterprise office, three general operatives, an assistant workshop manager, and one part-time worker which have come through the PALLS training centre, Mr O'Brien said, "They would have shown great commitment towards their and would have progressed and are now full-time staff members at Cairde Enterprises."
According to one participant, "Social Enterprise for me is a way back into society. It has given me a reason to get up every day."
By offering ex-offenders a second chance, Cairde Enterprises is helping to positively impact individuals, communities, and society as a whole.
About Social Enterprise Limerick
Learning Hub Limerick is a member of Social Enterprise Limerick, a practitioners' network of Social Enterprises in Limerick City. The overall objective of Social Enterprise Limerick is to provide a local platform for social enterprises to meet, network, share their experiences and learn from each other. The network encourages collaboration and the sharing of resources to help members to advance their community, social and/or environmental goals and is involved in a range of training, development and promotional activities.
In 2022, Social Enterprise Limerick was approved for funding under the ARISE programme, which is a Dormant Accounts funded initiative for the promotion of Social Enterprise. The ARISE funding was utilised to develop a range of promotional materials for network members and to highlight the activities of the SEL network, with a particular focus on the development of digital media/video content.
Social Enterprise Limerick was initiated by Paul Partnership under the Social Inclusion and Community Activation Programme (known as SICAP). SICAP provides social inclusion support to individuals and community organisations and is co-funded by the Government of Ireland through the Department of Rural and Community Development and the European Union.
For more information on the SEL ARISE project contact Michael Gleeson, Social Enterprise Officer at PAUL Partnership or visit www.socialenterpriselimerick.ie #SocialEnterpriseLimerick