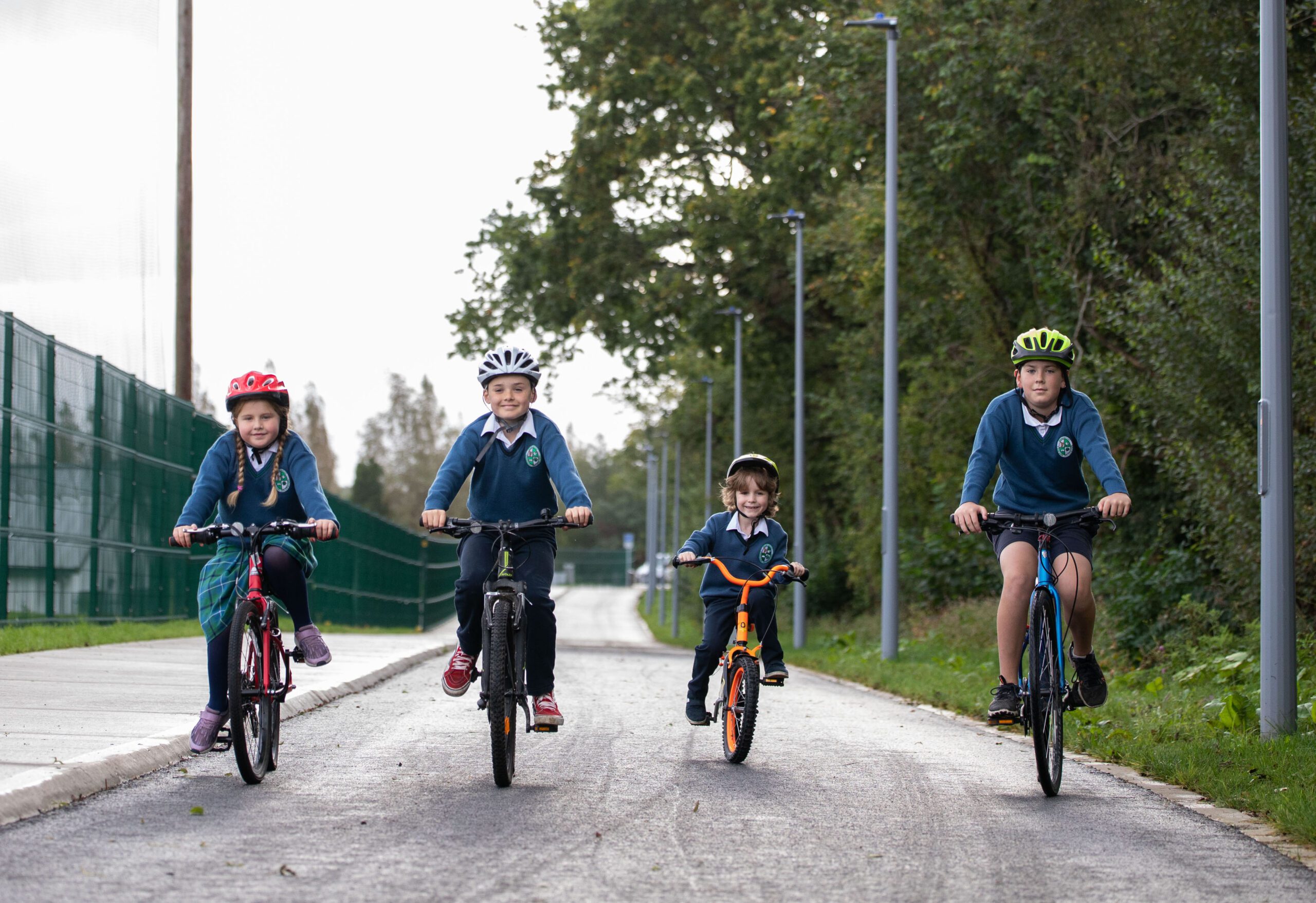 Castletroy Urban Greenway officially opened linking local schools, playground, shops and homes
Castletroy Urban Greenway – Pictured at the official opening of the Castletroy Greenway were, Gaelscoil Chaladh an Treoigh pupils, Cliodhna de Brugh, Hugo O longain, Oisin Poole and Luc O Murchu. Picture: Alan Place
Castletroy Urban Greenway officially opened linking local schools, playground, shops and homes
The Mayor of the City and County of Limerick, Cllr Daniel Butler, has officially opened the new Castletroy Urban Greenway.
The new Greenway connects people's homes with their local schools, shops and amenities and forms part of Limerick City and County Council's Active Travel cycling and walking network.
The main north-south spine provides connectivity between Castletroy College and Gaelscoil Chaladh an Treoigh. The Greenway, which extends to approximately. 1.3km, includes a western link to Castletroy Town Centre and an eastern link to the nearby residential area of Walkers Road.
The Active Travel project has been funded by the National Transport Authority and managed and delivered by Limerick City and County Council. The 3.5m wide cycleway and 2.5m wide footpath has taken nine months to complete.
Mayor of the City and County of Limerick, Cllr Daniel Butler said: "The new Castletroy Urban Greenway is a prime example of Limerick City and County Council's commitment to delivering a more sustainable transport network. This Urban Greenway offers the community of Castletroy an enhanced pedestrian and cycling experience, linking people's homes with their local schools and amenities."
"The Castletroy Urban Greenway is just one part of a wider plan for Limerick that will see the Council develop a high-quality, accessible and connected network of cycling and walking routes over the coming years."
Minister of State at the Department of Transport, Hildegarde Naughton said: "Castletroy Urban Greenway provides a safe environment for pedestrians and cyclists to cycle to school or work while also providing a sustainable recreational amenity for locals and visitors alike."
"We are transforming how we travel with a renewed focus on walking and cycling infrastructure across the country. This Greenway is part of a growing network of Active Travel and Greenway infrastructure nationwide. The Government's commitment to expanding and improving such infrastructure around the country was demonstrated in the recently launched National Development Plan, which commits to investing almost €1 million per day in walking and cycling for the ten-year period to 2030."
Delighted to be in Limerick today for the opening of the #CastletroyUrbanGreenway. This walk & cycleway is right on the doorstep of Castletroy College & Gaelscoil Chaladh an Treoighhave allowing 1,600 students to safely walk/cycle/scoot to school everyday? #ActiveTravelLimerick pic.twitter.com/p8xUmLk9vO

— Hildegarde Naughton (@1Hildegarde) October 8, 2021
Anne Graham, CEO of the National Transport Authority said: "The NTA has been working with our partners in Limerick City and County Council on the planning and construction of the Castletroy Urban Greenway for the past three years. We are delighted to see another high quality walking and cycling scheme open and ready for public use. 2021 has seen a record level of investment by the NTA in walking, cycling and public realm projects in Limerick under the Sustainable Transport Measures Grant. We look forward to supporting more projects next year in Limerick such as the revitalisation of O'Connell St."
Brian Kennedy, Director of Transportation and Mobility with Limerick City and County Council added: "The Castletroy Urban Greenway is a project that we at Limerick City and County Council are immensely proud of. It delivers so much for the local community including offering local school children a safe and active way to get to school. We are very much looking forward to continuing our partnership with the NTA to deliver further Active Travel projects for other communities across Limerick."
At a glance:
The main north-south spine between Castletroy College and Gaelscoil Chaladh an Treoigh is approx. 820m
The eastern link towards Walkers Road is approx. 170m
The western link towards Castletroy Town Centre is approx. 280m
The Castletroy Urban Greenway cost approx. €2million and was funded by the National Transport Authority's Sustainable Transport Measures Grant programme
For more info on the Castletroy Urban Greenway go HERE
For more Greenway stories go HERE