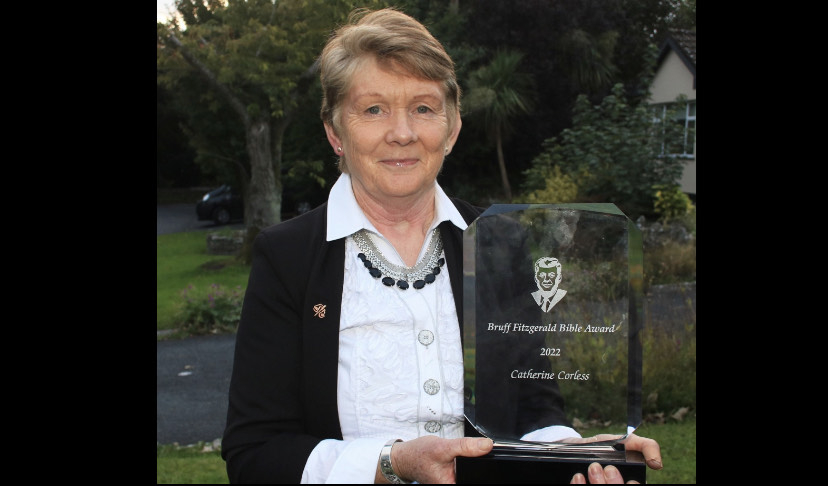 Catherine Corless receives Bruff Bible Award after her discovery of the 796 lives lost at Tuam
Catherine Corless who uncovered the secret deaths of more than 796 children in Tuam, Galway, received the Bruff Bible Award. Picture: Adrian Butler/Limerick Leader
 Catherine undoubtedly deserved this award, with even former Taoiseach Simon Harris once saying that she was a "tireless crusader of dignity and truth"
By I Love Limerick correspondent Ellie McCarthy
Irish historian, Catherine Corless, who she uncovered the secret deaths of more than 796 children in Tuam, Galway, received the Bruff Bible Award. This was in recognition of her humanitarian work.
The Fitzgerald Bible Bruff award is given to a person who, through a particular act or service, made a significant contribution to the country of Ireland.
The award has been awarded to many of Ireland's leading campaigners and leading citizens in the past including Vicky Phelan and Micheál O'Muircheartaigh.
Catherine Corless undoubtedly deserved this award, with even former Taoiseach Simon Harris once saying that she was a "tireless crusader of dignity and truth".
Catherine worked non-stop to expose one of the most scandalous events in Irish history and brought justice to the children that died in Tuam.
Catherine said that justice for the 796 children is what drove her to continue lobbying the government. This year, because of Catherine Corless' tireless efforts, the Institutional Burials Bill was created as a lawful basis for forensic excavation at the site.
At the ceremony, Catherine Corless relived how she discovered the baptism records of 796 children from the home, which were dated between 1925 and 1961. At this time the home was operated by the Bon Secours Sisters and was a maternity home for unmarried mothers and their children.
Those records she found, were for infants up to three years old.
Catherine is still emotional about the discovery to this day as she choked back the tears when discussing her shock at realising that there were no death records for those listed.
Speaking to the Limerick Leader, Catherine said, "There is a record somewhere and if there isn't, there is always a reason why,"
Catherine stated, "It did take a lot of courage for me to come forward. The story went worldwide, and that put emphasis on the government because nobody wanted to know, and nobody wanted to listen."
After accepting the award, Catherine said that her new purpose is to help siblings find records of those they have lost, that may have been one of the 796 children in Tuam.
Catherine expresses joy at being able to help those in need. She said, "The gratitude from people is amazing, even if I only bring them halfway there. I love doing it. I feel all the time that I am getting the better of these people who wouldn't do a thing for these women and children"
For more information on the Bruff Bible Award, go HERE
For more community stories, go HERE