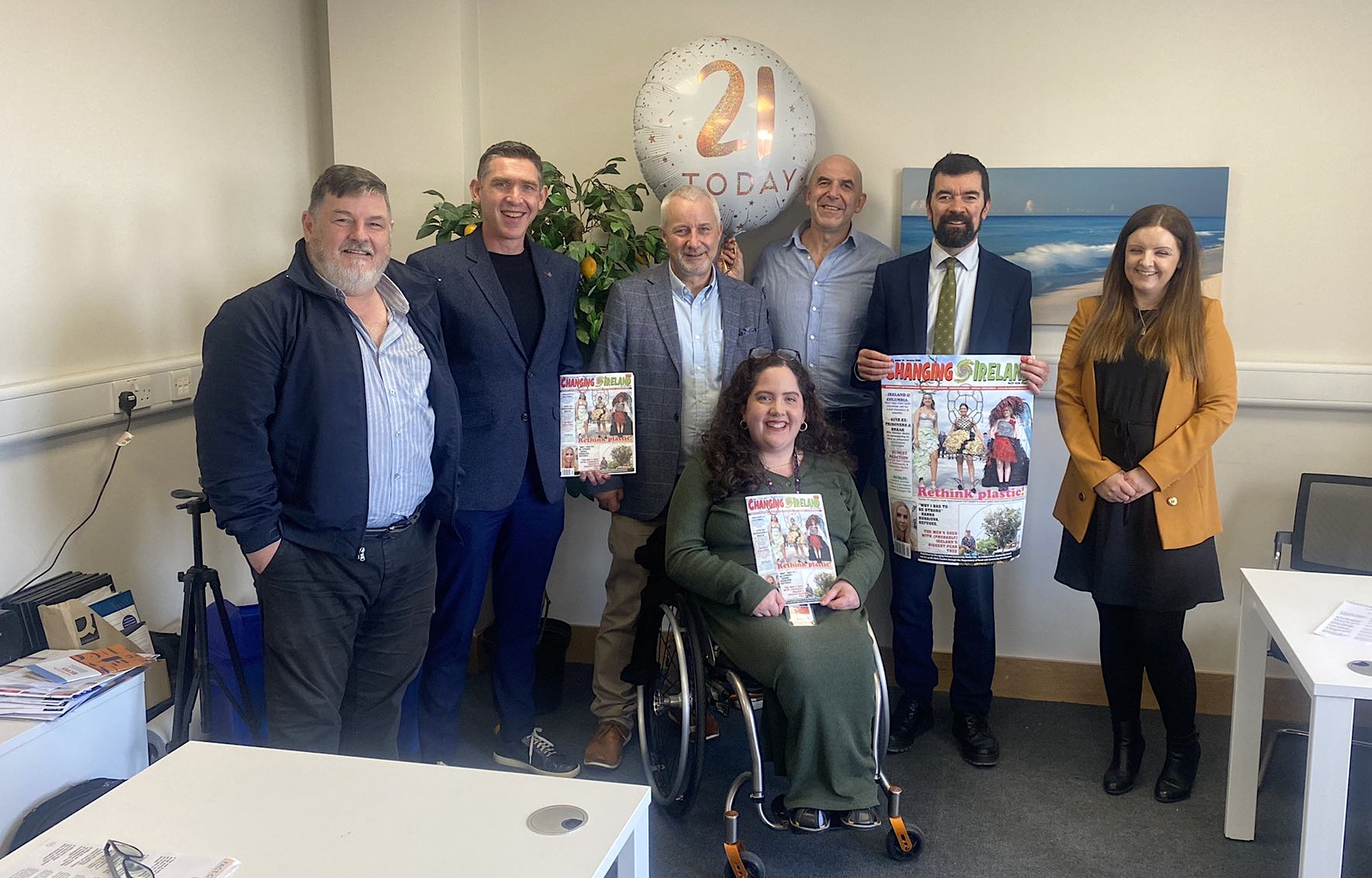 Minister Joe O Brien visits Changing Ireland Magazine in Moyross for milestone anniversary
Changing Ireland Magazine – Minister of State Joe O'Brien visited their offices in celebration of their 21st anniversary
It is the longest-established and most popular community and voluntary magazine in Ireland
By I Love Limerick correspondent Ellie McCarthy
Changing Ireland, a Limerick-based magazine, has celebrated 21 years of being in business by welcoming Joe O'Brien, the Minister of State for Community Development and Charities, to their office.
Over the course of the last 21 years, the Changing Ireland magazine has featured community activists from each county in the country. Minister O'Brien praised the magazine for its coverage, excellent track record and for being critical when needed.
Changing Ireland was established in 2001. It is an independent, community-based magazine focused on community development and social inclusion. The magazine is published and managed by the not-for-profit organisation Changing Ireland Community Media CLG.
The magazine employs one person as editor and manager, with chair of the board being Shane O'Sullivan, and engages with freelance journalists. The company is managed by a voluntary board. Changing Ireland is the longest-established and most popular community and voluntary magazine published in Ireland.
The Changing Ireland magazine was based in Sarsfield Gardens for the first 17 years of publication before moving to offices in the Moyross Community Hub in 2018. It has consistently promoted community development, giving marginalised communities and people who are hard to reach a voice, while highlighting positive local and national initiatives throughout Ireland.
The idea of this magazine first came to fruition in 1999, as there was constant negative headlines and stigmatisation surrounding the people of Moyross. This prompted local activists to get behind the project because they wanted the people of Ireland to see the positive initiatives happening nationally in communities, including Moyross. Two years later, a community project in Moyross won the national contract and therefore, Changing Ireland came to life.
Changing Ireland is supported by the Department of Rural and Community Development and they receive a small amount of funding earned from social enterprise activities.
The magazine is constantly growing in popularity and garnering positive attention, Changing Ireland Community Media CLG is now working on a new strategic plan for the future.
"Being part of the community has always been core to the Changing Ireland project," said Mr O'Sullivan.
"The project is rooted in Moyross and gives as well as receives support locally."
Find out more about Changing Ireland
Read more related news