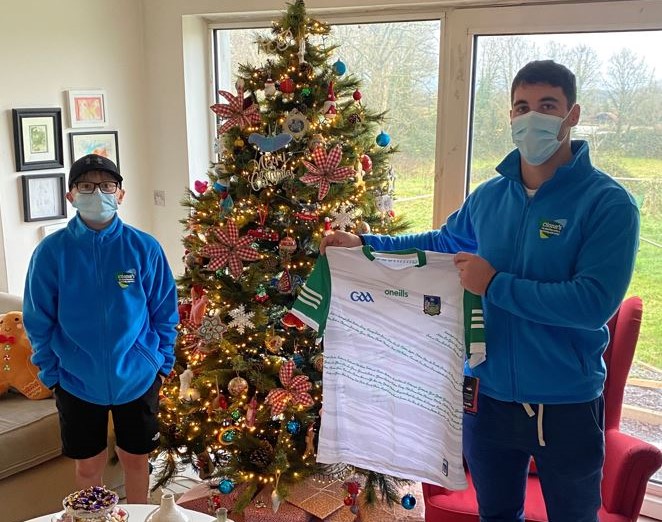 Clionas Foundation GPA partnership sees All-Ireland winner Seán Finn bring festive cheer to Limerick teen 
Clionas Foundation GPA Partnership – Hurler Seán Finn with 14-year-old Louis Mullins
Clionas Foundation GPA partnership sees All-Ireland winner Seán Finn bring festive cheer to Limerick teen
By I Love Limerick Correspondent Ann Mc Donald
Representing the Clionas Foundation GPA partnership, 4-time All-Ireland winner Seán Finn visited the Mullins family to bring some festive cheer to 14-year-old Louis.
Louis, who is from Boher, Limerick, has had a particularly tough year. The Limerick teen has just completed another round of chemotherapy treatment for a rare disease.
The 4-time PwC All-Star champion said, "Louis is a remarkable young lad who is incredibly inspiring – it was truly an honour to meet him and his fantastic family.
"I am delighted to support the work of Cliona's Foundation – every day of the year, they make a positive difference to the lives of families and children going through challenging times."
The Gaelic Players Associaton (GPA) and Cliona's Foundation have teamed up to create an official charity partnership to raise vital funds to make a difference to the lives of families across Ireland who are caring for a seriously sick child.
The Clionas Foundation GPA partnership sees inter-county players across the thirty-two counties support Cliona's Foundation's life-changing work and contribute to the fundraising efforts of the charity.
We are delighted to announce we have teamed together with @ClionasFDN as part of an official charity partnership agreement to raise vital funds to make a difference to the lives of families across Ireland caring for a seriously sick child.https://t.co/9ZwvrvkDij#GPA4Clionas

— GPA (@gaelicplayers) July 2, 2021
The partnership has already seen 7-times all-Ireland football medallist Dean Rock visit to the Kelly family in Balbriggan, Dublin to meet 15-year-old fan Max Kelly who spent several months in hospital in Newcastle in the UK, where he underwent a stem cell transplant for a rare immune disorder that he was born with, and Cork Senior Women's Footballers Doireann O'Sullivan and Eimear Meaney visit 8-year-old Faith Browne who was born with cerebral palsy and has epilepsy and hearing loss. This bright and bubbly young girl will face major reconstructive surgery for hip and foot socket problems in January 2022.
Cliona's Foundation is a national charity, that uniquely provides financial assistance to families of children with life-limiting or chronic complex care needs to help with non-medical expenses related to caring for their child. Cliona's has supported 148 families this year to date in twenty-five counties bringing the total number supported over the past 14 years to 997.
Donations to Cliona's can be made online or to donate €4 text FAMILIES to 50300. Text costs €4 and Cliona's will receive a minimum of €3.60.
For more about Cliona's Foundation go HERE
For more stories about Cliona's Foundation go HERE