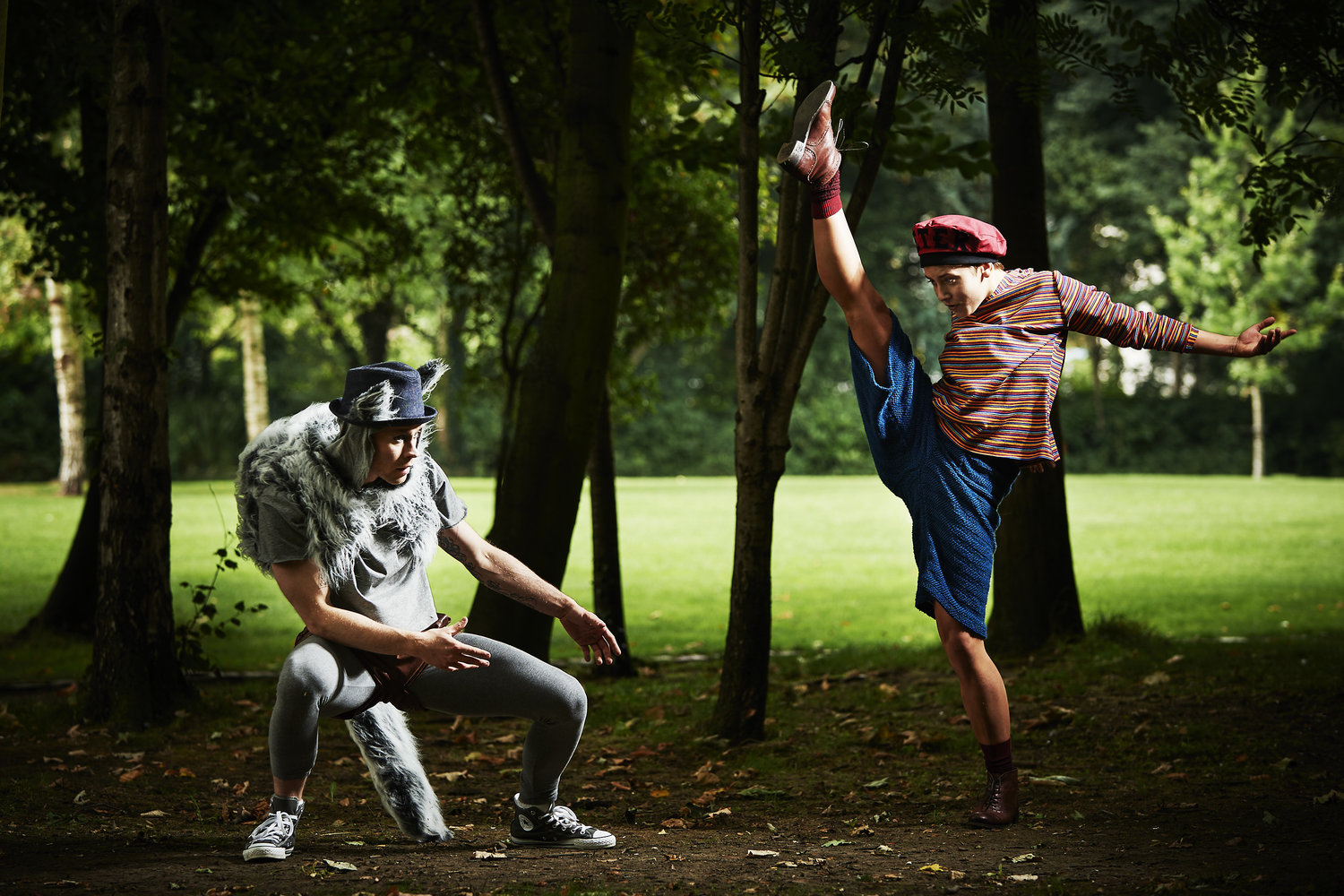 CoisCeim Dance Theatre tour bring their exciting hit children's dance show The Wolf and Peter to Limerick this Spring
Mateusz Szczerek and Ivonne Kalter in CoisCeim Dance Theatre's The Wolf and Peter by David Bolger. Photo: Ros Kavanagh
Ireland's multi award-winning CoisCeim Dance Theatre is thrilled to announce the 2017 tour of their hit show The Wolf and Peter. This, the company's first ever production for children and families, performs at 13 Irish venues taking in the Lime Tree, Limerick on March 9 & 10 as part of the NASC touring network and promises to enrich and entertain little (and big) people's hearts and lives after its massive successes in the UK (December 2016) and at Baboró International Arts Festival and Belfast International Arts Festival, (October 2015).
CoisCeim's (pronounced Kush-Came), 2016 BTA award-winning The Wolf and Peter takes inspiration from Russian composer Prokofiev's Peter and the Wolf, considered one of the most famous pieces of music ever written. With such a high bar for achievement CoisCeim deftly made this staging one of the best pieces of children's dance theatre ever to be produced in Ireland. Now a broader Irish audience will have the lucky opportunity to see this truly awesome show as Ireland's leading dance theatre company tours to across Ireland this March and April; Later this year, thanks to the support of Culture Ireland, the show travels further again to Australia taking in three cities down under including Melbourne (Jun 26); Penrith (3 Jul); and the iconic Sydney Opera House (Jul 12). Celebrating over two decades of the most exciting dance created in Ireland, CoisCeim is excited to share their wondrous wares furthermore by bringing this show to as many Irish venues as possible this Spring.
The Minister for Arts, Heritage, Regional, Rural, and Gaeltacht Affairs Heather Humphreys said: "It's great to see CoisCeim branching into children's productions so successfully with this new piece of work. Having already wowed Irish audiences, CoisCeim will now present this work Australia, thanks to support from Culture Ireland. This international presentation will once again ensure that some of Ireland's best artists are brought to new audiences, generating greater awareness of Ireland's culture and creativity."
CoisCeim's Artistic Director David Bolger commented: "It has been an absolute delight to reinterpret this classic in a way that speaks to the current generation, while being respectful to the richness of the original music and dance and I am thrilled that through the support of the Arts Council, we are able to bring The Wolf and Peter to younger audiences throughout Ireland this Spring. The wolf is coming!"
Featuring five outstanding dancers with a live piano performance, CoisCeim Dance Theatre takes this timeless story of courage and imagination as inspiration for this magical and beautiful show. Here, the story is told through the eyes of a WOLF. Filled with dance and live music, this fun, and richly theatrical production by David Bolger gives life to a Bird, a Cat, a Duck, a Boy, and of course a WOLF in a highly energetic original work that will capture the hearts of all ages.
Peter and the Wolf was a musical score originally written as an engaging way to introduce children to the instruments of the orchestra. For this production, the extraordinary original piano composition is by Conor Linehan who will also play both the classic score and his own original compositions live on stage – however if you manage to see the March shows pianists Ivan McKenna and Lance Coburn will take to ivories for these shows only. The Wolf and Peter will take children, and their families, on a thrilling adventure to explore and discover contemporary dance and performance at its best:
5 STARS "reassuringly traditional and startlingly modern…The Wolf and Peter is funny, imaginative, and, finally, very moving." – The Irish Times
5 STARS "a high-end production by a top class company operating at the top of their game. Playful, funny, moving, The Wolf and Peter stirs the spirit and ignites the imagination, no matter what age you might happen to be." – examiner.com
5 STARS "There really is something for everyone in The Wolf And Peter, from splendid performances to stunning design, and some beautiful music." –The Reviews Hub
For more information on The Wolf and Peter click here
To read more about events in Limerick click here
Photos: Ros Kavanagh