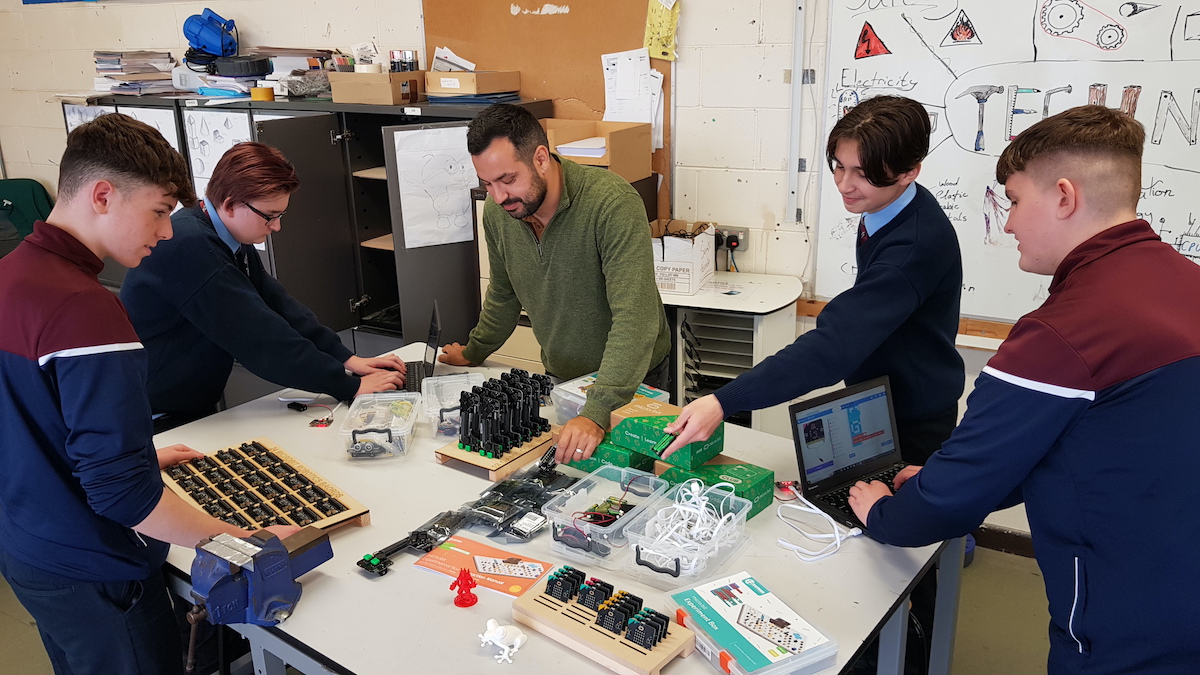 Coláiste Mhichíl Robotics Club allows students to build robots to take on real world challenges
Coláiste Mhichíl Robotics Club members and Mr Salem pictured above
Coláiste Mhichíl Robotics Club engages students in a truly fun and hands-on learning experience
Colaiste Mhichil's Technology Department was delighted to receive funding worth $5,000 from the Irish American Partnership. The Irish American Partnership connects Irish and Irish American communities directly with education and community programs in Ireland honouring their heritage by investing in Ireland's youth. The grant allowed for the purchase of materials and resources necessary to create a new and exciting Coláiste Mhichíl Robotics Club.
The Coláiste Mhichíl Robotics Club is run on a weekly basis by technology teacher Mr Salem. The robotics club allows students to build robots to take on real world challenges, create physical and digital solutions, collaborate in teams to problem solve, develop computational thinking skills and much more. Students are engaged in a truly fun and hands-on learning experience. With American Partnership funding, Coláiste Mhichíl purchased a new 3D printer, micro: bits and robotic start up kits this year. This has helped students further develop their technology skill and has introduced a new tool for coding-based activities.
In Robotics Club, Mr Salem said, "Students have the chance to develop engineering skills, as well as more experience in coding. Students create robots to compete in challenges in a fun and challenging way. We are very excited as a school community to relieve this funding from Irish American Partnership, this funding allows us to introduce a new club allowing students to learn new computer programming skills and develop their innovative design into 3D industrial quality prints."
Our Senior Robotics Workshops enable students to discover Science, Technology, Engineering and Mathematics in a fun, engaging and hands-on way. Working with the robotics kits, students are introduced to the world of robotics by building and programming robots to complete various challenges. Students design, construct and modify robots, developing technical skills that are much sought after in the engineering industry.
5th Year student Jamel Auzins said, "I am really enjoying learning about coding and programming. I've learned new skills and it has inspired me to investigate computer science or engineering as a possible future career.' Students also program their robots to carry out specific tasks, developing workflow skills, learning about logic, loops, switches, blocks and more. The robotic club has brought the student's creations to life and has allowed them to discover the power of coding. Using simple drag and drop interfaces that can create powerful and complex algorithms, the students of Coláiste Mhichíl have the power to truly take control of their robots to automate a range of tasks."
Principal Mr O'Connor added, "It is vital that our school uses digital technologies, so that our students learn the skills they need for the modern world. This funding will help our school community to further embed digital technology across teaching and learning. On behalf of Coláiste Mhichíl, I would like to express my gratitude towards the American Funds for this generous grant."
The Irish American Partnership works to empower the next generation of Irish leaders by supporting educational initiatives and community development programs in Ireland North and South.