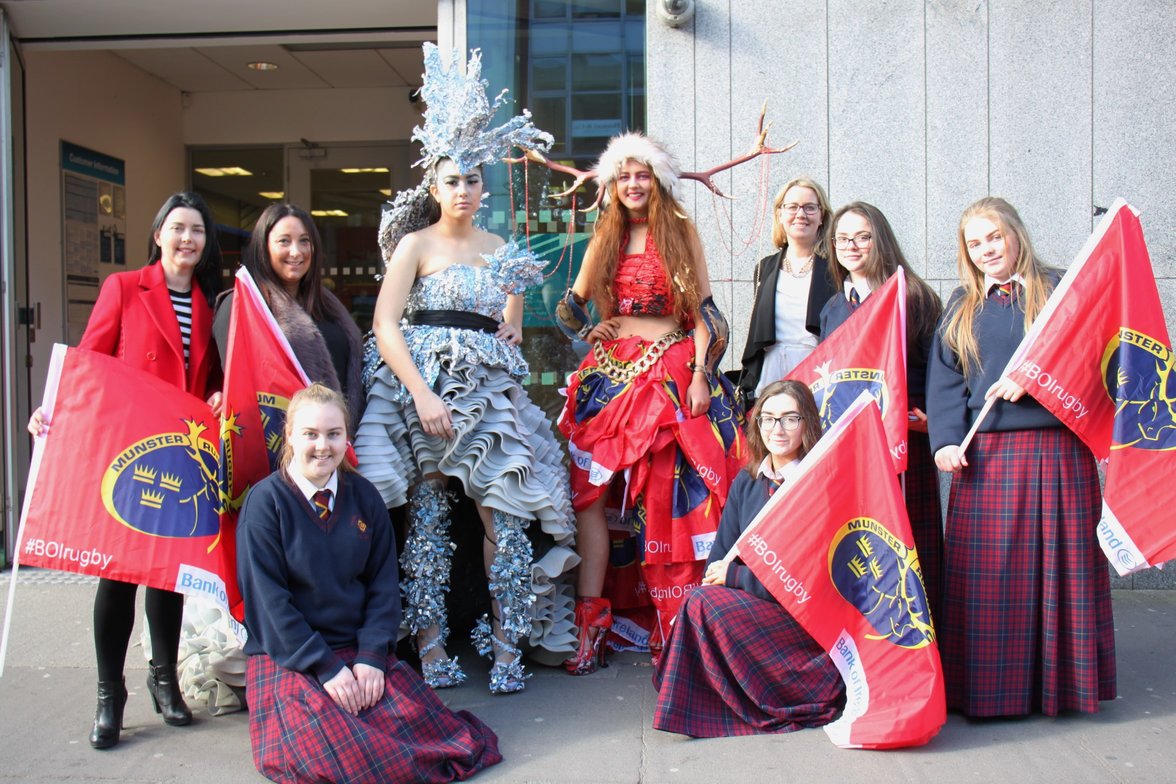 UPDATE: Coláiste Nano Nagle Junk Kouture Fashionistas Stop City Traffic ahead of Regional Finals
Teachers and Students involved in Coláiste Nano Nagle Junk Kouture projects pictured with Megan O'Mahoney who is wearing 'Stand Up and Fight' and Gala Simic Kokot, who is wearing 'Insight'. Picture: Sophie Goodwin / ILoveLimerick.
Coláiste Nano Nagle Junk Kouture Fashionistas Stop City Traffic ahead of Regional Finals
by ILoveLimerick correspondent Eimear Kelly
On Wednesday afternoon, February 21, Coláiste Nano Nagle students, Megan O'Mahoney and Gala Simic Kokot, turned Limerick City into a living haute couture catwalk with their innovative Junk Kouture creations.
Bank of Ireland's 'Junk Kouture' competition encourages secondary school students all over Ireland to create bizarre, compelling and wearable couture designs from recyclable materials. The idea is to inspire creativity and passion in the students, all while highlighting the importance of reusing and recycling.
The Coláiste Nano Nagle Junk Kouture student models created a buzz in the city with onlookers excited and intrigued by the designs. Both designs were inspired by our great city, with Megan's 'Stand Up and Fight' creation tapping into our passion for Munster Rugby and Gala's design entitled 'Insight' highlighting the importance of the industry to the continued prosperity of the city.
The "insight" team's concept was to take the smallest of waste products to create a look that isn't small but big and dramatic. For this dress, students used contact lens waste to highlight to the public that small items should be recycled too. Vistakon, who is the biggest manufacturer of contact lenses in the world, kindly provided all raw materials for the creation from their recycling bins. Sarah Nestor, who is an art teacher at Coláiste Nano Nagle told I Love Limerick that for this piece, the students really 'focused on the textures'. This creative piece is made from hard foil, styrofoam that is used in the production of contact lenses and dried contact lenses.
The 'Stand Up and Fight' team's creation was inspired by the love that the people of Limerick and beyond have for Munster Rugby. The team used old, recycled flags, provided by Thomond Park, to create a flowing, elegant skirt. The top is made from plastic bags while the arm piece is made from an old rugby ball. The antlers represent the Munster Flag and were kindly provided by Curragh Chase animal farm. When speaking to I Love Limerick about this creation, Sarah said that it was inspired by the fact that people tend to leave a lot of flags, bags and other recyclable goods behind them after matches due to 'the huge business that is brought in by Munster Rugby'.
The students had been working tirelessly on both creations from September until Christmas, which was then followed by a photo shoot. Sarah Nestor said that the students have 'really enjoyed it and the school is delighted that we have two outfits that reached this year's regional final. We're delighted that Limerick has really supported us'. She also expressed her appreciation for the support that Vistakon, Specsavers, and the Munster Rugby team have shown.
The student's hard work and determination has really paid off as the team who created 'Vistakon' successfully made it through the competition finals and their fellow students who created 'Stand Up and Fight' received a Wild Card, which means that they will also be at the final of Junk Kouture 2018.
The students of Colaiste Nano Nagle were recently surprised by a visit from Dublin influencer and Junk Kouture Ambassador James Patrice and Bank of Ireland representative Rose Noonan, to celebrate the news that both teams had made it through to the final.
The Bank of Ireland Junk Kouture final 2018 will take place in the 3arena, Dublin on Thursday, April 18. Online voting will be open from April 2-6.
To find out more about Junk Kouture and to vote click here.
For more stories about Colaiste Nano Nagle click here.