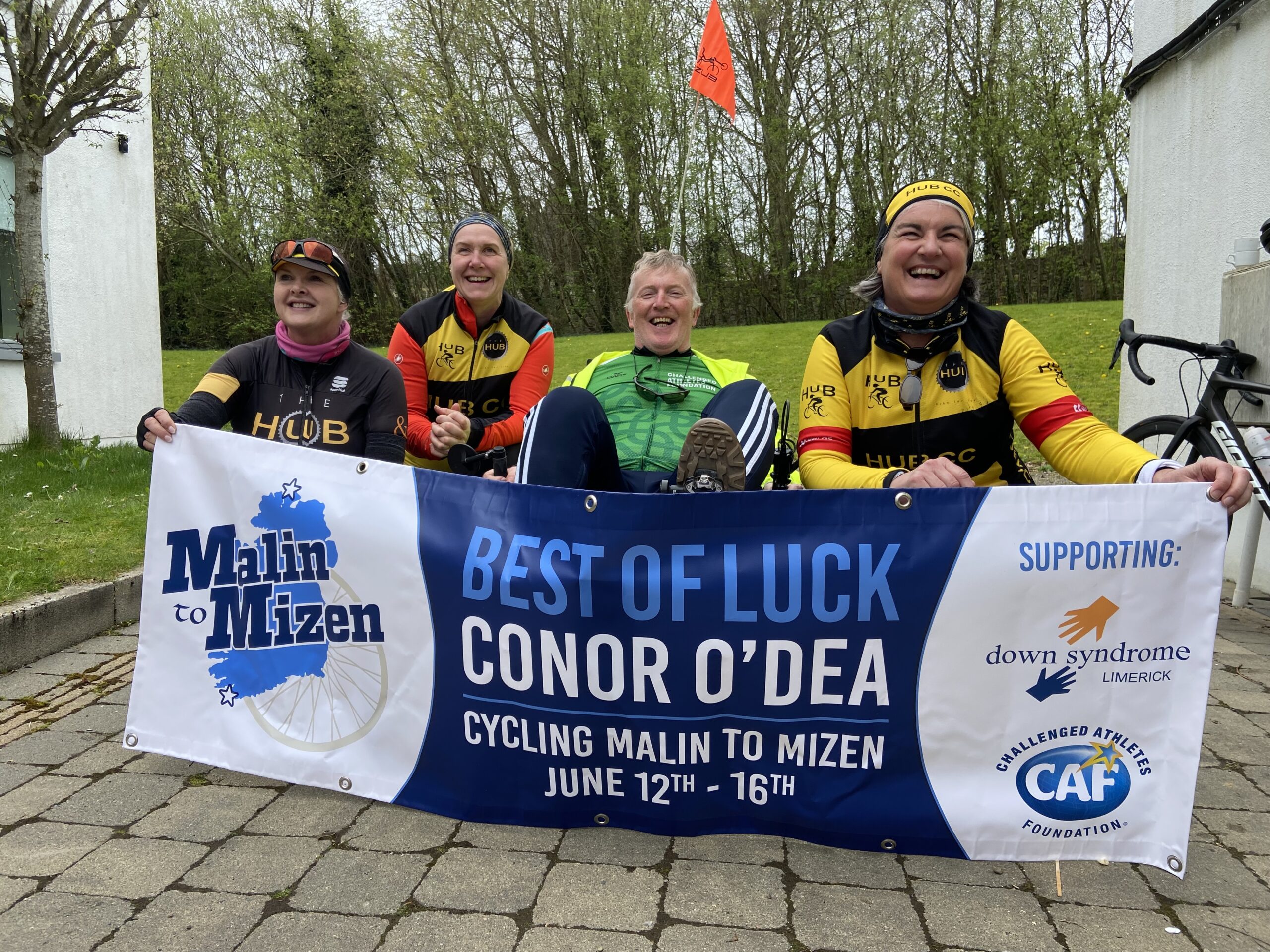 Former Ironman triathlete Conor O'Dea takes on Malin to Mizen cycle for Down Syndrome Limerick and Challenged Athletes Foundation
Conor O'Dea will cycle Malin to Mizen in aid of Down Syndrome Limerick and Challenged Athletes Foundation this June 12-16
Conor O'Dea is an extraordinary man with an extraordinary story who will cycle Malin to Mizen in aid of Down Syndrome Limerick and Challenged Athletes Foundation
From June 12 to 16, Conor along with 23 of his cycling friends and family, will complete the Malin to Mizen cycle which is 600km long, but Conor's training is a little different to that of most cyclists.
Conor is a former Ironman triathlete who suffered a serious spinal injury when training for an Ironman event in 2018. He spent 18 months in rehabilitation hospitals and has continued his rehabilitation programme at home since 2020. 
Last year Conor received a trike from Challenged Athletes Foundation which has allowed him to get back to cycling and back in training for his Malin to Mizen mission. He will cycle this trike for the event.
Conor and company will be raising funds for two charities – Down Syndrome Limerick, a local Limerick charity supporting people of all ages with Down syndrome and Challenged Athletes Foundation, who have given Conor the gift of cycling by funding the adapted trike for him.
Conor says; "After my accident in 2018, I was told that every spinal injury and every recovery was different and that my recovery would be influenced by how hard I was willing to work on my rehabilitation program. As a very active sportsman and triathlete I had no problem working hard and following a rehabilitation program.
"Some days it wasn't easy but with lots of incredible help from my family and friends, it has been great to challenge the norm and get back to what I love doing- albeit in a slightly different way. 
Conor explains he has supported Down Syndrome Limerick through the years, taking part in the Tour De Munster "and more recently helping with the organisation of the Sean Kelly Three Counties Cycle here in Limerick".
"The charity does great work and I have witnessed the amazing impact that they have on people's lives," he said, continuing, "Challenged Athletes Foundation are an amazing charity and only for them I wouldn't be able to do the Malin to Mizen cycle. To continue my support of Down Syndrome Limerick and to give back to CAF, I am asking people to support us and these wonderful charities as we take to the roads in June".
Ellen Tuffy, Chairperson of Down Syndrome Limerick says DSL is "delighted" to be one of the chosen charities of the event.
She said, "Conor has been a great supporter of us at DSL since before his accident and has continued that support ever since. We are constantly trying to challenge the stereotypical biases that people have when it comes to people with disabilities. Disability does not equal inability and Conor epitomises that beautifully.
"He is an inspiration to us all and we are so grateful to be a part of this journey with him as he conquers his longest cycle yet from Malin to Mizen in June".
To support Conor and his cycling colleagues go to either event page to support the charities –Down Syndrome Limerick and Challenged Athletes Foundation
Read similar stories here.