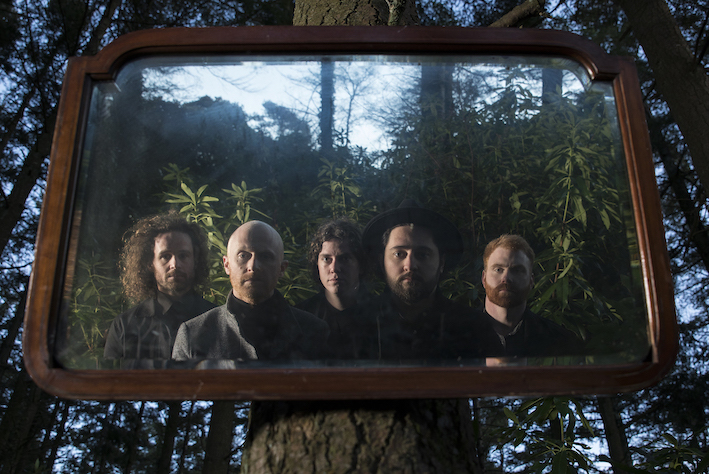 WATCH: Corner Boy release video to their new single Moira to coincide with brand new EP 'Goodbye Old Holy'
Corner Boy release video to their new single Moira to coincide with brand new EP 'Goodbye Old Holy'
WATCH: Corner Boy play Dolan's Warehouse Saturday, December 15
Wexford alt-folk five-piece Corner Boy have just released the video to their new single 'Moira (Under The Pale Moonlight) to coincide with the announcement of the brand new EP 'Goodbye Old Holy' set for release on Friday, November 23. The band are scheduled to play Dolans Warehouse in Limerick on Saturday, December 15 with support from The Riptide Movement.
'Goodbye Old Holy' was recorded at Grouse Lodge Studios by Grammy Award-winning producer Ted Hutt (Old Crow Medicine Show, Dropkick Murphy's).
Corner Boy have been busy touring the world for the last few years but are now set to release their first record in almost 4 years. They've just returned from a 6 date tour of South Korea and have been playing international stages from the desert's of the Middle East to the swamps of South Florida, across the perpetual cobbles of Paris and all the way back to the light-soaked stages of Ireland's biggest music festivals.
Their new video for 'Moira (Under the Pale Moonlight) was shot under cover of darkness in an early autumnal hue and set across a number of town-lands in South County Wexford. The story of 'Moira' was written & directed by CornerBoy lead singer Mick D'Arcy & Johnny Stewart of production company – heavy echo. In the village of 'Moira', the lead character (played by CornerBoy pianist Cian McGovern) takes the viewer across rural/forgotten roads & landscapes in search of 'the right words to say'.
Bursting out of the darkened backroom parlours of Wexford Town's pubs & social clubs in 2012, Corner Boy emerged – an enraptured clatter. This is contemporary folk fused with traditional Irish instruments sound-bedding in their words 'a haunting, beautiful time'. They've toured extensively in; Ireland, UK, Europe, North America, Asia and the Middle East, with their music receiving widespread national/international radio and television acclaim. All 4 of their early singles (Ghost town city, True North, Morning, morning and Untie the noose) reached #1 in the Irish iTunes folk charts with their single Morning, morning also charting at #1 in the Dutch world music iTunes charts.
You can see Corner Boy live this November and December in Wexford, Dublin, Limerick and Cork with more dates to be announced soon. Their new EP 'Goodbye Old Holy' is released Friday 23 November across all streaming and digital platforms.