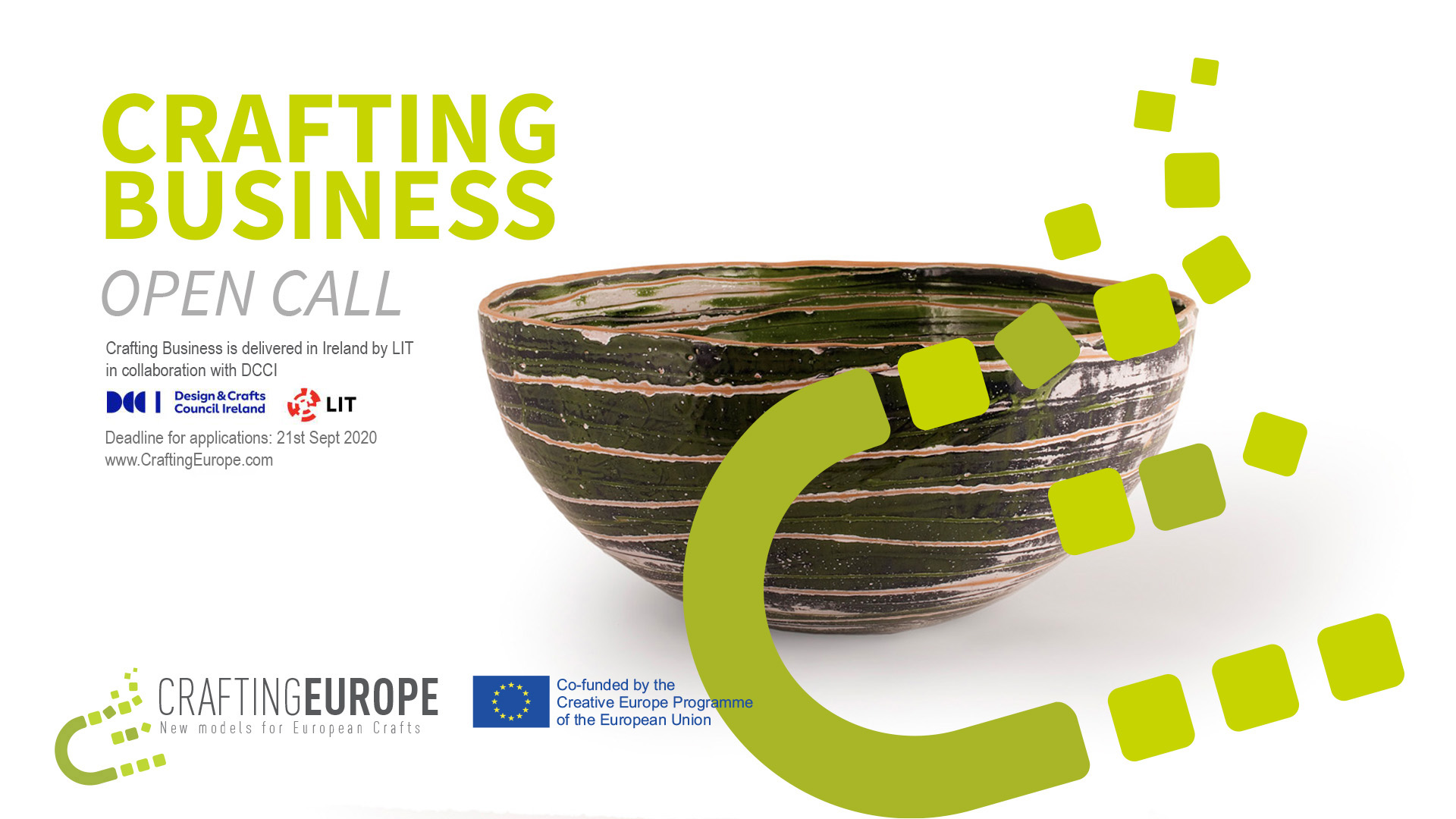 LIT and The Design Craft Council of Ireland Launch Open Call for Crafting Business Programme
Crafting Business Programme open call launched by LIT and The Design Craft Council of Ireland
LIT and The Design Craft Council of Ireland Launch Open Call for Crafting Business Programme
LIT, together with the Design & Crafts Council Ireland, announced the opening of the first call for the new Crafting Business Programme which is part of a wider, three years, €1.8m Crafting Europe Project, being run in eight countries including Ireland. The new Crafting Business Programme is open to new or early stage Crafting Business Entrepreneurs and is made up of eight online workshops taking place between October and December 2020.
A professional training programme, Crafting Business, will provide expertise and knowledge to support the business development of newcomers to the industry. The programme will focus on building business skills, generating revenue, and supporting marketing and promotion in micro-enterprises and small and medium-sized enterprises (SMEs). It will encourage access to national and international markets, and establish a platform for information sharing, networking and peer-to-peer learning.
Gillian Barry, Head of Innovation & Enterprise at LIT said, "An important focus for this programme is to improve the business skills of new and practising professionals in the crafts sector. This includes encouraging business innovation, which is vital to competitiveness in the global economy. By using the Crafting Business programme to learn about the fundamentals of business, new craft professionals can gain skills that will strengthen their business performance."
These fundamentals include: Business Planning, Marketing Strategies; Market research; Product Development; Merchandising; Access to Markets and Funding Supports; Access to international trade events and galleries; IP protection and e-commerce.
The programme will include expert training and tutorials and opportunities to collaborate with other makers and designers. The project seeks to engage future generations of skilled craft professionals and to open up potential new markets and opportunities for the sector.
Rosemary Steen, CEO at DCCI, said, 'Design & Crafts Council Ireland is delighted to lead this Creative Europe project and work with LIT on the Crafting Business programme. Crafting Europe is especially important at this time. It offers opportunities to a new generation of craftspeople across Europe to connect, network and learn critical skills.'
The Call for Applications is now open. The deadline for applications is4pm on September 21, 2020. This is a competitive programme with limited places to support engagement and collaboration. This programme will be run online, however, if there is an opportunity to meet safely then the team will consider welcoming the group for a face to face workshop or event.
About LIT
Limerick Institute of Technology (LIT) is a Higher Education Institute with a national and international outlook. The hallmark of our educational philosophy is active learning through a fusion of theory and practice. Limerick School of Art & Design (LSAD) LIT, is composed of the Department of Design which includes a number of leading craft courses in Ireland. LSAD has an award-winning reputation in Fashion Design, Fashion & Textiles, Visual Communications, Painting, Printmaking, Ceramics, Sculpture & Combined Media and Teacher Education and are working together with the team at the Innovation & Enterprise Office at LIT on the Crafting Business programme. LIT provides entrepreneur development programmes, leadership development workshops, mentoring and startup clinics as well as supporting entrepreneurs with access to an active global network. LIT has recognised the need to take an active lead in enterprise and startup ecosystem development and has been recognised internationally for its efforts.
About Design & Crafts Council Ireland
Design & Crafts Council Ireland (DCCI) is the national agency for the commercial development of Irish designers and makers, stimulating innovation, championing design thinking and informing Government policy. DCCI's activities are funded by the Department of Business, Enterprise and Innovation via Enterprise Ireland. DCCI currently has 569 member organisations and more than 3,000 registered clients.
What is Crafting Europe?
Crafting Europe addresses the need to build capacity within the crafts sector across Europe. Crafting Europe will provide craftspeople and the crafts sector with the knowledge, skills and research to grow and develop. It is supported by Creative Europe, the European Commission's programme for developing the culture and audiovisual sectors, and is a partnership between nine expert organisations.
Other partners on the Crafting Europe Project:
Artex- Centre for Artistic & Traditional Handicrafts in Tuscany
Artex is the Centre for Artistic and Traditional Craftsmanship in Tuscany and promotes innovation and development of artistic and traditional handicrafts. Artex was created in 1987 by the CNA and Confartigianato crafts associations; over the years it has developed and managed projects for the improvement of crafts enterprises and their manufactures, gaining a unique experience in this sector.
The Crafts Council
The Crafts Council champions high-quality contemporary craft practice nationally and internationally through exhibitions, publications including Crafts magazine, education programmes, and curating the United Kingdom's national collection. It aims to build a strong economy and infrastructure for contemporary craft and is a member of the World Crafts Council.
Cearte
CEARTE is a Vocational Training Centre and, since 1986, has worked for the sector of Arts and Crafts, heritage, creative industries, and small companies, promoting employment, the valuation of territories, skills acquisition, professional evolution, innovation for artisanal production units and, in general, the qualification of the Portuguese
EOI-Fundesarte
Fundesarte is since 1981 the leading institution in the promotion and development of Spanish craft enterprises as part of the EOI Foundation (School for Industrial Organisation), entity attached to the Ministry of Industry, Trade and Tourism. A priority of their programme is to promote, value and communicate the quality of craft products and the sustainability of its production processes.
Crafts Council Netherlands
Crafts Council Nederland (CCNL, 2013) is the all-encompassing platform for contemporary craft. It is the place where art, fashion, design and heritage unite and where craftsmanship is nurtured and passed on to a new generation. CCNL works together with all key players within the crafts domain. As researcher. As initiator. As catalyst. As guide. As concept developer. As unifier.
The Handicraft Chamber of Ukraine
The Handicraft Chamber of Ukraine is an all-Ukrainian non-governmental organization that has been working at the national and international levels since 2009 to protect the rights and interests of micro, small and medium enterprises (MSMEs) in the field of production and service.
Georgian Arts and Culture Center
Georgian Arts and Culture Center works for the preservation, development and sustainable use of heritage crafts and cultural industries in Georgia since 1995; supporting innovative approach GACC contributes to the economic viability of cultural sector through studies, training, marketing and international exchanges. The Center also conducts preservation of tangible and intangible heritage and gallery activities.
For more info on the Crafting Business programme, click HERE
For more stories on LIT, click HERE