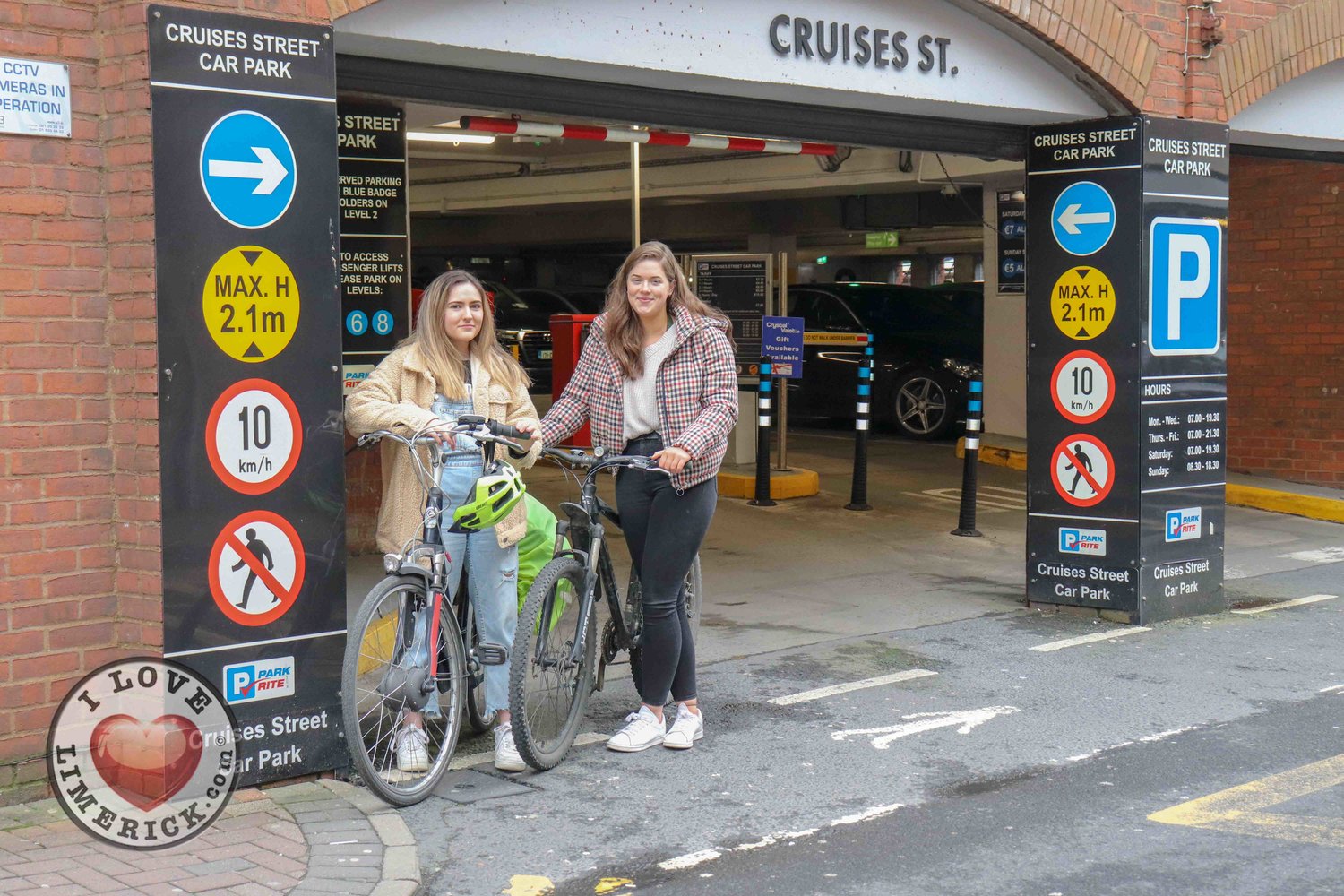 Cycling in Limerick is now easier than ever, with a range of cyclist-friendly facilities and events
Park Rite Cruises Street Car Park provides bike parking facilities, air pumps and bike lockers for all cycling needs. Just one example of Limerick City's many available cycling facilities. Picture: Beth Pym/ilovelimerick
Cycling in Limerick is now easier than ever, with a range of cyclist-friendly facilities and events
By I Love Limerick correspondent Mary Doyle
In recent years, Limerick City has made progressive efforts to becoming a cycling-friendly city. From festivals that celebrate this environmentally friendly mode of transportation, to facilities such as bike racks and lockers, new cycle lanes and bike shops, Limerick is paving the way to a greener future.
Among the cycling festivals which take place in Limerick is BeSpoke Cycling Festival, held during National Bike Week each summer. BeSpoke Festival is organised by the Limerick Smarter Travel section of Limerick City and County Council and features a range of events for all ages and abilities, promoting cycling as a sport, as well as a practical and enjoyable means of travel. With events including bike repairs, family cycles, and cycle safety promotions, the festival not only celebrates cycling but also provides fun and education. Speaking about the festival, Dan Slavin, Executive Engineer with Limerick City and County Council said, "BeSPOKE is a joint effort between ourselves, Limerick Sports Partnership, the Gardaí and the RSA to promote cycling and the benefits of cycling. Over the past number of years, a number of cycle routes have been developed and there is more to come. BeSPOKE is a great way to introduce younger members of your family to cycling."
2019 also saw 'Cyclovia', an event organised in September by Limerick City and County Council in partnership with the National Transport Authority, marking Limerick Car Free Day. Instead of using their cars, people could bike, walk, skate and participate in activities right in the middle of the street. A 'cyclovia' is a Spanish word meaning 'cycleway', and it has become synonymous with the open street movement method of temporarily closing streets to cars so that they become more open to pedestrians and cyclists.
Not only has Limerick embraced and celebrated cycling through organised events and festivals, but it has also made efforts to make cycling an accessible normality for the citizens of Limerick, introducing more cyclist-friendly amenities such as bike parking facilities and lockers. Park Rite Cruises Street Car Park includes state of the art bike parking facilities, air pumps and bike lockers, located next to the security office for maximum insurance. These facilities are available for use from 7 am Monday to Saturday, and from 8.30 am on Sundays. Click here for the full carpark opening hours.
Though Limerick City has made these advancements in the last few years, there is always room for improvement and development. The Limerick Cycling Campaign is an organisation which advocates for improving Limerick's cycling infrastructure and facilities so that cycling is a more attractive and accessible form of transportation for people of all ages and abilities. This campaign aims to make use of Limerick's potential to be a great cycling city, with its flat and compact urban centre. For more information on the campaign, click here.
For more cycling stories, click here.