D Sports Complex Open 18-Hole Footgolf Course – Footgolf is for all ages and is fun for the whole family as well as sports teams, company sports and socials, friends and a general kick about.
D Sports Complex in Corbally Open 18-Hole Footgolf Course
By I Love Limerick Correspondent Jordan Mac Cormaic
D Sports Complex in Corbally opened a brand new 18-hole Footgolf course last Friday, August 4.
The game is played similarly to golf, with the exception that players use a soccer ball instead of a golf ball, and the ball is kicked rather than struck with a club, working toward a 21-inch "cup" in place of the usual golf hole.
Paul Collinson of the UK Footgolf Association has observed that, compared to golf, footgolf is quicker to play, more accessible, and does not require expensive equipment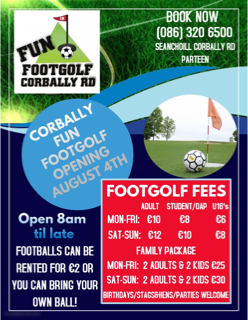 D Sports Complex in Seanchoill, Corbally Rd was established in 2007 and is currently in a development phase to celebrate 10 years in business this October.
D Sports Complex's existing astro turf was the first in Limerick and can be used for 5 a side soccer, rugby, tag rugby and GAA.
The complex also consists of a mirrored studio for rent, an elite gym which offers membership, studio classes and an on-site nutritionist. Their facilities also offer events such as team bonding, corporate events, birthdays and hen and stag parties.
Caragh O'Shea, Managing Director at D Sports Complex said: "We here at D Sports Complex are delighted to offer such facilities in the area and are thankful for all the support from local and afar to date. It's going to be an exciting year and we look forward to welcoming everyone that comes through our gates"
A game with roughly similar rules, codeball, attained brief popularity in the United States during the late 1920s and 1930s. Swiss players have been playing a variation of the game since the late 1980s, and the Scandinavian countries starting playing the game under different names and rules in the 1990s.
Michael Jansen and Bas Korsten were the creators of the Footgolf uniform and basic rules, and also organisers of the first tournament played the way the sport is played today around the world, and they officially launched FootGolf in the Netherlands in 2008.
They learned of the sport from Korsten's brother, Dutch footballer Willem Korsten, who recalled playing a similar game during his time with British club Tottenham Hotspur between 1999 and 2001, where players would end training sessions by kicking the ball from the pitch back to the changing rooms in as short a time as possible
Footgolf is for all ages and is fun for the whole family as well as sports teams, company sports and socials, friends and a general kick about. To book your place for footgolf at D Sports Complex phone: 086 320 6500
To visit the official Facebook page for D Sports Complex's Footgolf click here
To read more sports stories on I Love Limerick click here