Diageo Ireland Learning for Life Class 2018 graduation ceremony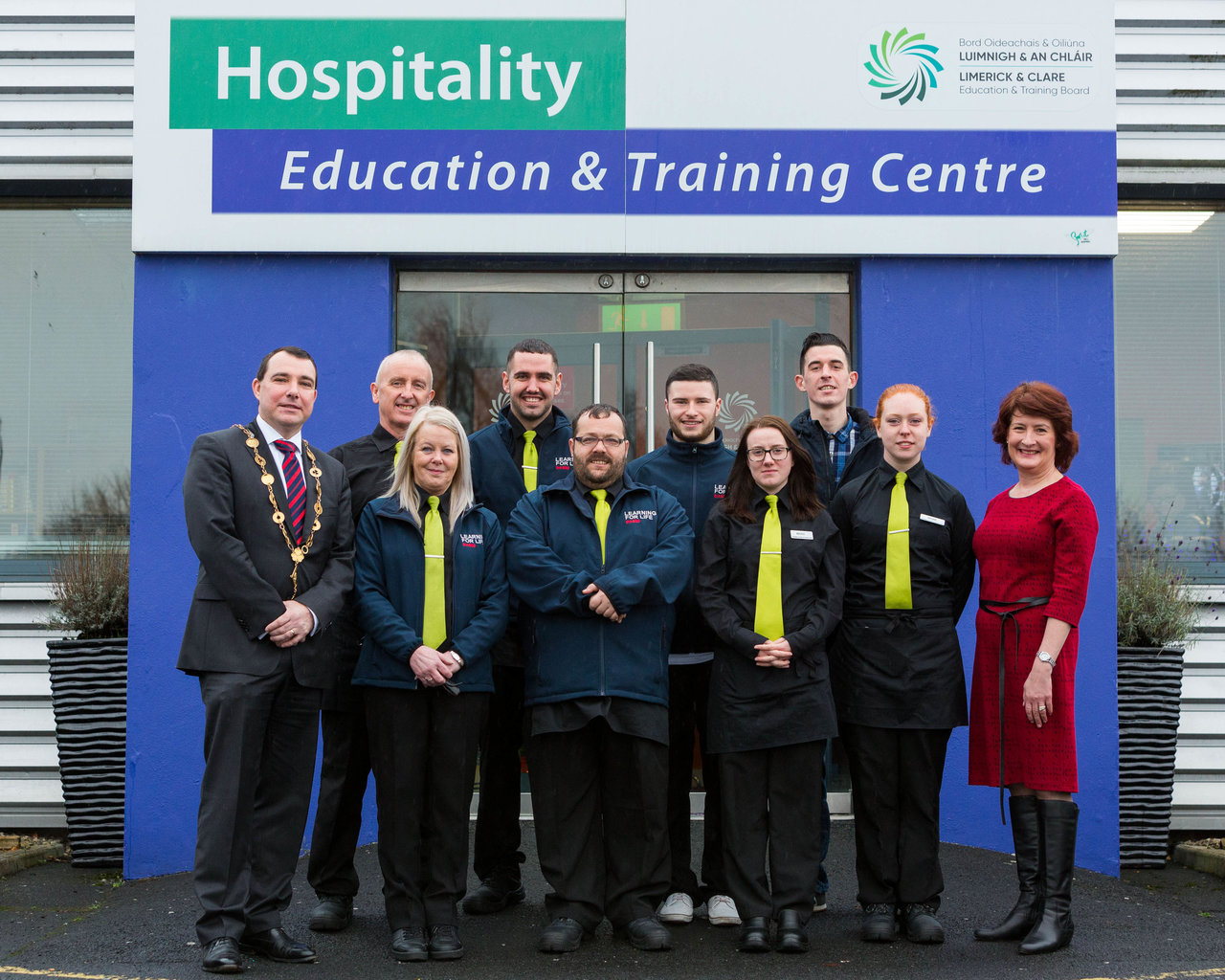 Diageo Ireland: Mayor of Limerick City and County, Councillor James Collins (left) and Angela Smith, BlueStar Consultancy (right) with Diageo Learning For Life Class 2018. Picture: Oisin McHugh True Media
Diageo Ireland Learning for Life Class 2018 graduation ceremony
Mayor of Limerick City and County, Councillor James Collins presented 10 participants of the Diageo Ireland Learning for Life programme with certificates in a special graduation ceremony which took place in the Hospitality Education and Training Centre in Roxboro, Limerick. The participants in the training programme come from Limerick and Clare.
Learning for Life is a Diageo Ireland initiative run in partnership with the local Department of Social Protection. The programme brings young people off the Live Register and equips them with the skills and necessary training two-week placement in a Diageo hospitality industry partner in a landmark hotel, pub or restaurant.
Learning for Life was originally piloted in Dublin 8 in 2014 and has since expanded to Dublin, Louth, Cork, Waterford, Limerick, Kerry and Kilkenny. In that period around 300 people have completed the programme with two-thirds of the participants going on to full-time employment or education.
Speaking at the graduation ceremony Mayor Collins congratulated all the Learning for Life graduates for pledging their commitment to the programme. They have continuously demonstrated an excellent work ethic right throughout their training and placement. And the training they have received has equipped them with the skills necessary to benefit from future opportunities to work in the ever-growing hospitality industry.
Angela Smith, on behalf of Diageo Ireland, said, "We are very pleased to have Mayor Collins present the certificates and show his support to the programme. I wish to extend my gratitude to Limerick Clare Education and Training Board along with the education, training and industry partners for the hours and dedication they provide to our young graduates to ensure the Learning for Life programme continues to be a success.
"Diageo's legacy is built on developing a sustainable business that also gives back to the community. Support for local communities is at the heart of the Learning for Life programme and we are proud to support our graduates by developing their job skills and giving them the confidence to pursue a career in the tourism and hospitality industry, which is at the heart of the Diageo brand."
Learning for Life is Diageo Ireland's cornerstone CSR programme developed by the company as part of its commitment to sustainable community-based initiatives in Ireland. Diageo identified a skills gap in the hospitality industry and developed a programme with a focus to equip young people with hospitality industry skills, providing real employment opportunities and facilitating future job growth.
Earlier this year Diageo Ireland also ran a pilot Learning for Life programme with a Refugee and asylum seekers group.
2018 Placement partners:
• McGettigans Limerick City Hotel
• Radisson Hotel
• Party Store Fine Wines
• Prime 74 Tipperary Town
• Square Bar, Johns Square
• Radio Station Kilkee
• Perys Hotel
For more information, go
here
.
For more stories like this, go
here
.