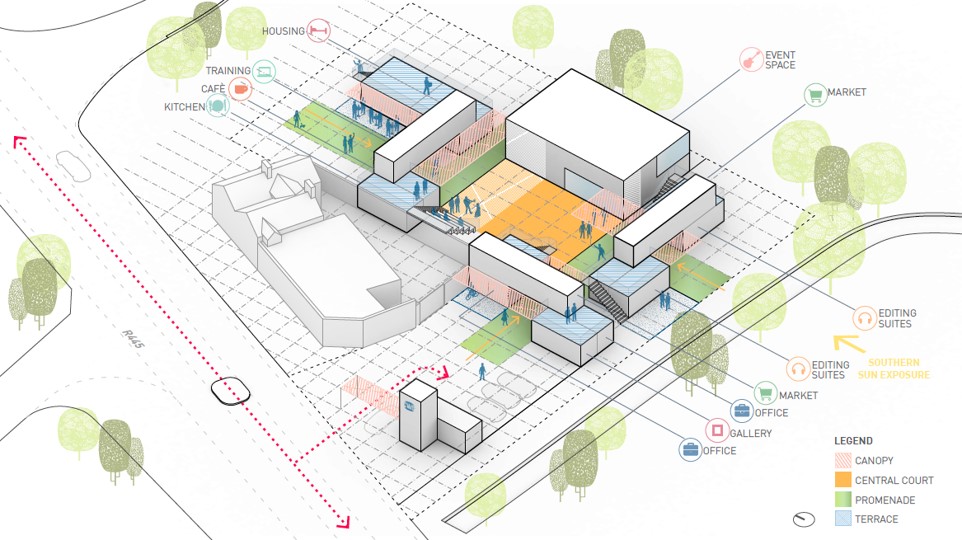 Digicontainer announces ambitious plans for development and job creation in the Midwest Region
Digicontainer: An artist impression of the final structure.
Digicontainer announces ambitious plans for development and job creation in the Midwest Region
Digicontainer, a not-for-profit enterprise for the Tipperary/Limerick region, has ambitious expansion plans to develop the creative and cultural sectors of the Midwest region at its uniquely designed creative hub at Birdhill, Co. Tipperary.
The plans for the development of this facility over the next 5 years will create 100 – 300 jobs. With a €2m investment creating 100 positions within the first 18 months. This would be much-welcomed news to the thousands of students and graduates within creative and arts faculties of the many third level institutions in the mid-west region.
The project will include providing cost-efficient, shared workspaces within the Digicontainer creative hub, enabling the local creative minds to pursue successful professional careers in the Mid-West region.
It shall also bring together like-minded creative professionals and start-ups thus making the hub a home for a creative network that is easily accessible to graduates, start-up and SMEs.
It will also establish a dynamic, adaptable community public space that can serve as a multi-functional venue for events, markets, exhibitions, community projects, summer schools, and local training initiatives.
Alan Kelly Labour TD backs the Digicontainer project stating: "A uniquely rural, but nevertheless highly accessible location in Tipperary and in the heart of the Mid-West region, only 8 miles from Limerick City – Digicontainer is accessible to key regional and national markets and opportunities. I believe it can become a unique locally based service with strong regional, national and international connectivity and potential."
The springboard team behind this impressive project are David Collopy former CEO for Opera Ireland along with Paul Boland and Joe Clarke of CWB.ie, the producers of the recent highly acclaimed events Feile Classical at Semple Stadium and National Geographic Symphony for Our World at the Gaelic Grounds Limerick.
"The concept for Digicontainer came during my time at the University Concert Hall when I worked with the many creative minds coming out of the regions' third level institutions with degrees, loads of creativity and imagination but nowhere to allow that creativity to take the form or be expressed. This initiative will hopefully allow these very creative artists to become established and remain in the region thus forging a significant creative hub across all disciplines in the Mid-West." David Collopy Digicontainer Board Member.
As part of the expansion plans Digicontainer aim to purchase and refurbish ten used shipping containers for use as rehearsal, office and training spaces at the proposed location. The modular container setup has mobility options and spaces can be tailored to meet each of the user's needs.
"In the belief that the whole is greater than the sum of its parts, Digicontainer will encourage and enable local talents to work collaboratively and reciprocally to realise both their individual and collective ambitions," said Paul Boland CWB.ie.
Digicontainer has reached the final stages of an application process with Enterprise Ireland while awaiting the final outcome the enterprise continues to secure partnerships with key National & International stakeholders including Lorcan O' Herlihy Architects L.A, Windmill Lane Studios Dublin, Westpoint Studios London, Limerick City Build, Sportstech Ireland, Bank of Ireland and Birdhill Tidy Towns.
Services and professional expertise included in Digicontainer's development plans will promote Community and Regional events along with providing greater experience in the fields of Music, Television, Arts and Creative Technology. The initiative also seeks to improve job prospects for these fields, in the Midwest region.
"A facility such as Digicontainer has true potential for creative people and groups in the region which can ensure a National and International impact. Digicontainer has the potential to be a real game-changer in the region for the ever increasing and growing artistic population." Gerard Keenan, CEO, Irish Chamber Orchestra.
Speaking of the layout and design potential of Digicontainer Joe Clarke for CWB.ie said: "Digicontainer will be a unique, innovative and visually striking facility and the first of its kind in Ireland. I foresee the expansion of Digicontainer would provide a real chance of acting as a downstream service provider for large-scale creative service-providers e.g. Troy Studios."
For more information about Digicontainer go here
For more stories on upcoming buildings in Limerick go here