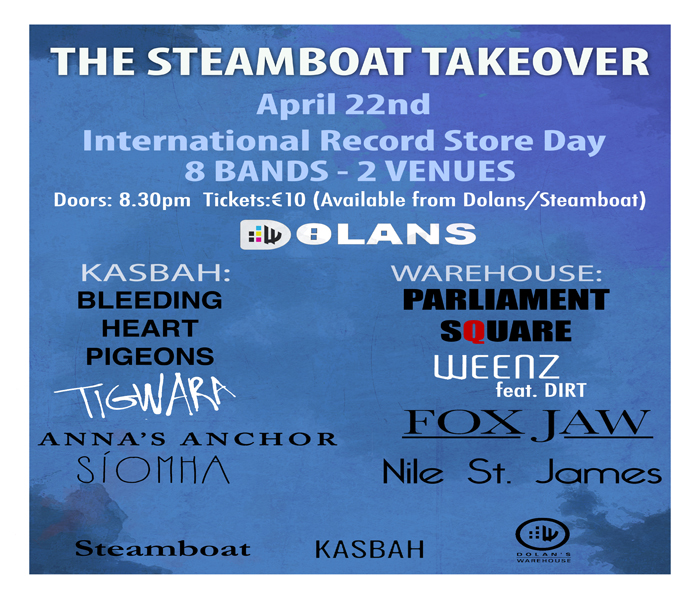 Steamboat Takeover at Dolans celebrates International record store day and Official launch of Steamboat Music's record store
Steamboat Takeover at Dolans celebrates International record store day and Official launch of Steamboat Music's record store
To celebrate the International Record Store Day and the official launch of Steamboat Music's record store located on Steamboat Quay, Limerick, Steamboat Takeover at Dolan's, Limerick will be on April 22.
On this April 22, Steamboat will have a huge selection of new releases available in store all day and live music in their store which overlooks the River Shannon. Steamboat Music have made a list of all the amazing local Limerick acts who released music in the last year and drew 8 of the acts from a hat to perform at their mini-festival, Steamboat Takeover.
Performing at Steamboat Takeover is Anna's Anchor who is an Annacotty based indie musician who his long-awaited debut album, Nautical Miles via Never Meant Records, on September 23, 2016. Anna's Anchor is the alias of University of Limerick graduate Marty Ryan, who welcomed the new release with open arms and added to Limerick's list of talented musicians.
A regular to Limerick performances is Nile St. James, who will also be performing at Steamboat Takeover. The former Voice of Ireland finalist, who toured as the support act to Irish singing sensation Gavin James after winning a Today FM singing competition is known for his indie/hipster look and welcoming spirit. Anybody in Limerick will recognise him as the toothy-grinned, energetic tall guy who sings his sentences and hugs anybody in his view. In December of 2016, Nile launched his debut album entitled 'Meraki'
Also performing at Dolans is Weenz who have recently released a new live music video 'Family Sitcom' which has since been blowing up on Facebook and encouraging people to donate to Corbett Suicide Prevention. The song 'Family Sitcom', has received over 25,000 views on facebook since it's release. In April of 2016 with the launch of his 10-track album Selling You My Sins, Weenz gained huge publicity from his Local Celebrity music video which went viral and attracted media attention nationally.
These acts will also be joined by Siomha, Tigwara, Bleeding Heart Pigeons, Fox Jaw, and Parliament Square
Tickets are €10. To celebrate International Record Store Day and the official launch of Steamboat record store and all the great music released in the last year Steamboat is taking over Dolan's April 22nd.
They will also have a huge selection of the new releases for RSD available in store all day and live music in store too.
For more information on Steamboat Music Store click HERE
To see what's going on in Dolans click HERE