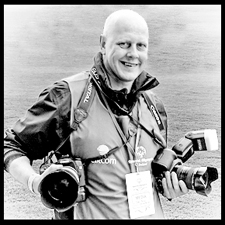 Dolf is originally from Groningen in the Netherlands. His educational background is in Social Studies / Humanities. He moved to Ireland in 2000 and lives in County Limerick. In the Netherlands he worked with intellectually challenged people and in Ireland he works with physically challenged people.
When in his late teens Dolf bought a DSLR camera and joined a photography club. He had a darkroom and printed his own black and white photos. He now takes his photos in the digital format and works as a photographer mainly for ilovelimerick.com. His photos have been published in local and regional print media and are highly commended.
Dolf is also interested in film, art, literature and general fiction. He writes articles and blogs for a Dutch book site. He also plays traditional Irish music on button accordion, bodhrán and guitar, and has expanded into percussion and electronic music.
"I Love Limerick.com has taken me out of my comfort zone, given me challenges, friendships and motivation. I absolutely love being part of the ilovelimerick.com team. It's also nice to be able to give something back to the community I'm now part of."
Contact Dolf:
_____________________________________________________________________
Back