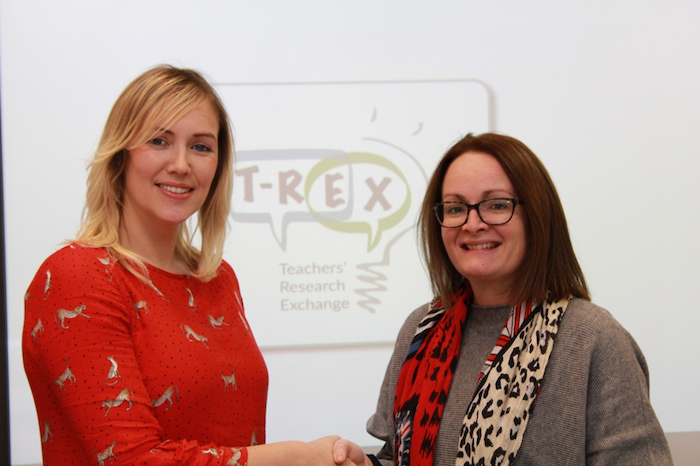 Dr Joanne O Flaherty of the School of Education, UL wins Teachers Research Exchange National Award
Dr Joanne O Flaherty, School of Education, University of Limerick accepting her award from Dr Jennifer McMahon (left). Picture: Adrian McDonagh
Dr Joanne O Flaherty of the School of Education, UL wins Teachers Research Exchange National Award
Dr Joanne O Flaherty, School of Education lecturer, has been awarded a prestigious teacher-researcher award within the national –T-REX (Teacher's Research Exchange) Module Innovation Framework.
Dr Joanne O Flaherty is responsible for the Coordination of the Micro-Teaching Program (a lab-based practicum experience prior to school placement which focuses on the development of a number of competencies and practices of the beginning teacher).
Her expertise is in Critical Decision-making and Global Citizenship Education and she works with pupils, teachers and post-primary schools, as well as work in teacher education with pre-service teachers, teacher educators, and policymakers.
Coordinated by Mary Immaculate College, Limerick with partners NUI Galway, University of Limerick, and Marino Institute of Education, Dublin – T-REX is a nationally-funded online platform and set of tools to support teachers and educational researchers and professionals to collaborate, undertake and share research, and is freely available to all teachers in Ireland.
Dr Joanne O Flaherty said, "This funding from the T-REX Module Innovation Framework will support the development of a community of practice between pre- and in-service teachers, thus providing opportunities to critically reflect and problematise professional competences of the teacher."
Dr Jennifer McMahon, Founder and T-REX principal investigator in the School of Education, University of Limerick, said, "I am delighted to present this award to Dr O' Flaherty. The Module Innovation Framework is a key aspect of T-REX's remit to build a large community of practice within teacher education. It is designed to offer support and space for innovative lecturers to redesign their course content and embed authentic opportunities for student teachers to engage in teacher research activities.
Congratulations to Dr Joanne OFlaherty @SchoolOfEd_UL who has been awarded a prestigious teacher researcher award within the national Teacher's Research Exchange Module Innovative Framework @UL @AlliedHealthUL @PessLimerick @ULPsych @NursingMid_UL @UL_GEMS

— Faculty of Education and Health Sciences (@EHSULimerick) November 15, 2019
"I would like to congratulate Dr O' Flaherty, her work will enhance the student-teacher experience at UL and is an important part of the wider national deployment of T-REX, supported by the National Forum, the Teaching Council, the National Council for Curriculum and Assessment and Centre for Effective Services," she added.
Dr O' Flaherty is one of five national award winners. Following an open call for proposals, an independent review panel, which included Initial Teacher Education representation, teacher representation, and student representation conducted a rigorous review of applications from all over the country.
The five national awardees developed proposals that impressed the panel in terms of their creativity and innovativeness; value for student learning; and exploitation of what the T-REX platform has to offer. Each of the awardees will receive financial, academic and technological support to develop their modules and to integrate the T-REX research platform and approach.
This process is supported by the National Forum for the Enhancement of Teaching and Learning which supports the T-REX project and is dedicated to promoting and supporting good teaching practice in Higher Education.
For more information on T-REX click here.
For more stories on UL click here.