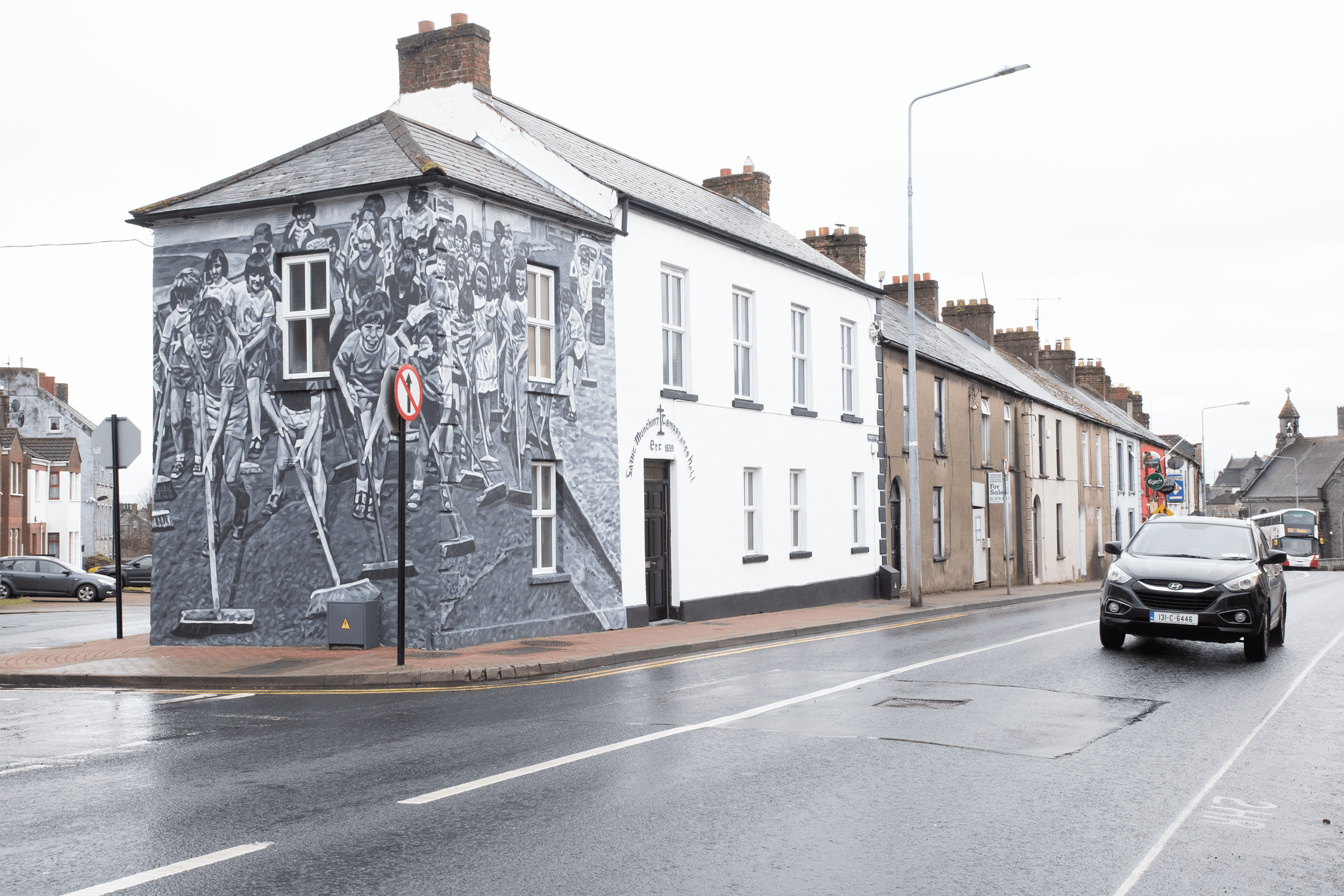 Draw Out Urban Exhibitionists completes Mural in Thomondgate, Limerick, celebrating community, history, and Identity
Draw Out Urban Exhibitionists' new mural in Thomandgate, Limerick. Photo: Draw Out
Draw Out Urban Exhibitionists, a company dedicated to creating public art that transforms urban spaces, has just completed a stunning mural in Thomondgate, Limerick
The mural, located on the Temperance Hall building, features a black and white image inspired by an archival photograph of children cleaning in the community.
The Temperance Hall in Thomondgate, has a rich history dating back to the 19th century. It was built in 1844 as a gathering place for members of the temperance movement, who promoted abstinence from alcohol. The temperance movement was popular in Ireland in the 19th century, and the Temperance Hall in Thomondgate served as a hub for meetings and events promoting sobriety and temperance. The building was also used for other community gatherings, including dances, concerts, and political rallies.
Thomondgate itself is a historically significant area of Limerick, known for its rich cultural heritage and strong sense of community identity. The mural celebrates this history and identity, and serves as a point of pride for the neighbourhood.
The artist behind the mural is Mariana Santos from Portugal. Santos is known for her powerful and thought-provoking pieces that bring attention to social issues and urban landscapes. Her work is deeply rooted in the communities where she creates, and the Thomondgate mural is no exception.
"We're thrilled to have had the opportunity to create this mural in Thomondgate," said Draw Out Urban Exhibitionists founder, Catherine O'Halloran. "We worked closely with the local community and Thomondgate Residents Committee to bring this project to life, and we're proud of the final result."
The mural features an image of children cleaning in the community, inspired by an archival photograph from the 19070's Limerick. The image is a powerful representation of the community's history and identity, and serves as a reminder of the importance of community spirit and cooperation.
"The mural is a wonderful celebration of our community's history and identity," said Sean Mc ilfatrick, of the Thomondgate Residents Committee. "We're delighted to have this beautiful piece of public art in our neighbourhood, and we hope it will inspire others to learn more about our community and its rich cultural heritage as well as participate in small acts of citizenship to enhance their local area and generate sense of pride of Place." Special thanks goes out to Cannon Donal McNamara and his committee.
The project was made possible through the support of local businesses and support of local community. The mural has already become a point of pride for the community, with residents and passersby stopping to admire and take photos of the stunning piece.
For more information about Draw Out Urban Exhibitionists and their work, visit their website here.
Read similar stories here.