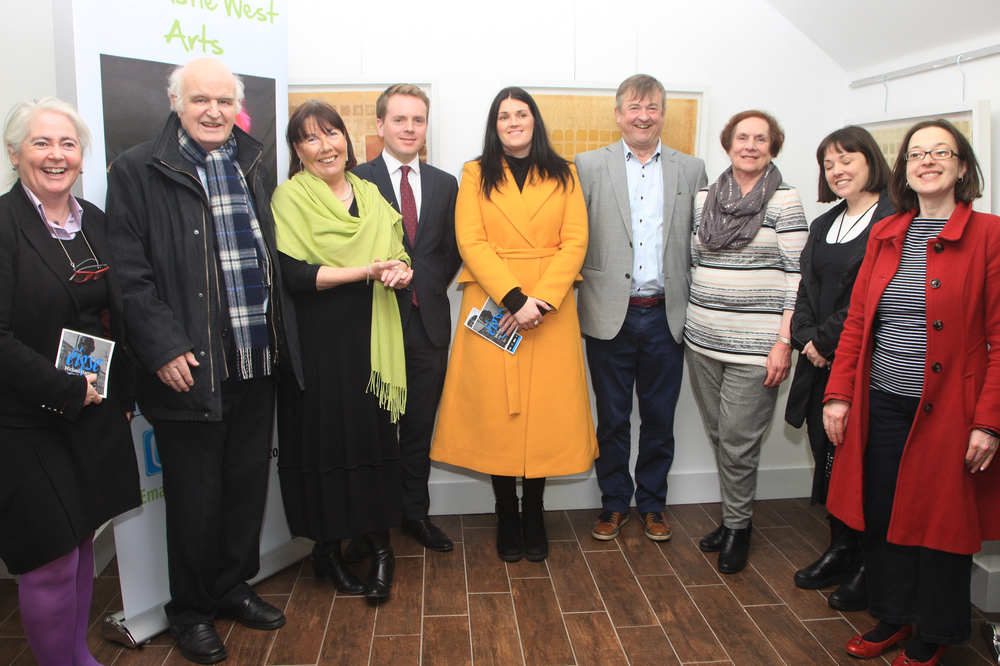 Photos: Special conversation with Philomena Lee to open Eigse Michael Hartnett Festival 2017
Launch at the Red Door Gallery, Newcastle West, of Eigse Michael Hartnett Festival 6th, 7th and 8th April 2017. Photo: Dermot Lynch
A special conversation with Newcastle West-born Philomena Lee will be one of the highlights of this year's Eigse Michael Hartnett Festival in Newcastle West on the 6th – 8th April 2017.
Philomena was born in Newcastle West in 1933 when at the age of 18 became pregnant. She was sent to Roscrea where she gave birth to a boy, whom she was forced to put up for adoption. Philomena subsequently moved to England where she eventually told her family about her son.
Following years of research by award-winning journalist Martin Sixsmith, they found the identity of her son, who had become one of the most high-profile lawyers in the United States, Michael Hess.
The extraordinary and oftentimes shocking details of Philomena Lee's life were chronicled in the 2009 book The Lost Child of Philomena Lee by Martin Sixsmith. The book was subsequently made into a film titled Philomena in 2013, which was nominated for four Academy Awards including Best Actress for Judi Dench.
As part of Eigse Michael Hartnett Festival, Philomena returns to her hometown for a special conversation with Seamus Hennessy, where she will talk about her life and her advocacy for adoption rights on the opening night Thursday 6th April.
Hundreds of literary enthusiasts from all over Ireland will descend on the town to attend the three-day event in the very streets which shaped Hartnett's poetry. This year's festival, which is an initiative of Limerick City and County Council and supported by The Arts Council, once again offers a mix of poetry and music, literature and drama, visual arts and dance.
The Eigse Michael Hartnett Literary and Arts Festival is a treasure trove for lovers of the Irish language, culture and literature. Eigse is a weekend of literary and arts events celebrating the literary and oral legacy of Michael Hartnett, the poet and the man.
The opening night will also see the presentation of the Michael Hartnett Poetry Award to Wexford-born author Seosamh Ó Murchú. Seosamh's first collection of poetry Taisí Tosta was published by Coiscéim in 2015 and he is currently working on a second collection.
Seosamh said: "'I'm really delighted to receive this award. Not only is it a great source of encouragement for me but is also a wonderful recognition and affirmation of my work. It's made all the more special by the fact that the award remembers and honours one or our truly great poets, Michael Hartnett, who proudly has taken his place in the pantheon of the Munster poetic tradition."
Among the other highlights include 'In Time, and Silently' on the Friday 7th April. Inspired by a poem Seamus Heaney wrote for his granddaughter just before his death, Mary Hartney choreographed three dances. These will be performed by disabled and non-disabled dancers from Rathfredagh Cheshire Home, Hazelwood College and Desmond College who participate in Limerick Arts Office's Integrated Dance Programme. Local dancer Jesse McCormack will perform a duet with Sean O'Gorman of the Brothers of Charity.
Friday also sees the fascinating Gaeilge Tamagotchi with well-known travel writer and broadcaster Manchán Magan. This eye and ear-catching event will see Manchán delve through the thousands of Irish words which are rarely used now and challenge people to take ownership of the words and nurture their usage.
Timeless: a reading by award-winning author and Booker Prize shortlisted author Jennifer Johnston and Paddy Bushe is one of the highlights of the programme on Saturday, which will include music by Diarmuid O'Brien. The Poetry Slam is an important element of Eigse while starts as always with a Hartnett ballad.
The annual Michael Hartnett Memorial Lecture on Saturday 8th April will be delivered by award-winning author Dermot Bolger. Dermot Bolger is one of Ireland's best-known writers and as the founder of Raven Arts Press, Bolger published three volumes of poems by Michael Hartnett, including Inchicore Haiku. He stayed with Michael and his family in Newcastle West while editing the Raven edition of Michael Hartnett's Selected Poems in 1984.
At the launch of this year's Eigse Minister for Tourism and Sports, Patrick O'Donovan TD said: "the Eigse Michael Hartnett Festival is a very important festival for the advancement of the Irish language, Newcastle West and Ireland. It is great to see that Michael is being remembered and revered among his own. I want to pay tribute to the organisers of this year's festival and wish Eigse Michael Hartnett every success next month."
Cllr John Sheahan, chairman of Newcastle West Municipal District formally launched the programme for 2017. "Michael Hartnett was one of Ireland's most important poets. He had a talent for raised the mirror and showing people what society was really like. He had amazing insights into life, both in the English and Irish language."
Kerry poet Gabriel Fitzmaurice, who is among the guests this year said "Eigse is a festival that continues to have a fire in its belly, and what is wonderful about it is the broad appeal that the programme has. There is something for everyone."
Sheila Deegan, Arts Officer with Limerick City and County Council said: "What makes Eigse special is the intimacy that you feel as you travel around the town, where you can bump into someone who knew Michael or you can see for yourself the places that Michael immortalised in his poetry."
For more information on Eigse Michael Hartnett Festival click here
To read more about events in Limerick click here