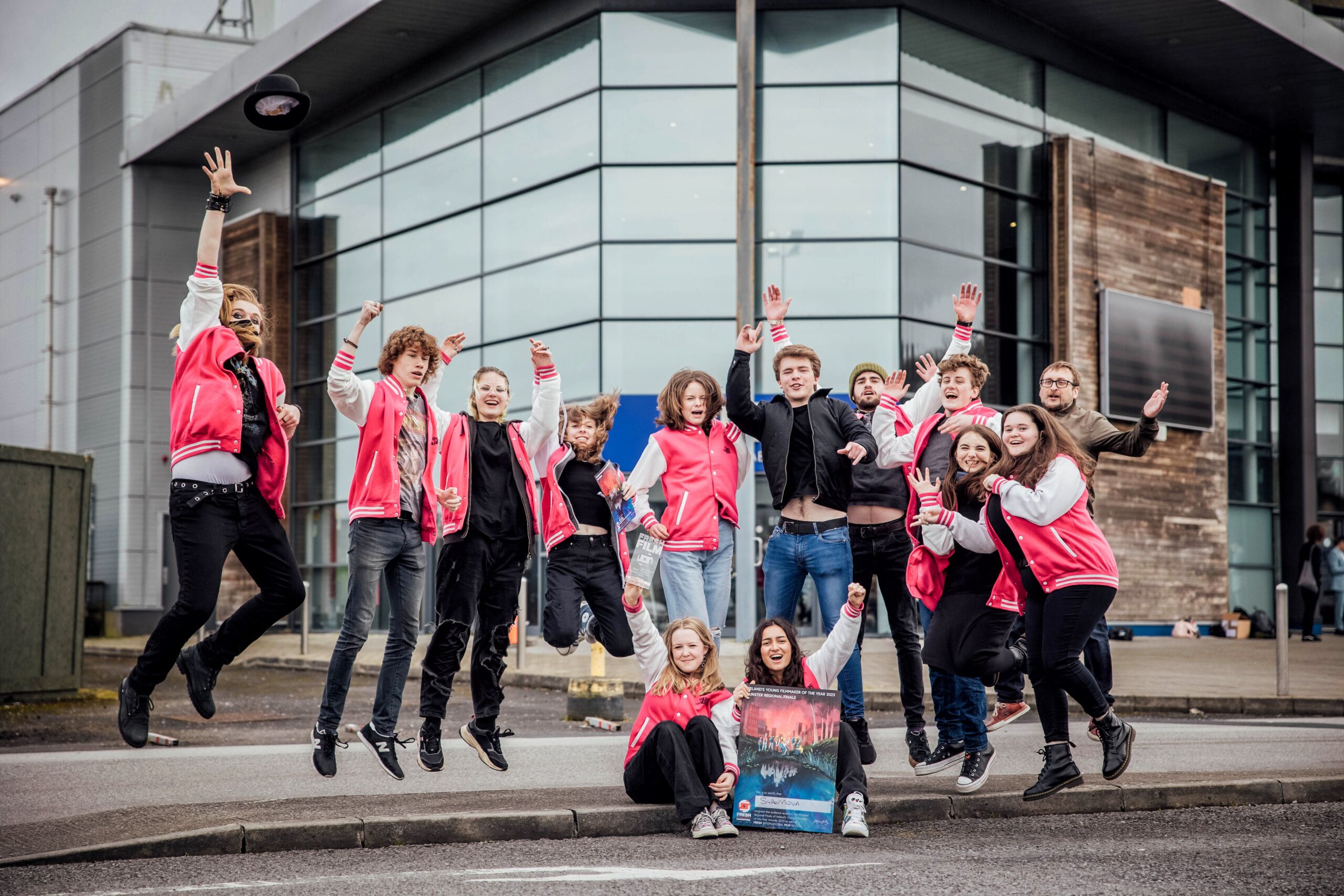 Emerging Limerick Filmmakers awarded Best Group prize at Ireland's Young Film Maker of the Year 2023
Pictured at Ireland's Young Filmmaker of the Year Awards 2023 are Limerick group 'Emerging Limerick Filmmakers', with Director Izzy Dalton for their film 'Killer Krush' as part of this year's Fresh International Film Festival. Pic. Brian Arthur
Max Hendrickson has been named Ireland's Young Filmmaker of the Year 2023 at Fresh International Film Festival with Limerick group 'Emerging Limerick Filmmakers' winning 'Best Group' award
17 year-old Dublin student Max Hendrickson has been named Ireland's Young Filmmaker of the Year 2023 at Fresh International Film Festival, for his short animated film The Tell-Tale Heart, a re-telling of Edgar Allan Poe's famous short story, while 15 year old Limerick Director Izzy Dalton and Emerging Limerick Filmmakers were awarded the prize for Best Group for their film Killer Krush.
Hailing from Cabra, Max is no stranger to the awards having entered the globally renowned international event annually since the age of 12, scooping the Outstanding Animation award at Ireland's Junior Filmmaker of the Year in 2018.
Speaking of Max's film, Fresh International Film Festival Director Jayne Foley said: "We have watched Max Hendrickson grow as a filmmaker and storyteller over the last five years, honing his skills, exploring new formats of the artform and bringing stories to life through animation. Fresh Film looks forward to seeing Max's personal journey in film unfold in the coming years and we have no doubt that he will feature strongly in Ireland's exciting animation and filmmaking industries. All 34 nominees this year produced outstanding work, the level of creativity, imagination and skill is inspiring, and we are immensely proud to continue to nurture, mentor and showcase Ireland's future filmmaking talent with the support of so many generous partners."
Hendrickson was one of thirteen award recipients at the 2023 IYFTYs, which were broadcast on RTÉ2 on April 12, hosted by Stephen Byrne and Gemma Bradley. The awards are now available to view on the RTÉ Player. All 34 shortlisted films, made by young people, for young people, can be screened on the Fresh International Film Festival YouTube Channel.
Second place went to 16 year old Glen Bowler from Kerry for his film The Legend of Patrick Greenwood, while third place went to 15 and 16 year old cousins Ella and Caoimhe McGuigan from Dublin for their film Sticky Note. 17 year old Dubliner Eve Duffy won Best Performance or her role in Shell which she also wrote and directed.
18 year old Kerryman Malachaí Ó Ciardhubháin won Best Screenplay for his Irish language
short Nellie. Avondale Community College students from Wicklow had a double success on the night winning Best School with director Maria Nogales Cid's short Vivamus, Moriendum Est, while Killian Foley was awarded the RTÉ 60 Second Award for his short form work A New Terrain.
15 year old Alanna C. Cusack, from Cavan took home the award for Best Director for her short film Reprisal and 18 year old Dubliner Luka Magot was awarded Best Art Direction for his short Doomed Choice. The Best Animation award went to Westmeath's Tristan Seery for Friends Forever, Rhianna Woods from Leitrim won the Radharc Trust Award for her short I'll Know and young Galway director Jamie Costello won the RTÉ Factual Award for his music documentary Buzz.
Presented annually by Fresh International Film Festival, RTÉ and Screen Ireland, the IYFTYs celebrate the filmmaking work of young people aged 7 to 18 years. They reflect both the unique stories and shared experiences of global youth from Ireland to Austria, Spain to Senegal, Peru to Palestine, Ukraine to Korea, Brazil to the USA. This year, Fresh International Film Festival, generously supported by the Arts Council and many other partners and sponsors, welcomed more than a thousand short film submissions.