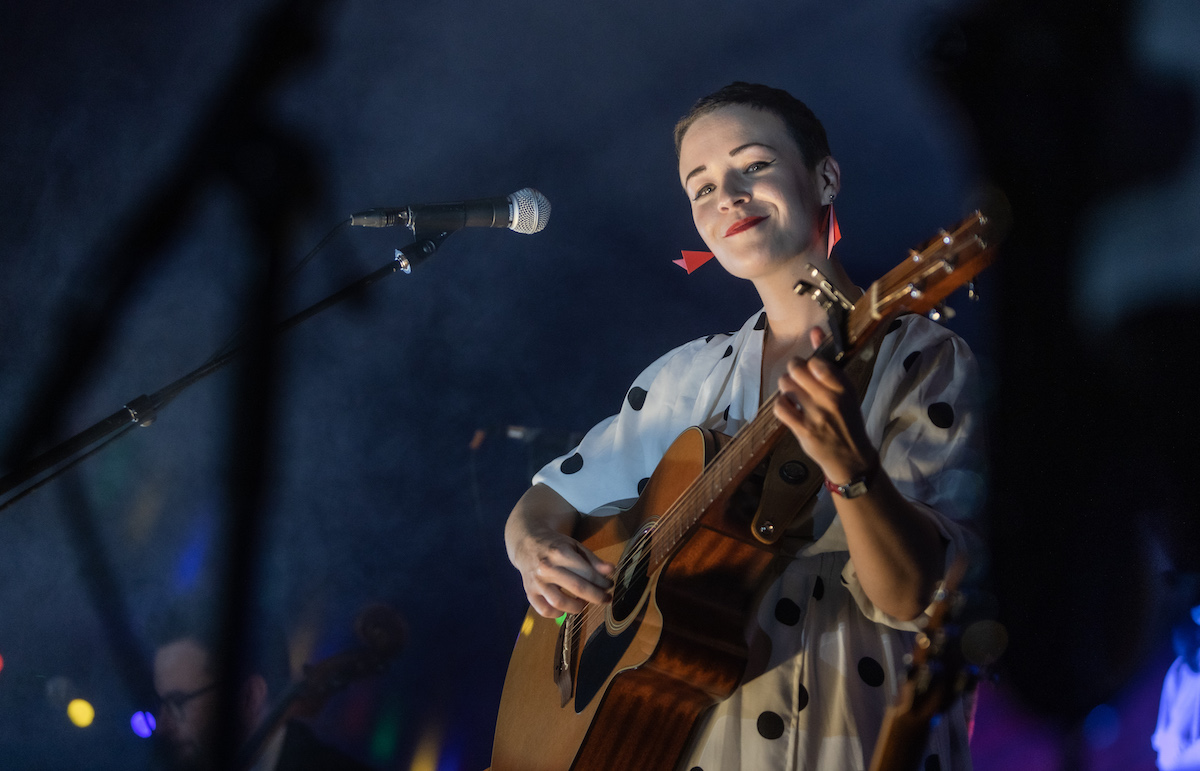 Emma Langford Charity Collaboration with RTÉ Concert Orchestra in aid of Irish Heart & Stroke charity Croí
Emma Langford Charity Collaboration with RTÉ Concert Orchestra in aid of Irish Heart & Stroke charity Croí is released July 1st.Picture: Shane J Horan.
Emma wrote the track in memory of her grand-uncle Eamonn Langford
Limerick artist Emma Langford is set to release a new version of her much loved track 'The Winding Way Down To Kells Bay' featuring the RTÉ Concert Orchestra. The Emma Langford charity collaboration, arranged for orchestra by Cork's Cormac McCarthy, will be released on the 1st of July, with all proceeds going to heart and stroke charity Croí.
'The Winding Way Down to Kells Bay' is a song of love, loss and hope that recalls the warm halcyon days of a childhood by the sea. The track was originally released on Langford's second album 'Sowing Acorns', in September 2020.
Emma wrote the track in memory of her grand-uncle Eamonn Langford who died suddenly in the summer of 2018, when she and her parents were visiting him. The lyrics paint a vivid picture of the idyllic place he and his late wife spent much of their life, Kells Bay in South Kerry.
"I wanted to capture the essence of the place – the natural beauty of it of course; but also the people, their manner, and the craic that can always be found in a small close-knit community like theirs." says Emma.
"When I released it first, a lot of people connected with it – people who had visited Kells Bay on their holidays, who had met Eamonn at some point, but also people who had never been there or met him. It felt like home to a lot of people."
As her second album 'Sowing Acorns' was being pieced together, Emma made the decision that each track would be a dedication. The song is dedicated to the memory of her grand-uncle, and to the kind people of the Iveragh Peninsula who were his friends, and who took care of Emma and her family in the days surrounding his passing.
In late 2020, Emma was approached by RTÉ's Elizabeth Laragy to record a version of the song with the RTÉ Concert Orchestra, as part of their Folk Season broadcast on RTÉ Radio 1. Cormac McCarthy's arrangement brought a new energy to the song.
Emma said, "This was such an exciting chance to hear my own song in a new light. I remember hearing it for the first time and I was transported – Cormac's arrangement feels like an aerial view of the place, it feels like flying over the hills, skimming across the sea, and landing in my grand-uncle's house by the fire for a cupán tae and a chat. It's perfect. I think it's the dream of most songwriters to some day hear their music played by an orchestra, and this was absolutely that dream come true for me. 
I chose Croí as our charity partners for this release, because their aim is to lead the fight against heart disease and stroke, with a particular focus on the West of Ireland. Croí does amazing work in education around heart health, stroke, and first aid response – I want to support them in their education campaigns so that everyone knows how to do CPR, how to use and maintain an AED, and how to look after their own heart health.
Many of the RTÉ Concert Orchestra members recorded their parts remotely during the Covid-19 Lockdown of 2020, in a bid from RTÉ Radio 1 to get musicians and composers back working creatively during that difficult time. I recorded my parts at Open Door Studios in Limerick, and then brought all the components to my producers, Chris O'Brien and Graham Murphy (The Production Suite, Dublin) to mix for its official release.
I hope you completely embrace this utterly breathtaking, cinematic interpretation of my song 'The Winding Way Down To Kells Bay', that brings the lyrics and the story to life in a beautiful new way. Please play it loud and proud, spread the word, and encourage others to do the same, and to donate to Croí through streams, downloads, or directly through their website."
The RTÉ Concert Orchestra relished being involved in this remote recording project – while isolated from their musical and wider community, it was an opportunity to work creatively, and to come together virtually to collaborate with Langford on a project with such resonance for so many. Emma recorded her own final vocal and guitar parts at Open Door Studio in John's Square, Limerick City, before all the separate components were passed on for mixing to her go-to producers, The Production Suite in Dublin.
The beautiful new Emma Langford charity collaboration version of 'The Winding Way Down To Kells Bay' will be available from early July on all streaming platforms, as well as to buy/stream on Bandcamp, with all profits from its sales going to Irish heart and stroke charity, Croí.
Croí's Head of Foundation & Chief Operations Officer, Mark O'Donnell, said "We are delighted and very grateful that Emma has chosen to support Croí's mission to prevent cardiovascular disease, through the release of this very special and personal song. We hope that it will also help to start conversations and raise awareness around heart health as well as encouraging people to find out more about the education and training programmes available."
Stream, buy, and download 'The Winding Way Down to Kells Bay' by Emma Langford with the RTÉ Concert Orchestra from the 1st of July.
Find Out More About Emma Langford HERE
Donate to Croi HERE
For more stories on Emma Langford go HERE