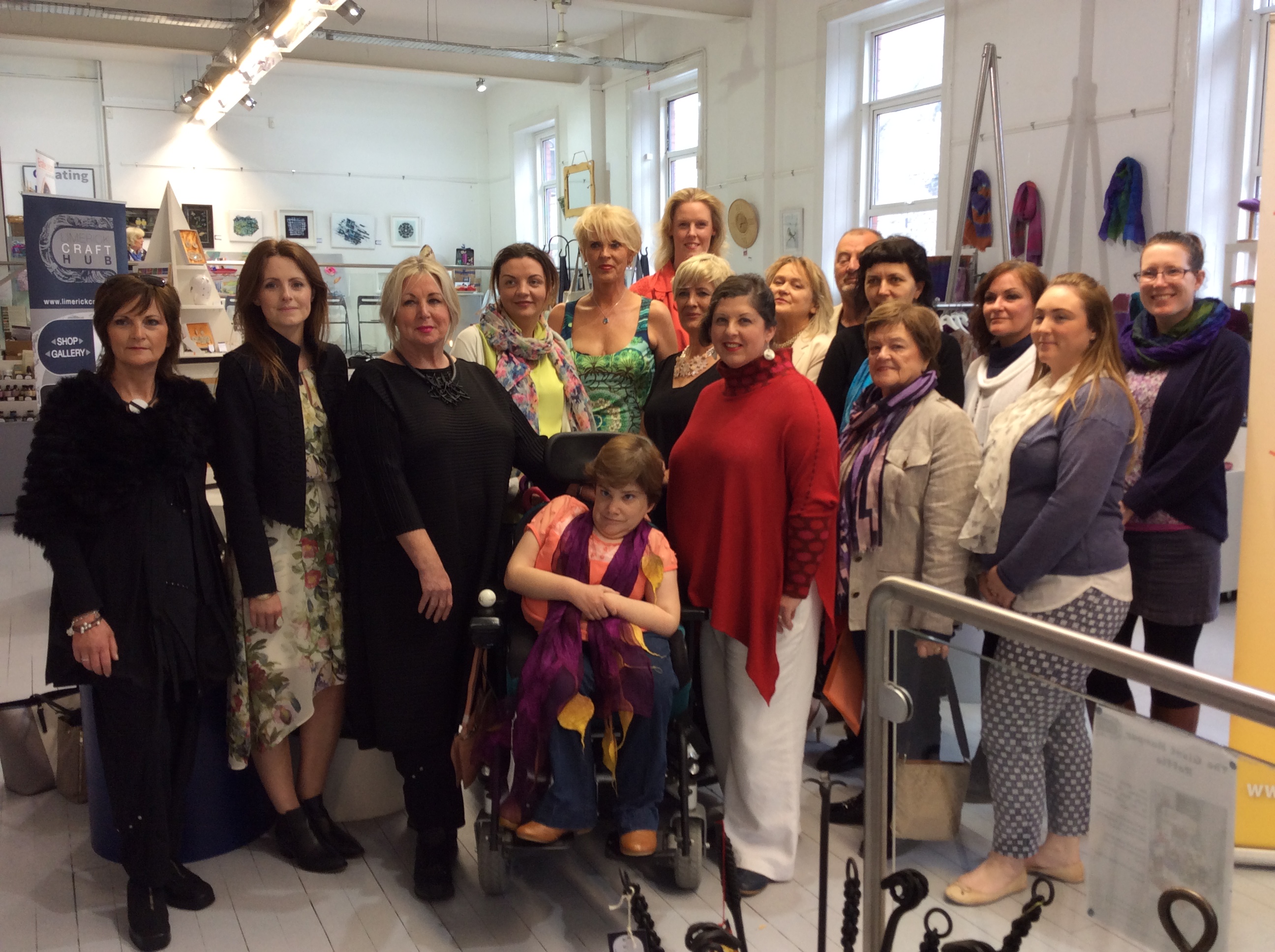 Enable Ireland team up with Limerick Craft Hub for Summer fashion show and Community Craft Engagement
Enable Ireland, Limerick, launched their Summer fashion show, "An Evening of International Fashion" at the Limerick Craft Hub, which will be held at the Clarion Hotel, Thursday June 18 at 8pm. Also announced was their participation in the Limerick Craft Hub's Community Craft Engagement Program.
The fashion show, which will feature models from the Ursula Stokes Model Agency, will showcase some of the best trends of Limerick's fashion and accessories this Summer. Design and style will feature Gretta Gibbs, Carrig Donn, Raspberry Red, My Choice, Hat's Desire, the Attic Bridal Boutique and Esquire Menswear. The show will also feature Local fashion names such as Caroline Mitchell, Daiva's Textiles, Kate Ramsey, Linda Wilson and Olann Hats and jewellery designers Fergus Grant-Stevenson, Susan McCarthy and Clare Jordan of the Limerick Craft Hub.
Enable Ireland provides free services to children and adults with disabilities from forty locations in fourteen counties throughout Ireland. Covering all ages from childhood to adulthood, Enable Ireland's mission is to enable those who use their services to achieve maximum independence, choice and inclusion in their communities. They do so by offering a range of services and supports of the highest quality, in line with the needs and wishes of the service users and their families and in active partnership with them from their Adult & Children's centres in Limerick.
Ann Enright, the community fundraiser with Enable Ireland in Limerick, explained that "In recent years the demand for the services offered by Enable Ireland continues to increase. In order to meet the needs of the service users we have set ourselves the challenging goal of providing a full range of high quality services and by expanding into local communities.  Of late we have been involved with many local projects and we are very thankful for the generosity and support that we have received from the people of Limerick."
Clare Jordan, of the Limerick Craft Hub, said "Limerick Craft Hub is proud to be working with Enable Ireland Limerick adult services as part of our Community Craft Engagement Program, which is a fundamental part of what the Craft Hub is about – bringing craft to the community – all communities. Another initiative will be a week long project in July of craft workshops by 3 of our crafts people within the Enable Ireland centre at Quinn's Cross in Mungret, Co.Limerick. This will be a wonderful opportunity for all, especially the service users of Enable Ireland, giving the scope to be creative and exploration of the senses through craft and community involvement with Limerick Craft Hub.   Enable Ireland Adult Service at Quinns Cross in partnership with Limerick Craft Hub will then at the end of the week host a once off craft fair of works created for all to see".
Ann Enright added: "We in Enable Ireland are very excited about our new social partnership with The Limerick Craft Hub and we are looking forward to working with them both on the fashion show and the Craft Initiative. We see this as the beginning of a long partnership that will grow in the future".
The Limerick Craft Hub creates a focal craft identity, raising public awareness and appreciation of craft and design "Handmade in Limerick", through gift shop, workshops, working studios, gallery, parties and events. Community Craft Engagement Programs include the Craft Corner every Monday & Friday at 11am, free to the public, and public craft events such as knitting Giant Granny's Scarf and Craft a River.
The Enable Ireland Limerick Services has two centers in the area. The Adult centre, based at Mungret, offers a non-residential, five-day week service to forty-seven adults with significant physical and sensory disabilities. The range of services includes programmes in education; personal development, independent living skills, employment skills and social and leisure activities offered through a person centered planning approach. The centre also provides nursing staff within the centre that support service users with complex medical needs.
The Children's Services unit, in Blackberry Park on the Dock Road, provides Early Intervention services to children from Limerick City and county.
Tickets for the fashion show fundraiser cost €12 and are available from Enable Ireland's Office on 061-301830, or online here.
Further information on Enable Ireland here
Further information on Limerick Craft Hub here
You can like the Limerick Craft Hub on Facebook here.
You can read more on Crafts here.