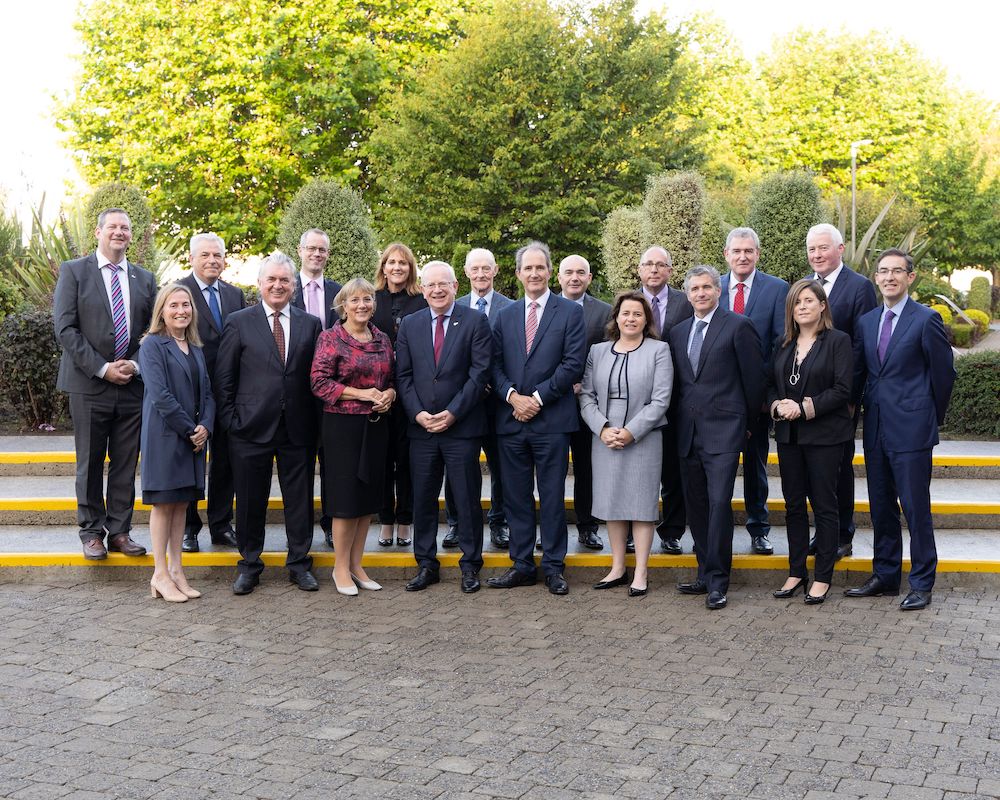 Enterprise Ireland moved out of Dublin and held its September Board Meeting at LIT for the first time
The Board of Enterprise Ireland held it's a recent board meeting at LIT, Moylish Campus. All members of the board met with LIT President Professor Vincent Cunnane and members of LIT's management team.
Enterprise Ireland (EI) moved out of Dublin and held its September Board Meeting at LIT for the first time
Enterprise Ireland (EI) moved out of it's Dublin base to convene the board meeting at Limerick Institute of Technology (LIT), Moylish Campus, earlier this month.
Reconvening this month's meeting in the Mid-West allowed for the board members to tour Limerick Institute of Technology's Moylish campus and see a number of first-hand demonstrations of some industry-focused, applied research projects.
The board also met with the President of LIT Vincent Cunnane and senior members of the LIT management team to discuss the key role LIT plays in supporting local industry through highly skilled graduates and award-winning Research, Development and Innovation projects.
Julie Sinnamon, Enterprise Ireland Chief Executive, said, "Driving balanced regional development is a key focus of our work and Limerick Institute of Technology is an essential part of ensuring that we successfully deliver Enterprise Ireland's plan to empower the country's regions.
"Indigenous enterprise can future proof Ireland's regions and the extensive research and development that is conducted in Limerick Institute of Technology no doubt supports the growth of business and entrepreneurs across the country. This is evidenced by the number of its graduates who choose to stay on in the region once graduated.
"The board were especially pleased to have the opportunity to see the outcomes achieved from the funding awarded by Enterprise Ireland to several projects and programmes which are coordinated by the institute. We all look forward to being back on the campus again very soon," she added.
A key focus of the board's tour of LIT was the EI co-funded industry R&D projects and programmes that LIT coordinates and runs. These include New Frontiers, the national entrepreneurial development programme; Shannon ABC an EI funded Technology Gateway focused on applied biotechnology and in conjunction with IT Tralee; [email protected], LIT's food development and sensory analysis facility; the Irish Bioeconomy Foundation at the former Lisheen mine; the proposed Mid-West Regional Design Centre in conjunction with UL, MIC, Limerick, Clare and Tipperary Councils and a number of industry partners.
One such LIT-industry partnership is the INCASE project, a €1M Enterprise Ireland-Cook Medical-Vistamed Innovation Partnership project.
Dr Liam Brown, LIT Vice President Research, Development & Innovation, said, "INCASE harnesses technology advances in IoT (Internet of Things) and aims to make medical devices safer and more cost-competitive. Availing of funding from Enterprise Ireland matched with the resources from Cook Medical and Vistamed meant that the expertise of LIT could be brought to bear in this project that will be critically important for the future of Ireland's Medtech sector."
For more information click here.
For more stories on Enterprise Ireland click here.