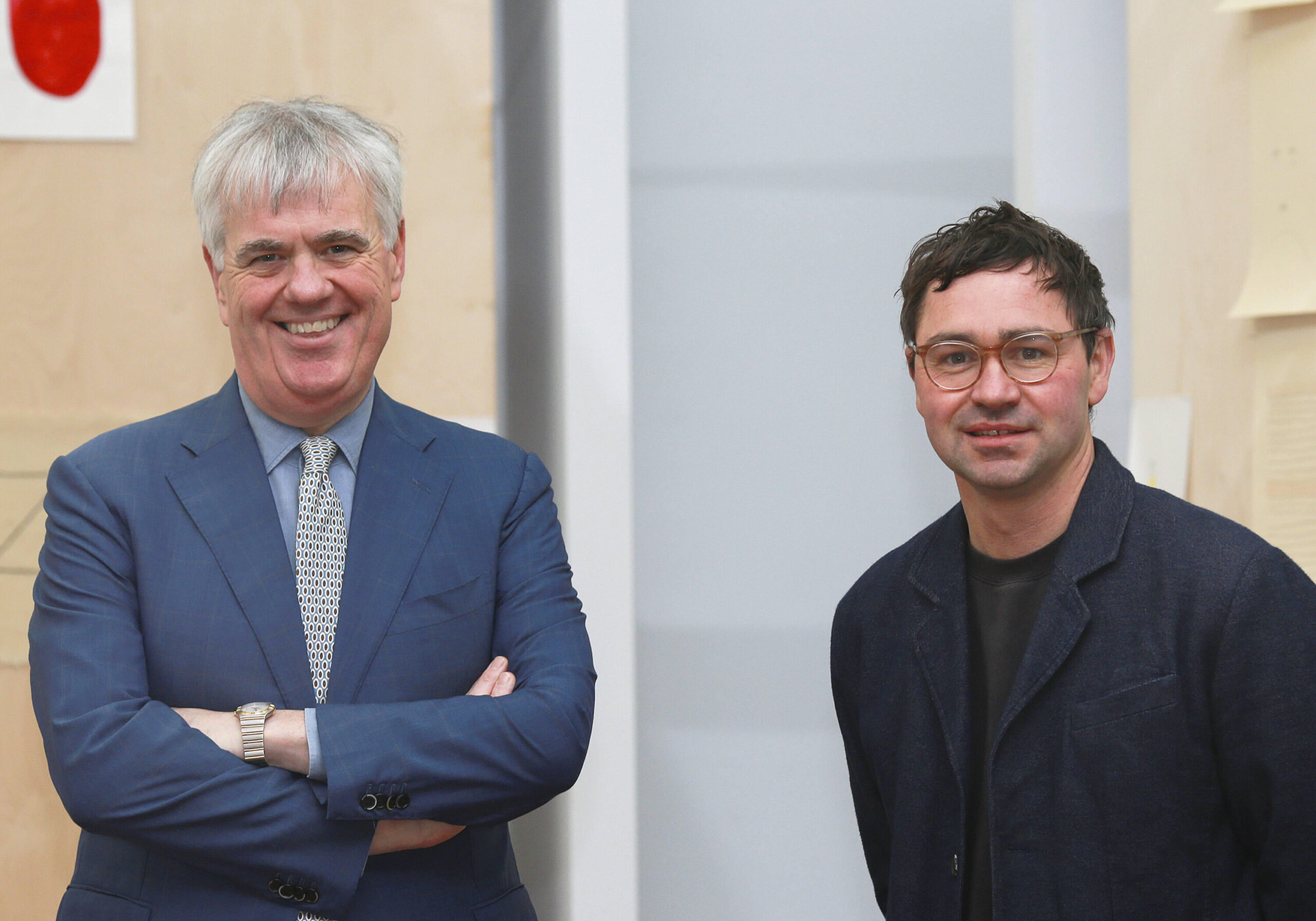 Limerick's last week to enjoy Ireland's leading contemporary art event, Eva International Biennial
Eva International Biennial – Pictured above are EVA International Chair Con Quigley (left) and Director Matt Packer (right). Picture: Deirdre Power
Limerick's last week to enjoy Ireland's leading contemporary art event, Eva International Biennial
The last chance unfolds this week for Limerick to celebrate a world-class contemporary art biennial exhibition which, organisers say, reflects the city's creativity and culture.
Speaking as the 39th Eva International, which is exhibiting across four locations in the city, enters its final week in Limerick this week, Director of Eva International Matt Packer said that there is no coincidence that Limerick hosts Ireland's premier contemporary arts event.
And to mark the closing week of the exhibition, Eva has invited Irish artists to submit proposals for "significant new work" to be sponsored by EVA as part of the biennial cycle: 2022-23. The invitation is a 'platform commission' to fund one artist's work on for the next Eva International Biennial.
Looking ahead to the final week of this Eva International Biennial, Mr Packer expressed his delight over the response to the exhibits and how the biennial has reaffirmed Limerick's cultural richness. "Limerick has always been a creative and cultural city. The measure of that is not only in the quality of work that is produced and presented here at Eva, but it's also in the diversity of that work. And in many ways, Eva epitomizes all that," said Mr Packer.
"Eva was established in 1977 by a group of artists that were based here and it's since grown to become Ireland's largest visual arts event and Ireland's only biennial of contemporary art. That's no small achievement or coincidence. Contemporary art exists all across the world, and in many ways, it can be a way in which we can understand a place. It doesn't necessarily provide us with a visual map or a guide to a city but through contemporary art, we get a sense of the values, the priorities, the characteristics of a place. And that, I hope, is what Eva does for Limerick."
Limerick's last week to enjoy Ireland's leading contemporary art event, @eva_Limerick Biennial #lovelimerickdontlitter #limerickandproud #limerick #lovelimerick pic.twitter.com/n5EOVsga5o

— #LimerickandProud (@ilovelimerick) November 9, 2021
The third and final phase of the Eva International Biennial is currently running at four venues – Park Point, Castletroy; Limerick City Gallery of Art, Pery Square; The Sailor's Home, O'Curry Street and spacecraft (Mungret Street) – and runs until Sunday next with all exhibitions free to the public.
The programme has been developed in response to the theme of the 'Golden Vein' – a play on the 19th century reference that was once used to promote the agricultural industries of the Limerick region. That same reference serves as a prompt for rethinking our relationship to the land today.
Exhibits explore provocative topics such as Irish nationalism and the legacy of imperialism; films by queer activist filmmaker Lionel Soukaz that were produced in the context of the sexual liberation movement in 1970s France; the relationship between graffiti culture and the ongoing armed operations in the land of the ancient multicultural city of Dura-Europos; a project exploring the documentation and mapping of Wadi al-Shami [Al Shami Valley], Palestine – a historically important agricultural land that was annexed by Israel in 1967; an installation reflecting upon the culture of disconnection from the natural environment; and the changing ecology of a landscape in the Sperrin Mountains.
Anissa Bennaili, an attendee at the exhibition captured what it means for audiences. "I really loved it actually. It's very, very interesting. I'm challenged a lot by it, I have to think and sometimes you have to get out of your comfort zone as well. What is important to me as well is that it's free, so it's accessible. I go to EVA as much as I can throughout the years."
Chairman of EVA Con Quigley said that Limerick, at a wider level, is at a very exciting juncture in its development into a modern international city and art is an enabler of this. "There's a real sense of excitement and I think we can all be proud as we see this diverse and inclusive city emerge. Art is essential to and reflects what society is and it's no coincidence to see the city flourishing in the arts space, not least with Eva, at the same time that it is on a transforming economically and socially."
Commenting on the invitation to artists for proposals for as part of the next biennial cycle, the Chairman said: "This is quite unique and it is very much a response to Covid too. Artists continue to suffer from a lack of opportunity and EVA is reaching out to collaborate with artists in this way at a time when it is badly needed," he said.
For more info on the commission, go HERE
For more stories on EVA International, go HERE