01jun10:00 PM30sep(sep 30)5:00 PMLavery & Osborne: Observing Life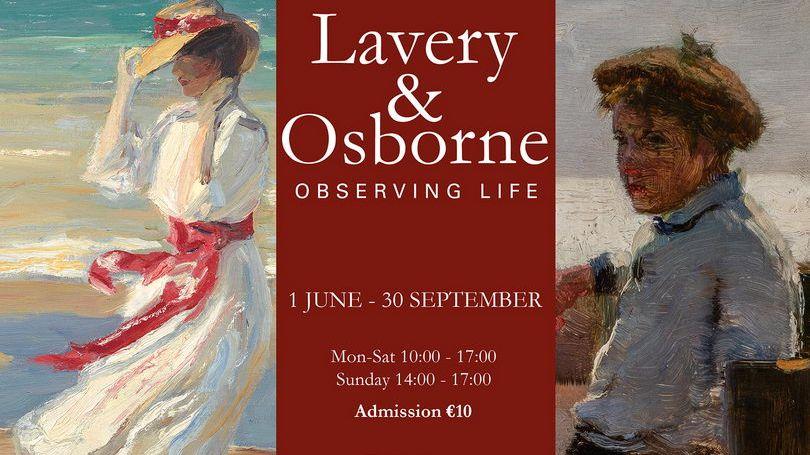 Event Details

This 1st June sees the opening of a new Irish exhibition 'Lavery and Osborne: Observing life' at the Hunt Museum, Limerick, featuring Irish artists, Sir John Lavery, and Walter Frederick Osborne.

Both born in the mid-nineteenth century, these renowned artists lived parallel lives as Irish painters who traveled overseas to develop their artistic talent. Placing them side by side, without other artists for the first time is also a reflection of their lives. It is said that they never met, but both were offered knighthoods and both were subject to the same artistic influences including that of James McNeill Whistler.

A total of sixty-two pieces are to be exhibited. The majority are from private collections traveling from the United Kingdom and the United States, with a few from other Irish galleries including the Crawford and Ulster Museum.

In keeping with this tradition, most of the paintings in Lavery & Osborne: Observing Life are borrowed from private collections which led to the search and discovery of many hidden gems in Ireland, England, Scotland, and the United States.

We are proud to bring this collection of paintings together for the first time in a regional location.

Opening hours:
Monday – Saturday: 10am – 5pm
Sunday: 2pm – 5pm
Tired of just looking at paintings in art galleries or museums …? Vangoyourself allows visitors to discover and enjoy art in a whole new way …Visitors to Exhibition can re-enact the painting for themselves. They can become the painting using their own visually creative take on the artists' work.
People visiting the exhibition can recreate an Osborne or Lavery painting, by taking a snap of their version of the painting, uploading it to VanGoYourself, which twins their image with the original artwork for sharing on social media, immortalizing their artistic talent for all to see!
For more information on Lavery & Osborne: Observing Life go here
Time

June 1 (Saturday) 10:00 PM - September 30 (Monday) 5:00 PM
Location

The Hunt Museum

Rutland Street